BY MARIA FEONA IMPERIAL
THE Commission on Elections Campaign Finance Office (CFO) has started looking into campaign finance records of President Rodrigo Duterte after it found that he had not declared Ilocos Norte Governor Imee Marcos as a campaign donor in his Statement of Contributions and Expenditures (SOCE).
In a speech on Oct. 4, Duterte announced that Marcos, the eldest child of the late strongman Ferdinand Marcos, was among the few politicians who funded his presidential campaign.
Marcos' name does not appear among the 183 donors listed by Duterte and his party, Partido Demokratiko Pilipino-Lakas ng Bayan (PDP-Laban), in their SOCEs.
Duterte's biggest donor is Antonio Floirendo Jr., who contributed a total of P100 million to Duterte's campaign—P75 million to Duterte and P25 million to the PDP-Laban. Floirendo was among the prime movers of the Alyansa ng mga Duterte at Bongbong (ALDUB), a group that campaigned for a Duterte-Bongbong Marcos tandem.
Floirendo's father Antonio Sr. had faced allegations of being a Marcos crony. His family controls the Philippines' biggest banana-exporting business and some real estate holdings.
Floirendo Jr.'s brother-in-law, Antonio Manuel R. Lagdameo, is the new ambassador to the United Kingdom.
PDP-Laban's top donor, businessman Jerry M. Navarrete, donated P30 million.
Navarrete used to be executive vice president of the Nacionalista Party, the political party of the Marcoses, including Imee, losing vice presidential candidate Ferdinand "Bongbong" Marcos Jr., and Imelda, who is Ilocos Norte representative.
In his Oct. 4 speech during the Sulong Pilipinas Convention at a Makati hotel, Duterte said Imee Marcos borrowed money to help bankroll his presidential bid.
"Wala akong barangay captain, wala akong congressman, wala akong pera. Si Imee pa ang nagbigay. Sabi niya, inutang daw niya. Si Imee, supported me (I had no barangay captain and congressman (to support me), I had no money. It was Imee who gave. She said she borrowed it)," he said.
Marcos denied the president's claim on Oct. 17, saying it could have been another one of his jokes. Her only contribution to Duterte's campaign was to solicit votes for him in the Ilocos Region, her family's political bailiwick, she said. (See story: VERA FILES FACT CHECK: Did Imee fund Duterte's campaign?)
Under the Omnibus Election Code, candidates and political parties are required to file a "full, true and itemized" SOCE 30 days after election day.
The SOCE discloses the candidates'expenses, a list of funders and what they contributed to during the campaign period from Feb. 9 to May 7. Pre-campaign donations are not listed in the SOCE and are not covered by campaign finance laws.
Failure to file would prevent winning candidates from taking oath of office. If the political party which nominated them doesn't comply, the same rules will apply, according to the Omnibus Election Code.
Based on the two statements, the president himself spent P200,000 from his own pocket. He didn't receive a single peso from PDP-Laban.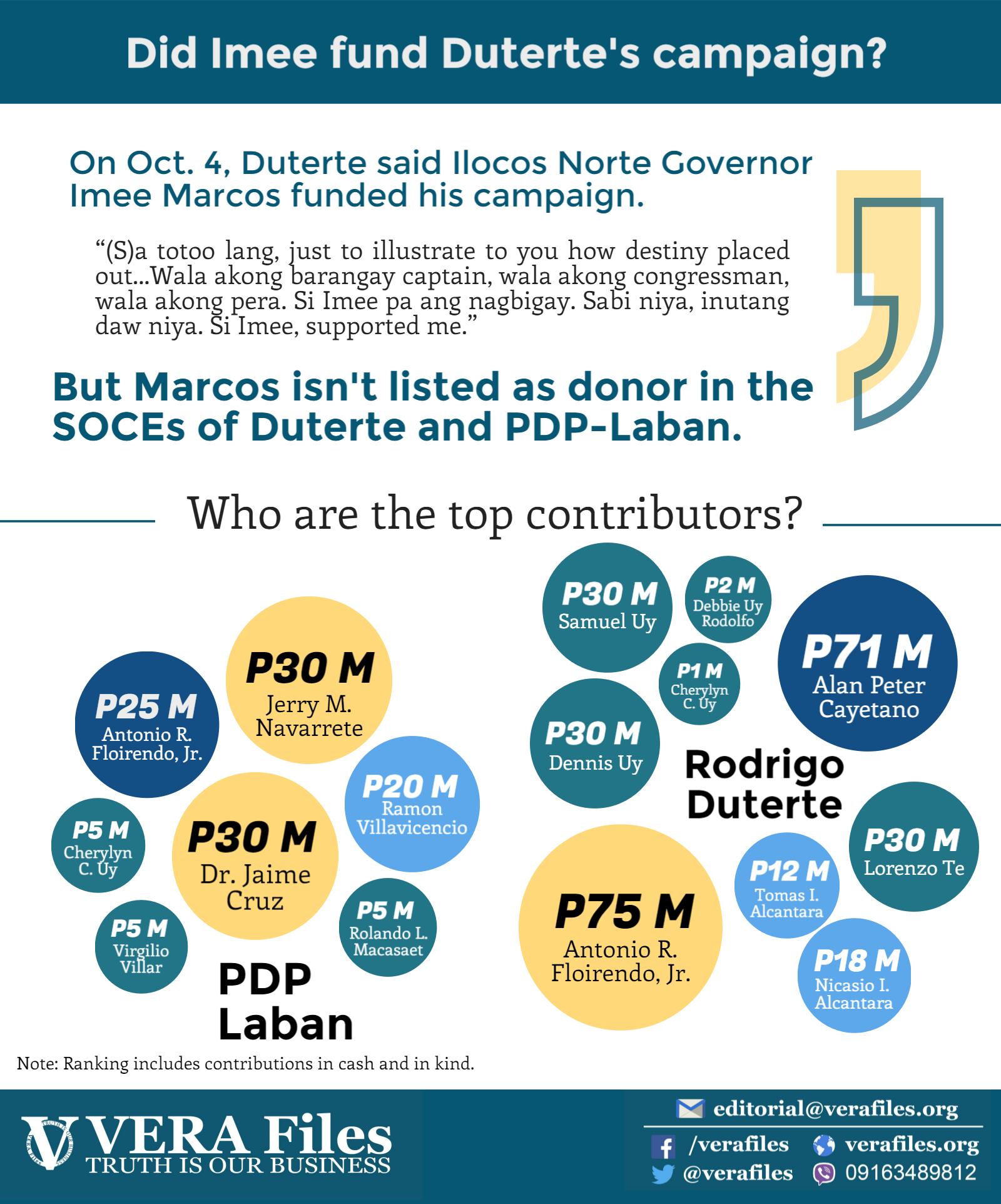 Duterte listed his running mate, Sen. Alan Peter Cayetano, as having contributed P71.3 million worth of tandem advertisements to his campaign.
Another major contributor he declared is the Uy family that owns the Davao-based Phoenix Petroleum Philippines Inc.
At least 20 current and former officers and employees of the Phoenix Petroleum led by its president and chief executive officer Dennis Uy contributed some P50.4 million in cash and goods and services to Duterte's campaign.
Uy is listed as having given P30 million, while Phoenix Petroleum chair Domingo Uy put in P5 million. The rest gave amounts ranging from P225,000 to P2 million to either Duterte or the PDP-Laban.
Samuel Uy of Davao Farms and Davao Import Distributors Inc., and Lorenzo Te of Honda Cars Davao chipped in P30 million each.
Nicasio and Tomas Alcantara of Alsons Consolidated Resources Inc., an energy, power and petroleum company, also donated P18 and P12 million, respectively. Nicasio is the former chairman and chief executive officer of Petron, the country's largest oil refining and marketing company. Tomas is a former trade undersecretary.
Duterte earlier said he did not receive funds from mining companies. His SOCE, however, shows he received donations from officers of mining firms: Marcelino C.Mendoza, chief operating officer of mining company MGS Corp. donated P14.5 million, and Michael Regino, president of Agata Mining Ventures and San Agustin Mining Services Inc., P14 million.
Regino is a close associate of former Senate President Manuel Villar, whose son Mark Villar, elected representative of Las Pinas in May 2016, was named public works secretary.
Lawyers of the Medialdea Ata Bello Guevarra and Suarez Law Offices also contributed P500,000 each: Lorna Imelda M. Suarez, Loreto C. Ata, Renato Q. Bello, and Salvador C. Medialdea, who is now Duterte's executive secretary.
Medialdea's wife, Ma. Bertola, also donated P1 million.
Other cash donors include Carlos "Sonny" Dominguez (P3 million) and Alfredo C. Lim (P1 million). Ismael Sueno shouldered equipment rental. Dominguez is also in United Paragon, a mining company.
Dominguez' younger brother, Paul, sits in the board of directors of Phoenix Petroleum, while Hermogenes Esperon Jr. is its consultant.
When he became president, Duterte named Dominguez as finance secretary, Esperon as national security adviser, Sueno as interior and local government secretary and Lim as president and chief operating officer of the Philippine Amusement and Gaming Corp. (Pagcor).
The Comelec's CFO described its investigation on Duterte's SOCE as "informal or internal" investigation" and said there were no updates.
The CFO said its priority is the audit of all SOCEs of national candidates in the May 9 elections.
The CFO raised the possibility that Duterte's statement about Imee Marcos was carelessly made, noting that the president is often not mindful of what he says. But the Comelec unit also said it is not discounting the veracity of the statement.
Under Comelec's Omnibus Rules on Campaign Finance, an incomplete SOCE — one that doesn't contain all required information—is considered "not filed," a violation that carries a P30,000 fine for presidential candidates and political parties.
Nondisclosure of donors, on the other hand, is tantamount to an election offense, the CFO said.
Section 106 of the Omnibus Election Code requires candidates and treasurers of political parties to issue a receipt for every contribution, as well as keep "detailed, full and accurate records of all contributions received."
Violators face jail time of one to six years, and disqualification from holding public office and aside from being deprived of the right to vote. Political parties found guilty face a fine of at least P10,000.
However, it would be difficult to prove if Marcos indeed funded Duterte's campaign, an election lawyer told VERA Files.
Apart from the SOCE and supporting receipts, there are no other documents that could prove Marcos poured money into Duterte's campaign except probably bank deposits, he said. And those are covered by the Bank Secrecy Law.