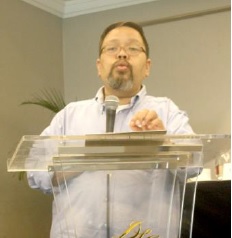 Comelec Spokesperson James Jimenez starts discussion on inclusion of social media expenses in campaign finance. Photo from Lente.
At the seminar workshop conducted by the Legal Network for Truthful Elections last month, James Jimenez, spokesperson of the Commission on Elections proposed something that makes a lot of sense and like many sensible things, may not sit well with some people who would be directly affected by it.
Jimenez wants expenses by the candidates in promoting their candidacy in social media be included in the Comelec's regulation of campaign expenses.
Jimenez said all those running for elected positions should be required to submit to Comelec their Facebook, Google and other social media accounts.
Jimenez said the election body should look into the cost of production of political ads being posted in social media and of boosting the posts.
In Facebook, they offer to boost viewership of your particular post for a fee. You choose the age range of Face book members (Example: 18 to 65 years old) and areas (Philippines and other countries.) Boosting a post can range for a thousand pesos for a week to several thousands if one wants a wider and longer coverage.
A boosted FB post will appear on the wall of members who are not their friends. Candidates can reach even those who are not their FB friends.
Jimenez said the requirement should include the election losers.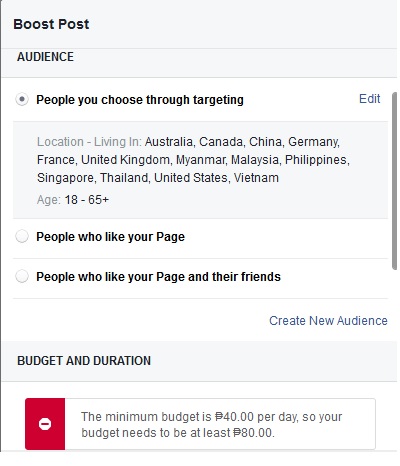 An example of a Social Media boost post form.
Today, there is no clear way how to look into how candidates use social media in their campaign. There is no law that regulates campaigning in social media because Facebook, Twitter, Google and other social media platforms were unheard of at the time theOmnibus Election Code of the Philippines (Batas Pambansa Bilang 881) was enacted in 1985.
Jimenez said in social media was then considered an "outlier." He noted pre-2016 was touted as social media election with Risa Hontiveros as "the buzz in social media by then." But despite herbeing "the favorite " among social media netizens in the 2013 election, she didn't make it in her second try for Senate compared tonewcomer Nancy Binay (number five) who was the most maligned candidate in social media then.
In 2008, a Yahoo survey put internet reach to 28 per cent of Filipinos. At that time there were only some 10 million Filipinos connected to the internet.
A survey by Publicus in 2010 showed activities of internet users were primarily for email and instant messaging, search engines, online games, social networking and reading of blogs. Social media was not given much credit as a source of information for voters on candidates unless traditional media (TV, radio and newspapers) picked up the issue.
Not even when internet usage increased in 2013 and 2014. Pulse Asia asked voters in a September 2015 survey which is most helpful to them in choosing whom to vote in the 2016 elections.Television was the number choice for news (79 percent), commercials (55 percent), and election debates (29 percent). A far second was radio. A very small percent said they get their information through the Internet. For news, only seven percent, commercial ads only two percent and debates, one percent.
Yet, it turned out that social media played an important role in the election of the tech-challenged candidate, Rodrigo Duterte in 2016.
Managed by a few tech and marketing savvy campaigners, Duterte's online warriors turned Facebook and Twitter into a battle field, pouring out disinformation, curses and threats just the way their candidate spews out the same during rallies.
Jimenez said they thought social media would be a vehicle for education. They saw it as a "tool to mobilize people."
Instead, he said, we got "dystopia." It engendered partisanship, fears, and divisiveness.
Today, latest statistics by statistica.com puts the Philippines as number six in the world in the number of Facebook users (69 million).
A survey by the Social Weather Stations last March showed that 42 percent of the 65 million adult Filipinos are Internet users. Sixty-seven percent of those 42 percent consider the proliferation of fake news in the internet as "serious" problem.
Concerns have been raised on the dangers of fake news which is disinformation to democratic values and processes including elections.
Jimenez admits the difficulty of regulating the quality of content being distributed in social media.
His proposal about including social media expenses in campaign finance to be regulated by Comelec should make a good start of discussion on social media and elections.