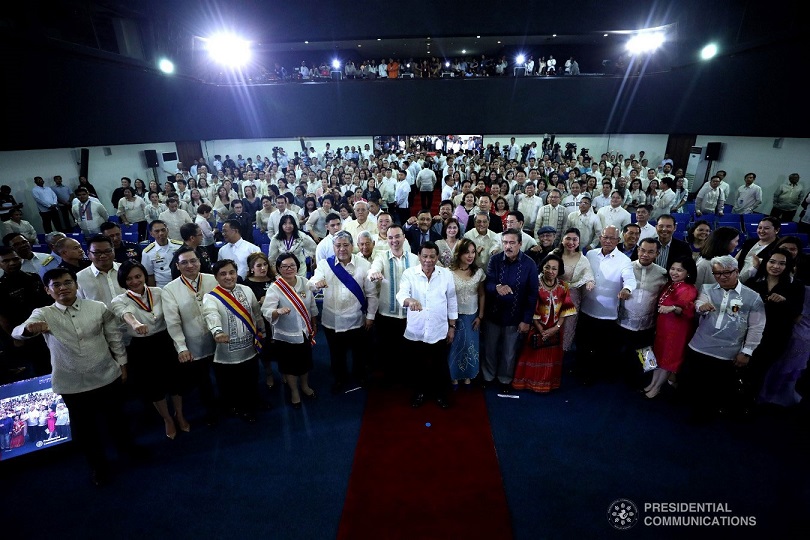 Pres. Duterte at the 120th Anniversary of DFA, June 18, 2018. Delia Albert is sixth from right. Malacañang photo by Ace Morandante.

In the photo of President Duterte with diplomats at the celebration of the 120th anniversary of the Department of Foreign Affairs, distinguished diplomat Delia Albert stood out because she was the only one who was not doing the idiotic fist pump which has become the signature gesture of Duterte and his sycophants.
Albert, who was foreign secretary in 2003 under the Arroyo administration (she was at the helm of the foreign affairs department when truck driver Angelo de la Cruz was kidnapped by Islamist group in Iraq forcing the Philippines to withdraw from the US-led coalition) has served the country with distinction. A career diplomat she was ambassador to Australia and Germany, among the posts that she had held.
Albert is currently senior advisor at the Sycip Gorres Velayo & Co.
In the picture, everybody– Foreign Secretary Alan Peter Cayetano and wife Lani, Senate President Tito Sotto, Defense Secretary Delfin Lorenzana and some senior Foreign Service officers – joined Duterte doing the fist pump. Albert, in a red floor-length attire and standing between first pumping Sotto and Lani Cayetano had both her hands in front holding a clutch bag. She was smiling.
Duterte's fist pump has become a symbol of his iron hand and brutal drug war which has claimed some 20,000 lives..
If Albert's not doing a fist pump was a protest action, it was eloquent. That simply proved that in the genteel world of diplomacy, there's a way to make one's point contrary to that of the majority without saying a word.
Oh, Sen. Loren Legarda was also not doing the fist pump in the picture.
If there was anything remarkable about Duterte's speech at the DFA anniversary, it was the less number "pu..na" and "b.s.". There were two or three but not the usual 20 or 15 in many of his speeches.
He related his much repeated conversation with Chinese President Xi Jinping over the overlapping territorial claims in the South China Sea to underscore that he did not abandon the Philippine claim.
There was no formal new policy initiatives but some parts of his speech could be taken as a guide to the direction the DFA would take in dealing with other governments.
He touched on the controversial issue about Chinese Coast Guards controlling Scarborough Shoal getting some of the catch of Filipino fishermen and giving them water and noodles.
Duterte said: "Pero "yan tubig lang. At saka "yung mangingisda. Natural man talaga "yung ano, maski — maski tayo. It was a barter in exchange for the — "yung isda. Eh ang problema, ang valuation. Eh you do not have a way of… In a barter, it's wishful thinking ah "yan, the value of that is… Hindi tayo nagkakaintindihan dito. It was not an outright seizure of… Hindi naman kami mag… We do not arrive at judgments just because there is need to issue a statement. Eh tahimik lang ako. It"s better policy just to…"
For Duterte, the issue is not sovereignty- dominion over one's territory. Scarborough is now a barter zone. And the issue raised by the Filipino fishermen against the Chinese coastguard was a "valuation problem."
Lapu-Lapu for noodles and bottles of water is not fair. The Chinese should add cellphones.