When pianist Cecile Licad interprets Chopin and Beethoven on February 22, 2022 for Manila audiences, she'll be performing without her usual live audience.
Performance is in New York's historic Lotos Club with her audiences world-wide reduced to a virtual reproduction of her interpretation.
The setting is the historic Lotos Club of New York, one of the oldest literary clubs in the United States founded on March 15, 1870 by a group of young writers among them Mark Twain who was an early member in 1873.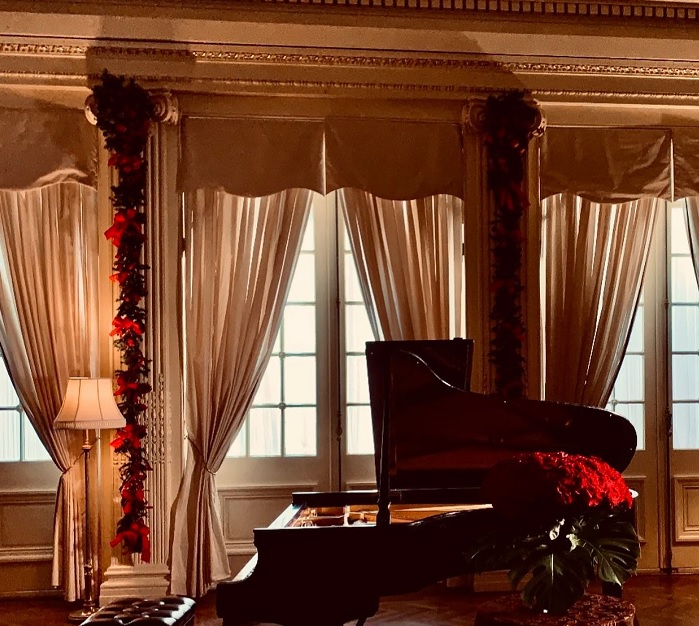 The recital setting of Licad at Lotos Club in New York. Photo from Cecile Licad.
The post-Valentine concert called Amore will be videographed by Scott Steiner with whom the pianist has worked with in the filming of the Louis Armstrong story where she provided the live music along with trumpet icon Wynton Marsalis and his ensemble.
"Scott (Steiner) is a very cool guy and a man who has good creative ideas," Licad told this writer. "I am usually very picky about a hall's acoustics. But because of the wooden floors of the place, my instinct tells me it would sound really good."
March 2020 up toJune 2021,she lost all her engagements from the pandemic. But in July 2021, she got back her first live audience at the Santa Fe Music Festival playing chamber music and a solo recital which all ended in standing ovations.
She recalled: "It was exhilarating as I like the excitement and even the fear of what might happen. After the Santa Fe festival, I had a terrific time in Tivoli New York and I played seven Rachmaninoff preludes to a world premiere choreography. It was musically very special but I had to learn seven of them in ten days.
I have a big Rachmaninoff repertoire but this were all new to me. I was so pleased to see the dancers dancing away to my conception and it gave me goosebumps watching their body during rehearsals. It's usually the other way around in such a thing.It was also fun being with fellow Filipina, Stella Abrera, principal dancer from the American Ballet Theatre. She is such a humble human being, no airs, I just loved her. It was all outdoors and Steinway sent me a gorgeous piano . I never knew how dancers work and we rehearsed for hours during that week. Tivoli is a little jewel in the Hudson Valley."
It was in that same open-air venue in New York that she played Chopin's Revolutionary Etude with my daughter Kerima in mind. After the concert, a music fan wrote it was the "fiercest" Chopin Revolution Etude he had ever heard in his life.
Towards the end of the year, she got busy as member of the jury of a piano competition and a chamber music tilt.
Last month of 2021, she had a solo recital in a New York's St. Paul Church and found real happiness connecting with her audience she hardly knew personally.
"I played on this instrument called Grotian Steinweg. Last time I came across one was when I was 11 years old at my Aunt Amelita Guevarra's house in Manila. Very interesting the sensitivity from the the pedal to each note (hard to describe) but quite rare, but as with any piano one still has to know how to play games with it. But I think the piano and I liked each other that night," she said.
She thanked Corrine Samios who helped in the purchasing of the piano for the Piano evenings of David Dubal.
That evening turned euphoric for both performer and the audience.
"When one has a loving audience, one could only give back. And when work turns into pleasure, it's pure joy. I was overwhelmed how many people showed up and I didn't know many of them,"she enthused.
About her February 22 online concert in Manila, she is pleased that Rustan's Nedy Tantoco asked her to do it. "It has been a rough time for performers throughout the world. I am thrilled. I think it is a wonderful way of reaching out to my countrymen during the pandemic."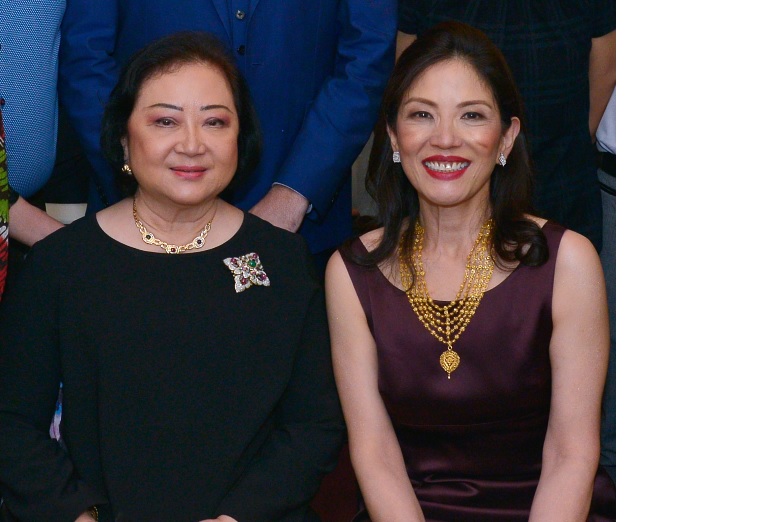 Cecile Licad with Rustan's Nedy Tantoco.
When she rehearsed her program at the historic Lotos Club of New York, she was actually nervous. She had to perform and make believe there was a live audience.
She had to find a wayto communicate her music with the help of a videographer who has ideas on how to communicate the music without a live audience. "I am usually very picky about a hall's acoustics but because of the wooden floors of the place, my instincts tells me it would sound really good. I hate it when the piano doesn't give me pleasure. Hope this would be of a high quality that I want. As I am practicing for this concert I am already thinking of not having a live audience which I am naturally used to. For music's sake, I must find a wayto communicate and channel your energy as a performer. One of the things that I always do is have ideas and for each piece I have a story that inspires me and it is intimate and personal to myself. Each piece may bring me to various places with different thoughts and emotions."
(The February 22, 2022 Cecile Licad recital program includes Beethoven's Moonlight Sonata, Barber's Souvenirs Op. 28, Rachmaninoff's Four Preludes, Chopin's Scherzo No. 2 in B Flat Minor, Op. 31, Chopin's Ballade No. 1 in G Minor and Buencamino's My Soul's Lament. The post-Valentine concert is presented by Megaworld and Rustan's for the benefit of the Philippine Philharmonic Orchestra Society, Inc. (PPOSI).Sponsors are SSI Group Inc., Starbucks, San Miguel Corporation, Bank of the Philippine Islands and Mr. Danny Dolor. Ticket price at P1500. For inquiries, call or text 0917 5708 301.)