Pianist Cecile Licad's winning streak from New York's Carnegie Hall to the Empress Theater in Vallejo, California surfaced anew in USA's far south when she was greeted with a close to 10-minute standing ovation after her Schumann Piano Concerto in A Minor, Op. 54 with the North Mississippi Symphony under the baton of Steven Byess.
"Her performance was beyond words," said Filipino doctor Noel Garcia who also plays the piano. "There was ethereal beauty in her lyrical passages played with such varying tones and intensity and defined with such clarity. I thought she scorched the piano!" he added.
Licad obliged with a William Grant Hill piece she played for the first time.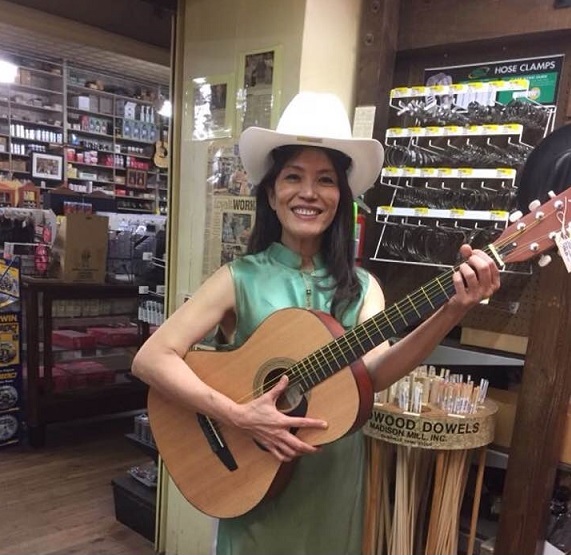 Cecile Licad with a guitar in a Tupelo hardware where Elvis Presley bought his first guitar at age 11. From Licad's FB post.
"I can't believe the magnificent, if, perfect Schumann piano concerto hasn't been played in Tupelo, Mississippi in 46 years. This calls for a celebration," said the Filipino pianist.
Her performance was such another engagement was suggested by the conductor this time featuring Rachmaninoff's Variations on a Theme by Paganini and Liszt's Totentanz in one evening.
It is the third time Licad was in Tupelo, Mississippi which is the home town of Elvis Presley.
During her latest Tupelo visit, Licad was escorted to the local hardware where Elvis Presley bought his first guitar when he was 11 years old.
Considered the most significant landmark of Tupelo's history is a modest, two-room house where the King of Rock & Roll was born on January 8, 1935. From this humble beginning, Elvis Presley began his swift rise to become the world's most popular entertainer.
The house built by a savings of $180 draws over 50,000 visitors each year from across the world and is part of the 15-acre Elvis Presley Park.It is considered a Mississippi landmark and the centerpiece of the park which includes, among many other exhibits, the popular photo-op "Elvis at 13" statue and Elvis' childhood church.
The first time Licad was in Mississippi was in 2009 in a well-received solo recital while Metro Manila was submerged by Typhoon Ondoy. Her encore piece she dedicated to another legendary pianist, Alicia de Larocha who passed away that year.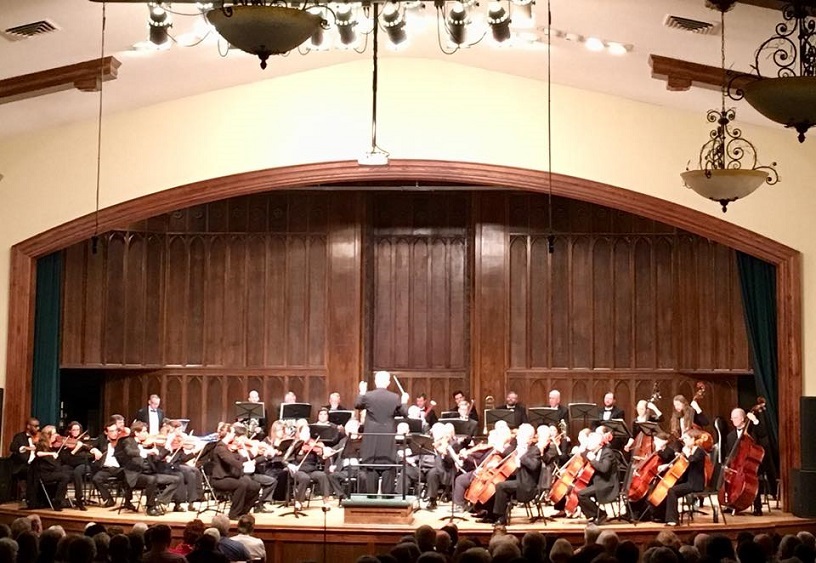 The North Mississippi Symphony Orchestra in Tupelo, Mississippi. Filipino pianist delivers another unforgettable Schumann concerto. Photo from FB page of North Mississippi Symphony.

In this latest triumphant concert in Mississippi, the piano concerto became the concluding piece instead of the Dvorak symphony.
"A lot of people did not take the much visit to the restroom in anticipation of her second half finale number clearly to showcase the soloist. I would say her technique remains unmatched by anyone who performed here," Garcia said.
The Filipino doctor said the most amazing thing Licad is that she has remained unaffected by fame. "She remains down-to-earth without a trace of pretense. She is very much a Filipino at heart.She loves Filipino food with as much passion as her music. She loved the simple food we served consisting of fried garlic rice, tocino, soriso and Visayan kinilaw."
Licad's last engagement with the orchestra featured a Liszt piano concerto and the seldom played Totentanz by the same composer.
That performance was still memorable to Garcia who works at the North Mississippi Medical Center. "The opening chords — which most artist tend to play too fast to show off I guess! — was played in grand manner like she was declaring the opening of a great story. And what a story in music making she did. She worked in close collaboration with the orchestra but on top of that she managed to coax the musicians to deliver a great performance."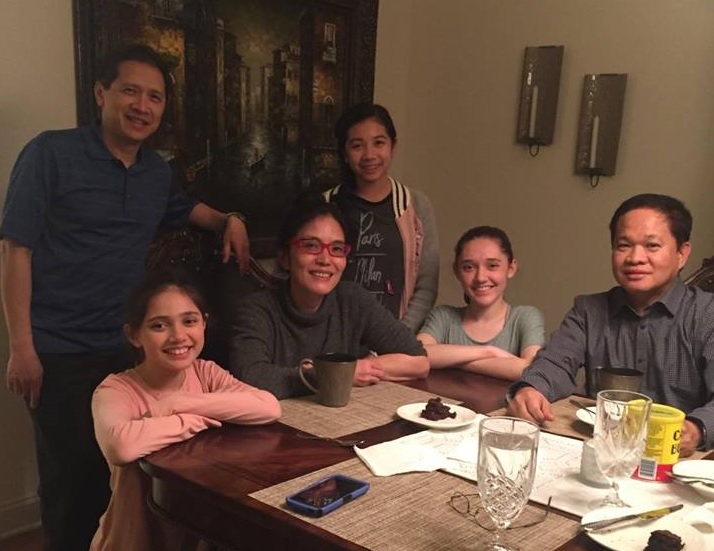 The Tupelo dinnerfor Cecile Licad hosted by doctors in Mississippi among them Dr.William Brohan and Marie Broham, Dr. Leonil and Mariched Gan Lim and Filipino pianist-physician Noel Garcia (far right)from Davao City. Photo courtesy of Dr. Noel Garcia.

The Tupelo Symphony was founded in 1971 by lawyer Wade Lagrone who believed it was possible for a city as small as Tupelo to support an all-professional symphony orchestra. Its musicians came from Alabama, Arkansas, Mississippi, Tennessee and beyond.
After Mississippi, Licad goes back to California April 15, 2018 to close the season of the Vallejo Symphony where she is soloist in Saint-Saens' Piano Concerto No. 2 in G Minor, Op. 22.