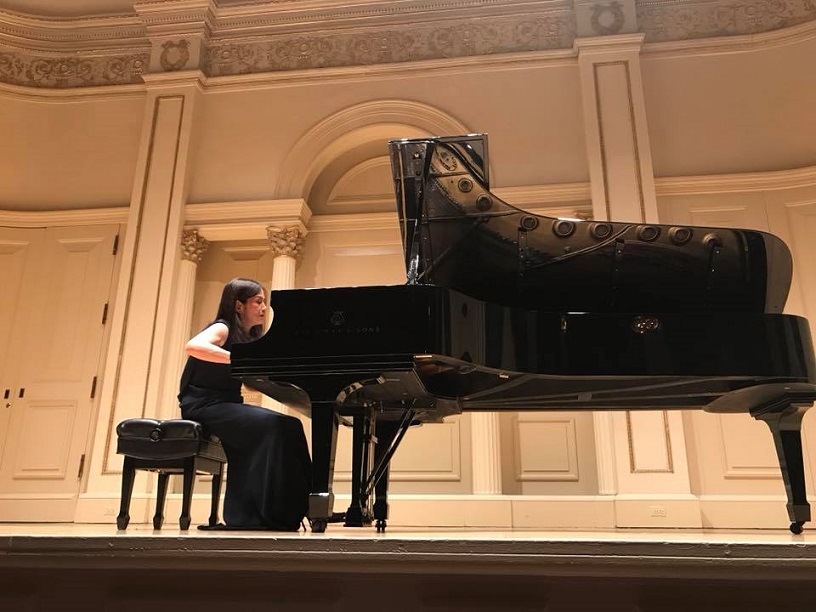 Cecile Licad at the Weill Recital Hall of Carnegie. Photo by Lara Halili.

Pianist Cecile Licad returned to the Carnegie Hall (Weill Recital Hall) Thursday night (January 18) with a predominantly New York audience giving her a rousing standing ovation.
The euphoric response stunned the pianist she obliged with two encores by Gottschalk and Ravel.
It was an evening of a rarely performed program by Liszt (Sonata in B minor, and the Mephisto Waltz No. 1 as arranged by Ferruccio Busoni) and by American composers Edward MacDowell and Elie Siegmeister.
It was a musical déjà vu for Licad whose past solo recitals in the same venue were attended by music icons Leonard Bernstein and Isaac Stern.
Two years ago, she received the same audience approval in the Isaac Stern Hall of the same venue in the historic Carnegie Hall debut of the Philippine Philharmonic under Olivier Ochanine.
"It was an absolute pleasure and fun at the Weill Hall last night," posted Licad on Facebook. "That audience reaction is the reason why I can't stop playing music. I had a great time."
In the audience was the granddaughter of composer Elie Siegmeister whose American Sonata she played in the recital.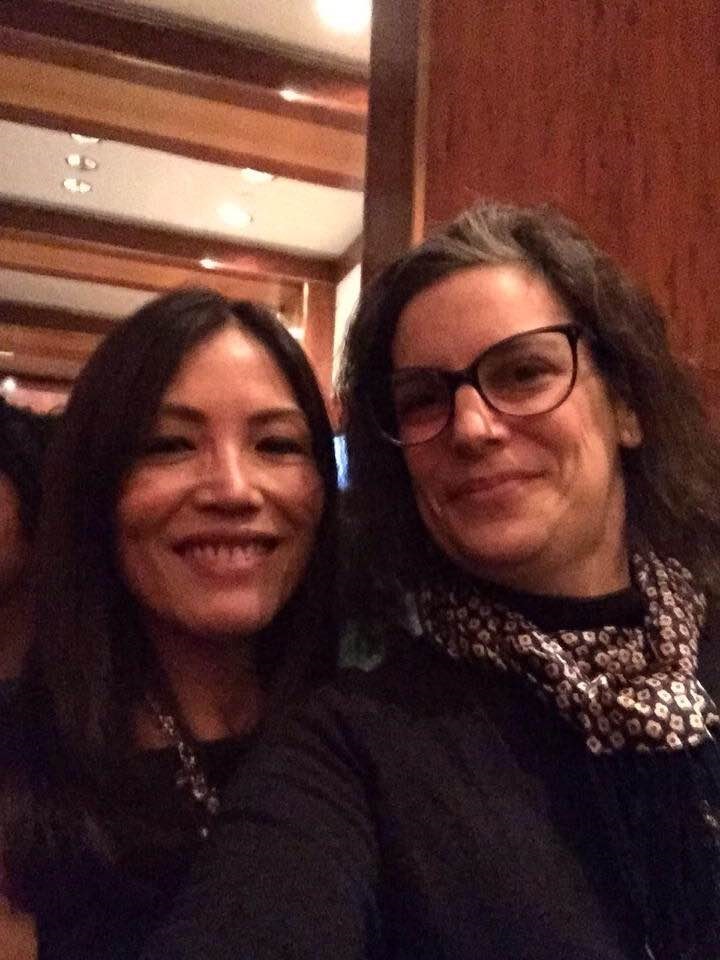 Cecile Licad with the granddaughter of American composer Elie Siegmeister. Photo from the FB post of Cecile Licad.

George Grella of New York Classical Review noted that Licad's playing of all three composers was superb. "This sonata is social music, with more than a touch of Gershwin. Licad's musicianship was impressive all evening. There were stretches of her playing in the second movement (marked Moderately slow, with great dignity), that crowded out time for the contemplation of the music, but she played with a feeling of advocacy that was touching. There is a lot of surface dazzlement in the sonata, but Licad brought out the depths in the piece as well.
After the modern sophistication of Siegmeister, Liszt took a bit to adjust to, but then audiences have been adjusting to the Sonata in B minor for 150 years. Here, Licad's musical thinking gave purpose to her attack, articulation, dynamics, and rhythms. Her manner with the funereal opening statement was forceful in the extreme. She eschewed dramatic atmosphere and put her focus into the sheer, wild drama of the notes, the extreme swings of tempo and mood. Much, if not most, of this music is a display of piano technique, and Licad had it all–speed, force, an easy octave reach. More important was that she had the music itself in her hands. Her lovely, long legato runs expressed the hyper-lyricism of Liszt's thinking, perfectly capturing the rise of each emotional state, its turn toward the baroque and decadence, and its disintegration and reformation into the next experience."
The reviewer noted that as with Siegmeister and Liszt, Licad approached MacDowell's ten little movements with a dedication to the specific quality of each, whether pastoral, agitated, sorrowful, or folksy."
The high point of this fine recital came with the first of two encores. "Before her last piece, Louis Moreau Gottschalk's Caprice Andalouse (another rarely heard composer she has made a specialty), Licad played a modest little thing known as 'Ondine' from Gaspard de la nuit. Her hands swept up and down the keyboard, creating an immersive and uncanny atmosphere of color and thrills. Licad's pianism was excellent throughout, but it was the sense that this music mattered to her that was most striking; there was a little sense of personal urgency to the audience that was quite moving."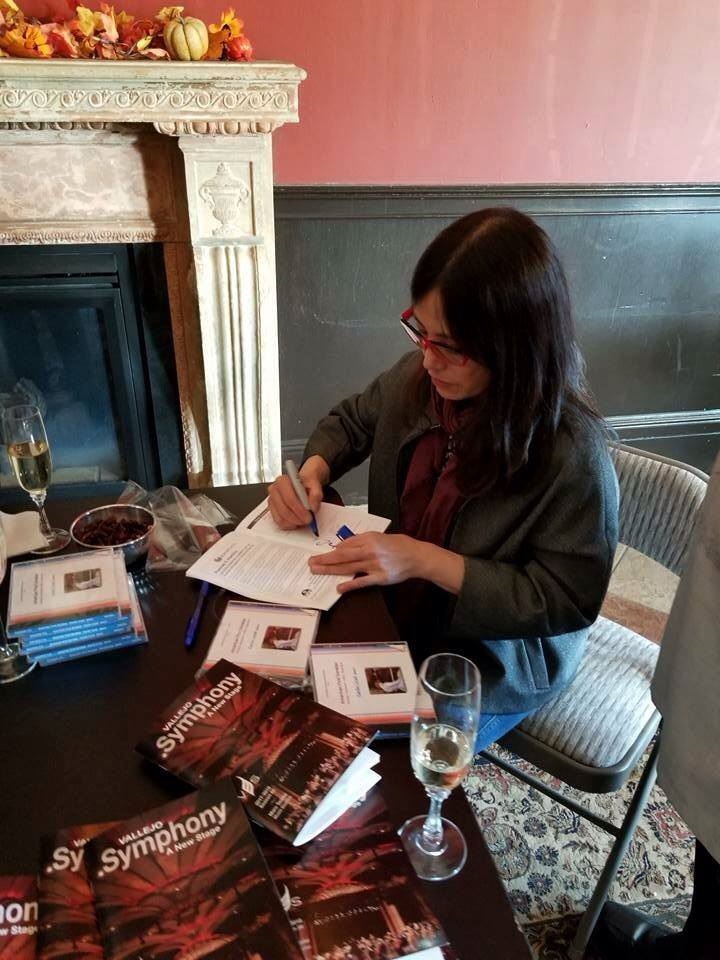 Cecile Licad signing CDs in Vallejo, California. All set for a Shostakovich concerto on January 28. Photo by Vallejo Symphony.

In another development, the second volume of Licad's latest CD of American composers earned for record producer Judith Sherman another nomination as Producer of the Year in the 60th Grammy Awards to be held in New York on Jan. 28.
Apart from the latest Licad CD, the other recordings nominated under this category include The Birthday Party (Aki Takahashi),
Discovering Bach (Michelle Ross), Foss: Pieces of Genius (New York New Music Ensemble), Secret Alchemy- Chamber Works by Pierre Jalbert (Curtis Macomber & Michael Boriskin) and Sevenfive-The John Corigliano Effect (Gaudette Brass), among others.
A 12-time Grammy Award nominee and the winner of the award for Classical Producer of the Year for 1993, 2007 and 2011, Sherman has contributed a lot to the catalogue of recorded classical music.
After her triumphant Carnegie Hall recital, Licad is headed for California where she is soloist of the Vallejo Symphony in Shostakovich Piano Concerto No. 1 on January 28 after which she returns to Elvis Presley country in Tupelo, North Mississippi as soloist of the North Mississippi Symphony Orchestra under Steven Byess on Feb. 24.