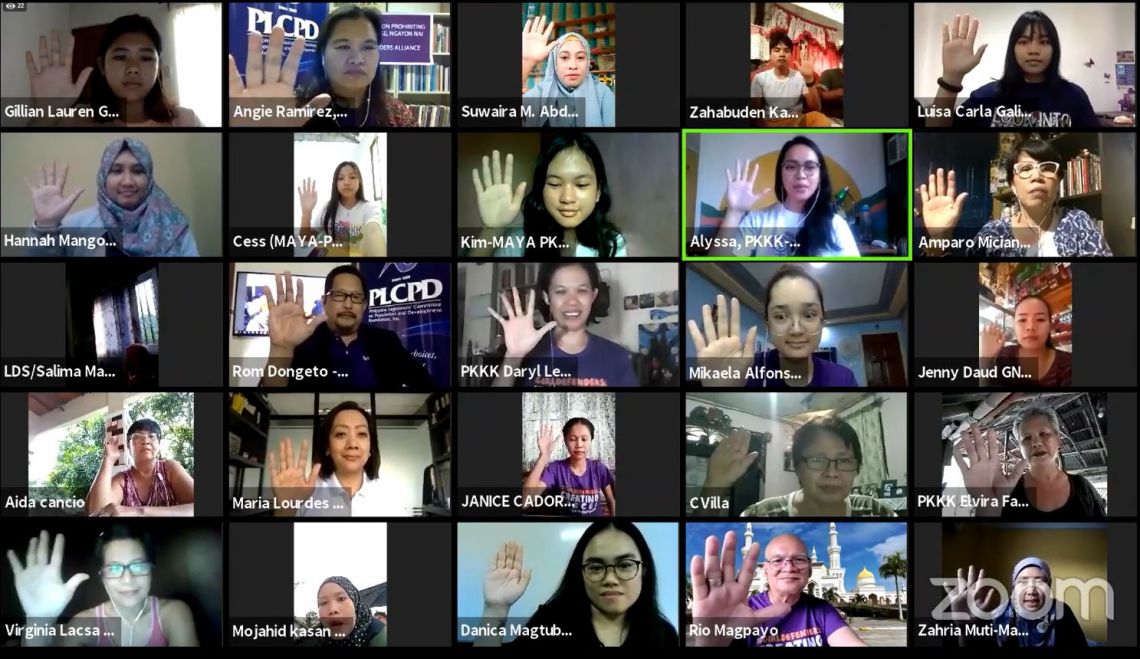 Advocates pledge their support in ending child marriages

"I am living proof that it hurts for a child to be forced into marriage," said Ameerah Ibrahim, recounting the time she was forced by her parents to get married at 14.
She said it was a common practice for girls like her in Sultan Kudarat, where she spent her childhood, to have an arranged marriage, but she fought against this. "I ran away from my parents so the marriage would not push through."
Ibrahim shared her experience during a webinar on ending child marriages on Oct. 9, where she and fellow "girl defenders" called for a stop to the practice.
Now a mother living in Culiat in Quezon City, where she serves as barangay councilor, Ibrahim said she does not want her children to experience what she and her friends struggled against.
For her part, Nurhanina Abdul said she was lucky her parents did not force her to get married. But her friends were not as fortunate.
"As a Muslim, I grew up in a community where culture and tradition are very important. It is saddening to see the suffering of fellow child Muslims when their parents force them to get married, especially to someone they don't even know or love," she said.
They should be "studying or playing as children, but they are put in roles where they must fulfill their obligations as a family member."
Girl defenders alliance
Abdul and Ibrahim are among the members of the #GirlDefenders movement, which aims to safeguard and defend the rights of girls to have a violence-free future by advocating policy reforms that will prohibit child marriage.
The alliance of #GirlDefenders, composed of representatives from both government and civil society organizations, launched an online rally last Friday in time for the celebration of International Day of the Girl on October 11.
According to the latest data from the United Nations Children's Fund (UNICEF), the Philippines ranks 12th in terms of child marriage cases globally with at least 726,000 child brides recorded in 2017.
UNICEF also says 15 percent of Filipino girls are married before they reach the age of 18.
Public policy group the Philippine Legislators' Committee on Population and Development Foundation, Inc. (PLCPD) also claims that while the Family Code of the Philippines sets 18 years old as the legal age of marriage, "Muslim communities and some indigenous groups allow the practice of child marriage as early as puberty based on written and unwritten laws and as a cultural practice."
A life of poverty and abuse
"Child marriage is a human rights violation. It compromises women's health and education and subjects them to live a life of poverty, abuse and violence," said PLCPD's Executive Director Rom Dongeto.
Zahria Muti-Mapandi of Marawi-based gender justice advocacy group Al-Mujadilah Development Foundation, Inc. (AMDF), acknowledges the role culture plays in child marriage.
She cited another cruel practice common in the old days: burying a baby if this turned out to be a girl. "Today, we may not literally bury our girl children, but through forcing them into an early marriage, it is already like burying them with the negative effects of a child marriage," she said.
"Some of these effects are removing the freedom to choose who they want to be with. Their freedom to continue their interpersonal growth was also taken away. They are just identified as child wives or child mothers," Muti-Mapandi added.
On Aug. 6, 2019, a bill seeking the eradication of child marriages was filed in the Senate by Risa Hontiveros, Chair of the Senate Committee on Women, Children, Family Relations and Gender Equality.
Three related bills were also filed in the Lower House, giving the 18th Congress the distinction for supporting moves to end child marriage.
Hontiveros said cases of child marriage increase when a community is in the middle of a crisis, such as the current pandemic.
"The deepening into poverty of Filipino families during the pandemic is a possible reason why some families are pushed into selling their children to child marriage," she said at the webinar.
Due to the imposed lockdown to reduce the spread of COVID-19, the country experienced a 17.7 percent unemployment rate or 7.3 million unemployed in April, the highest recorded in the country's history, according to a June 5 news release from the Department of Labor and Employment.
"Some say they need to get their children married to minimize their spendings, but this is not the solution. We only endanger our girls when we force them into situations that deprive them of education, economic prospects and their very future," said Hontiveros.
Alleviating root causes
Canadian Ambassador to the Philippines Peter McArthur, who was also present at the webinar, said Canada has provided P44 million to the country to "implement gender equality focused on reproductive health and economic empowerment."
Canada recently granted additional P3 million to the Department of Health for family planning amid the COVID-19 pandemic. This includes a donation of personal protective equipment for healthcare workers, many of whom are women.
The Canadian government also supports development group Oxfam Philippines in a program called Creating Spaces which aims to reduce violence against women and bring down the prevalence of child, early and forced marriage.
As Oxfam Philippines Country Director Lot Felizco shared at the webinar, child forced marriages also occur in evacuation centers while communities are under government-imposed lockdowns amid the ongoing armed conflict in Mindanao.
This has been reported by their project partners in Lanao del Sur and Maguindanao, she said.
Felizco said she hopes the passage of the bill into law will "close all legal loopholes that enable child marriages to persist in our country."
Sen. Hontiveros said apart from working to end child marriage, there must also be interventions in "alleviating its root causes – poverty, armed conflict, displacement, gender inequality."
With the Senate bill to end child marriage now on second reading, Ibrahim hopes to see an end to the the practice for the welfare of generations to come.
She said she will continue to fight for children's rights to education and the freedom to get married only when they are ready.
"I call on parents, especially my Muslim brothers and sisters, to please support the end of child marriages, and to give our children the freedom and the right to continue their studies."