At least three Facebook (FB) accounts, including one that affiliates itself with the Philippine National Police, propagated a false claim this month saying sick people should wear surgical or medical masks with the blue side out while healthy persons should wear it with the white side out.

This is wrong. Health authorities such as the World Health Organization (WHO), the Philippine Red Cross (PRC), and the country's Department of Health (DOH), all agree there is only one way to wear the protective covering: with the colored side facing outwards.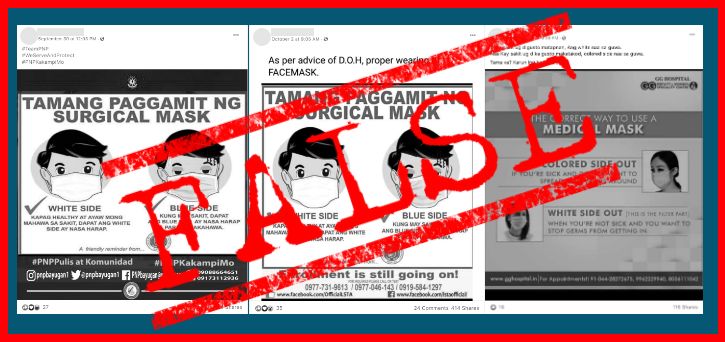 In a Jan. 24 Bloomberg video, Director Wing Hong Seto of the WHO Collaborating Center for Infectious Disease Epidemiology and Control explained that the white side of masks absorbs moisture, allowing the wearer's cough to be absorbed by the mask. The blue or colored side on the other hand, he said, is waterproof.
The WHO also advised the same in an infographic on the safe use of medical masks, reminding people to "ensure the colored-side faces outwards."
The false information on mask-wearing first circulated among Filipinos in late January in a now-deleted video where a local government official told the public to wear a mask white-side-out if they "do not want to get infected." (See: VERA FILES FACT CHECK: Manila Vice Mayor Lacuna demos wrong way to wear surgical masks, calls it the 'proper' way)
The recent posts carrying the spurious claim featured an infographic bearing the logo of a school in Binãn City, Laguna but the post cannot be found on its FB page.
The posts surfaced as the country's COVID-19 cases continued to increase, surpassing the 330,000-mark last Oct. 9 despite strict quarantine measures. The Philippines has been on a lockdown for over six months and counting — considered the world's longest since the start of the pandemic.
The three FB posts carrying the false graphic already collectively received nearly a thousand interactions from social media users. It has also been republished by several other accounts.
(Editor's Note: VERA Files has partnered with Facebook to fight the spread of disinformation. Find out more about this partnership and our methodology.)