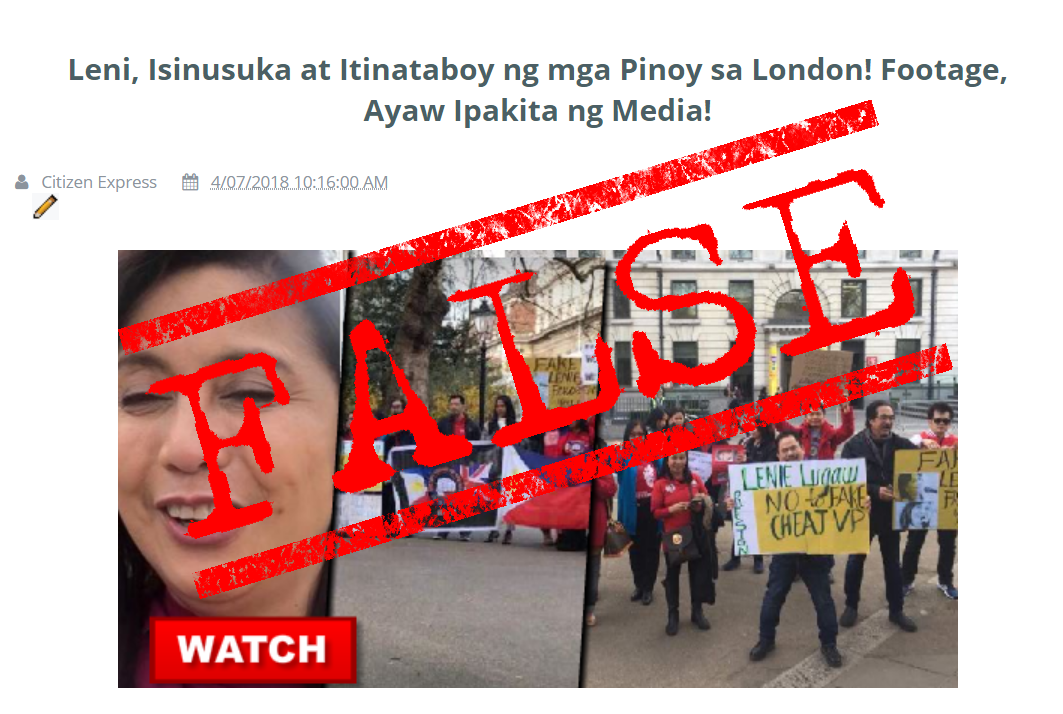 The headline of an April 7 story by citizenexpress.today stating legitimate news outfits did not report a protest against Vice President Leni Robredo in London is untrue.
The report, headlined "Leni, rejected by Filipinos in London! Footage, withheld by media!" used photos and videos of the protest in front of the London School of Economics, where Robredo was scheduled to give a speech that day.
Contrary to the claim, news outfits Inquirer.net and GMA News Online wrote about the protest and used videos from citizenexpress.today's own source, Facebook page Uk-Dds Activities and Events.
The story was reshared on social media on April 12, the day the vote recount for the vice presidential post began.
Former senator Ferdinand "Bongbong" Marcos Jr., who lost to Robredo in the 2016 elections, filed an election protest in June 2016 claiming poll fraud.
The biggest traffic generators on social media: Duterte Express, Exclusive DDS Marcos the 3rd Force and Active Social Media Commentators of the Philippines, and could have reached more than 889,000 people.
Editor's note: VERA Files has partnered with Facebook to fight the spread of disinformation.
(Guided by the code of principles of the International Fact-Checking Network at Poynter, VERA Files tracks the false claims, flip-flops, misleading statements of public officials and figures, and debunks them with factual evidence. Find out more about this initiative and our methodology.)
2018-04-20 14:27:40 UTC>