(UPDATED) Chief Presidential Legal Counsel Salvador Panelo, who earlier falsely claimed the United States "withdrew" from the Rome Statute that created the International Criminal Court (ICC), made another false claim about the tribunal. (See VERA FILES FACT CHECK: Panelo's claim about US and ICC misleading)
STATEMENT
In an April 7 radio interview, Panelo claimed the Philippines contributes "28 point something percent" to the ICC, a figure that surprised program host Pat P. Daza:
PANELO: Tsaka alam mo ba na 28 point something percent ng fund ng ICC galing sa atin (And do you know that 28 point something percent of ICC funds come from us)?

DAZA: I'm going to ask that nga eh. Magkano ang binabayad natin (How much do we pay)? I'm sure may monthly membership fee. Magkano (How much), would you know how much?

PANELO: Basta ang alam ko, 28 point something percent ng total nila galing sa atin (All I know is 28 point something of their total is from us).

DAZA: Ang laki (That's huge).

PANELO: Exactly.

DAZA: Ba't ang laki, bakit galing sa Philippines (Why so huge, and why from the Philippines)?

PANELO: Ewan ko, basta ang alam ko, iyon ang sinabi sa research ng ano—So ibig sabihin, kaya pala kako, ayaw tayong (I don't know, all I know is, what research shows— which means, that's why I said they don't want us to)—

DAZA: Ayaw tayong patanggal (They don't want us to withdraw).

PANELO: Matatanggalan sila ng 28 percent (They will lose 28 percent).

Source: PCOO transcript of interview with Chief Presidential Legal Counsel Secretary Salvador Panelo with Pat P. Daza, DZMM, April 7, 2018
FACT
A December 2017 ICC report shows the Philippines, as at 15 April 2017 contributed 397,896 euros (P23.7 million) to the tribunal.
The amount comprises 0.28 percent — not 28 percent as Panelo claimed — of both the total 141.6 million euros regular contributions and 144.6 million euros total assessed contributions by state parties to the ICC.
Sen. Vicente "Tito" Sotto III also earlier tweeted about the amount and, like Panelo, hinted that the amount was huge:
Our last payment to ICC was € 397,896 (euros) or php 25,404,938. Kaya pala ayaw tayo paalisin! @teddyboylocsin @blcb @nimfaravelo @maltiq
— Tito Sotto (@sotto_tito) March 19, 2018
The Philippine government March 17 notified the United Nations Secretary-General of its decision to withdraw from the Rome Statute; the UN notified the ICC March 19.
The withdrawal came a month after the Feb. 8 announcement by ICC prosecutor Fatou Bensouda opening preliminary examinations into the situations in the Philippines and Venezuela, the former for crimes allegedly committed by government in its war on drugs campaign.
Venezuela contributed more to the tribunal — 1.5 million euros (P86.4 million) or 1 percent of the total assessed contributions — per the same ICC document.
President Rodrigo Duterte has claimed ratification of the Rome Statute is not binding because of its nonpublication in the Official Gazette.
UPDATE: Panelo in response to this report posted April 23 a statement on Twitter, which his office confirmed to be official.
"We may have been imprecise in arriving at the percentage of the contributions made by the Philippines," the statement read, "but the fact remains that the country had given a substantial amount to the ICC, which could have been allocated in the implementation of its policies that will directly benefit the Filipino people."
The statement added the country's P23.7 million contribution to the ICC "is a huge amount that could have been spent instead to building public schools for the poor children."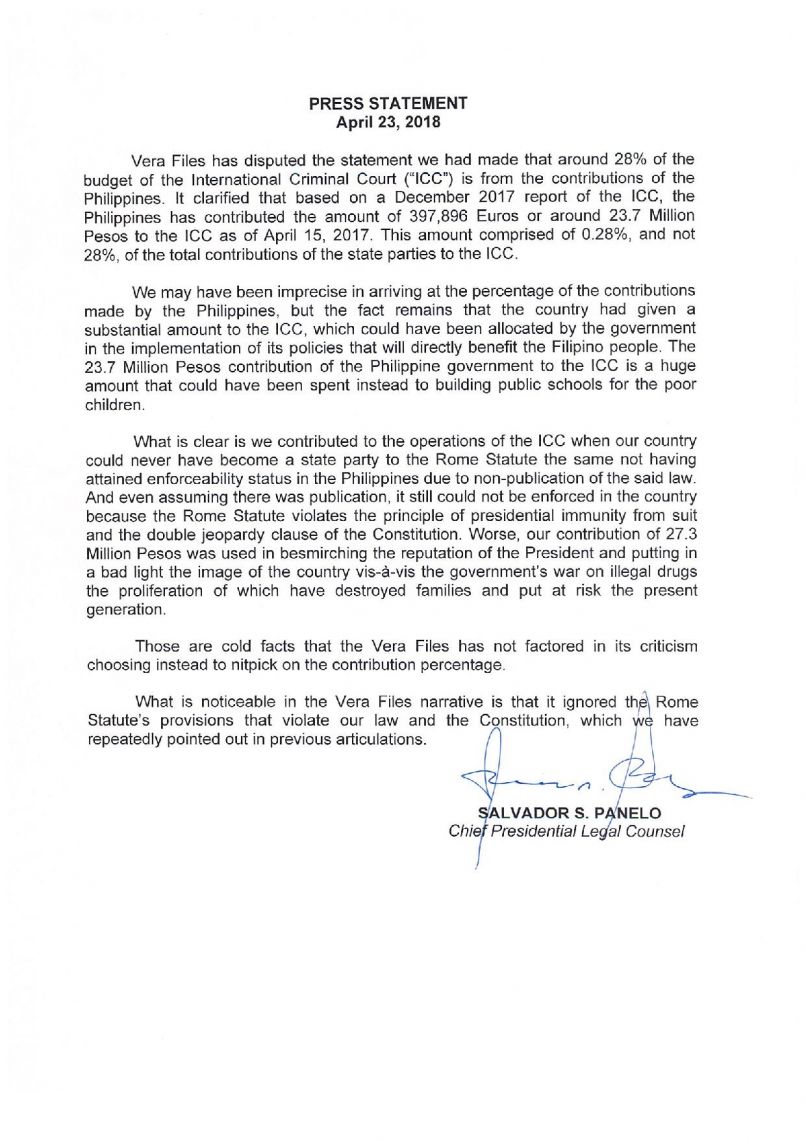 Sources:
Presidential Communications Operations Office, Interview with Chief Presidential Legal Counsel Secretary Salvador Panelo, DZMM, April 7, 2018
International Criminal Court, Report of the Committee on Budget and Finance on the work of its twenty-eighth session
(Guided by the code of principles of the International Fact-Checking Network at Poynter, VERA Files tracks the false claims, flip-flops, misleading statements of public officials and figures, and debunks them with factual evidence. Find out more about this initiative and our methodology.)
2018-04-21 01:57:09 UTC