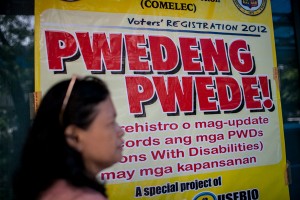 By ARTHA KIRA PAREDES
THE special registration for persons with disabilities (PWDs) nationwide set for next month will be called off following the Commission on Elections' decision to give priority to voter registration in the Autonomous Region in Muslim Mindanao (ARMM).
Comelec Resolution 9443 suspended all ongoing registrations from June 25 to July 31, including the National Special Registration for PWDs originally planned for July 21. The country marks the 34th National Disability Prevention and Rehabilitation (NDPR) Week from July 17 to 23.
The Comelec is holding a general registration of voters in ARMM from July 9 to 18. It said it would transfer personnel and biometrics machines from non-ARMM areas to the registration centers in the five ARMM provinces: Lanao del Sur, Maguindanao, Basilan, Sulu and Tawi-Tawi.