The canvassing of votes for senators and party-list groups in Monday's midterm elections start today, May 14, as more technical problems and complaints from the public and the candidates surfaced.
The Commission on Elections will (Comelec) reconvene at 1 p.m. as the National Board of Canvassers (NBOC) and start the official count of votes cast by millions of Filipinos in the country's fourth automated poll since 2010.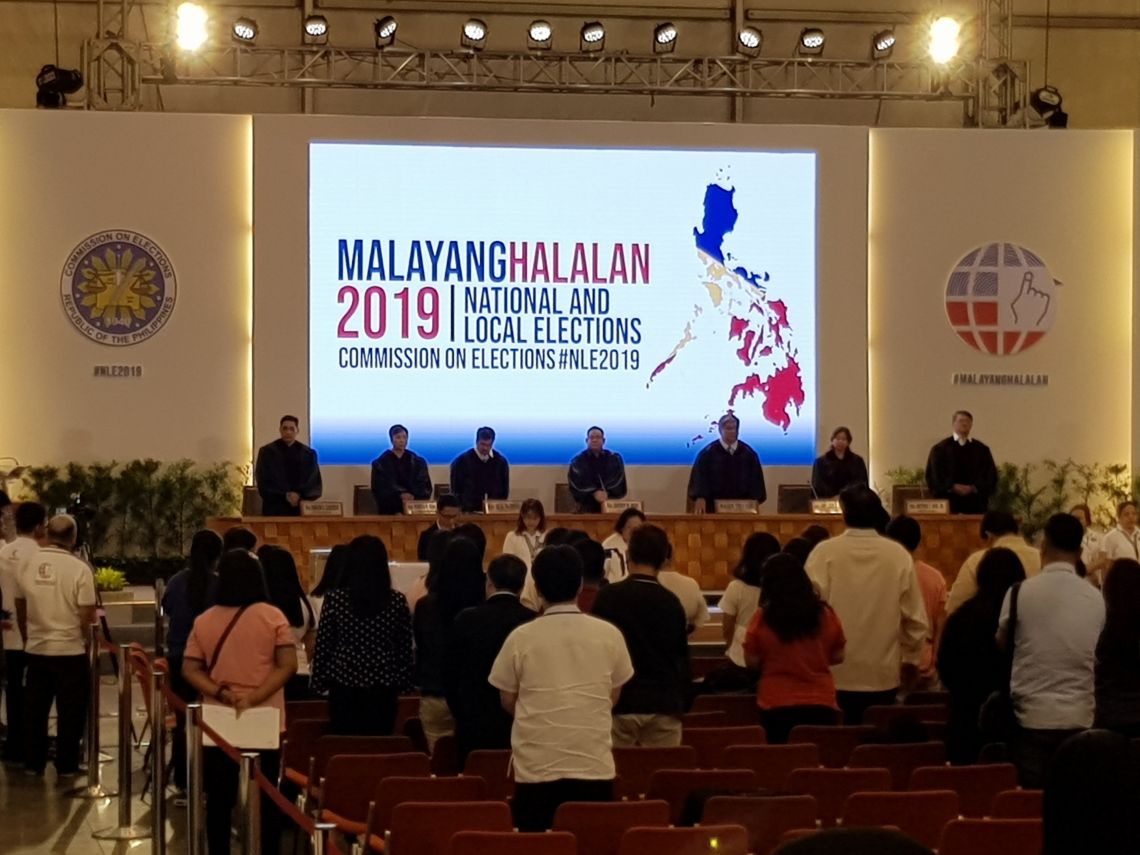 The Comelec en banc convened on May 13 the National Board of Canvassers, which will count the votes for the senatorial and party-list races. (Photo by VJ Bacungan)
But technical woes, from defective vote-counting machines to a malfunctioning transmission server, hounded the May 13 elections, causing delays in the actual voting in several places and snags in the transfer of voting results through a transparency server.
On Tuesday morning, the number of election returns processed dipped from 92.89 percent as of 5:20 a.m. to 49.76 percent around 6:21 a.m., news reports show.
In an interview with GMA News, Comelec Commissioner Rowena Guanzon explained that the glitch was due to a "java error."
"That's the solution: Comelec will restart that Java app, para ma-fix yung glitch na 'yan," she said, likening it to a mobile phone that lags and needs to restart.
As of 11:12 a.m., the Comelec website displayed 96.31 percent of election returns received.
Comelec Spokesperson James Jimenez yesterday said the political exercise "generally successful" despite technical glitches. (See Philippine elections successful despite glitches, vote-buying)
Around 1,000 VCM SD (secure digital) cards experienced problems as of 7 p.m., but were all replaced, he said.
"We have almost 10,000 VCMs in reserve, so that gives you an idea of the scale that we're looking at," he said.
Jimenez also said that factors like dust and water getting into the VCMs could have also caused these to conk out.
"They certainly have to undergo root-cause analysis," he said. "We have to find out exactly what went wrong with them and what we can do to prevent it from happening again."
Jimenez recognized that the lapses on the electoral process are inevitable.
"We never said that this would be 'perfect elections' and we never said that any of our elections. We also said that with some many machines in use, it is inevitable that some of them would experience malfunctions," Jimenez said.
But as polling closed, the Comelec experienced difficulties in its transparency server due to an application error which delayed the transmission of data to certain media and to the Parish Pastoral Counting for Responsible Voting (PPCRV), a citizens' arm with a mandate to conduct an unofficial parallel count.
Before that and in accordance with Comelec Resolution No. 10530, the NBOC, composed of the Comelec en banc, officially assembled on Monday afternoon to get on with its task of canvassing votes.
"For those of us behind the limelight, this is the culmination of all our efforts and sacrifices to ensure that every Filipino voter is given opportunity to speak out his vote, to be heard and to be counted," Comelec Chairperson Sheriff Abas said on Monday.
"Critics have made efforts, though futile, to cast doubts on these initiatives," he added. "But we have remained steadfast in our duty and commitment to safeguard the solemn voice of our people … to come up with innovations and initiatives to further enhance and improve our electoral exercise."
But hours after he made these remarks, problems with the transparency server surfaced, adding to the already problematic situation with the VCMs.
The National Citizens' Movement for Free Elections (NAMFREL) expressed concern over what it said were verified reports submitted by its volunteers with regard some incidents that took place during the voting.
"While many of the verified reports concern procedural lapses that are administrative in nature, there have been incidents that could affect the integrity of the results of the election in specific areas," it said in a statement.
Chong to file complaint
The VCM issues were also the reason for senatorial candidate Glenn Chong to allege voting discrepancies.
Chong, who has been highly critical of the Comelec's automated election system, claimed that voters were reporting that votes for him were either not counted or counted for another candidate.
Ang tanong ko sa Comelec, 'Bakit nawawala ang aking boto doon sa resibo?'" he said in a media interview.
Chong said he was advised by the Comelec to file a formal complaint. However, Chong said he would not provide the full details until the poll body presents its own evidence.
"That always been his strategy, hasn't it? To tease wrongdoing and to say it's on you to prove me wrong," Jimenez said. "If he wants to play it that way, he wants to play it that way. More power to him."
Chong was the second candidate to meet with Comelec officials. In the morning, former Vice President Jejomar Binay, who is running as Representative for the 1st District of Makati City, went to poll officials to complain about how his ballot was rejected eight times by the VCM in his precinct.
Jimenez said the VCM was at fault and Binay was allowed vote again using a new ballot. —With reports from Ivel Santos