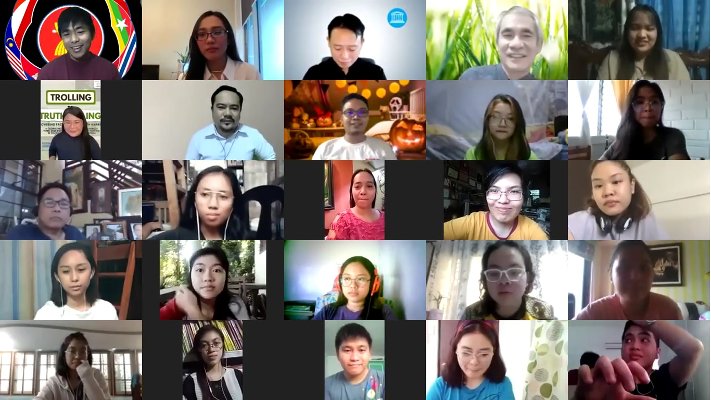 A non-confrontational approach may work effectively in countering mis- and disinformation, particularly when it involves relatives and friends, according to an advisor of the United Nations Educational, Scientific and Cultural Organization (UNESCO).
In an online forum entitled "Trolling to Truth Telling: Empowering Fact-Checking Youth Warriors 2020," Ming-Kuok Lim, advisor for communication and information for the UNESCO office in Jakarta, said it is important to engage purveyors of disinformation in an amiable manner instead of being affronting or dismissive.
Attended mostly by youthful delegates from countries in the Association of Southeast Asian Nations (ASEAN), the forum touched on the concern that a significant number of young people have trouble with relatives posting disinformation online. In response, the panelists agreed that a good approach to correct false information shared by relatives is to engage and educate them "with love and care."
"So many times, we see people become defensive and angry and will shut down even if we present them with 100 percent fact. They will still shut down, and that defeats the purpose of an engagement," said Lim, who has been involved in the global campaign to strengthen and raise awareness on freedom of expression, press freedom, safety of journalists, and the issue of impunity.
In the same forum, Merinette Retona, researcher and reporter of VERA Files, said getting relatives involved in the fact-checking process can help them verify online information on their own.
However, she said people should be extra careful in correcting misinformation involving older people in the family since "they might interpret it as being disrespectful.
"Don't just tell them the facts; teach them also how to fact-check by explaining the process of researching about the truth, about the disinformation they shared. Explain to them, without saying they're wrong…that 'according to my research from definitive sources, this is what they're saying and not what you saw online.' Try to give them tips on how to fact check with something they could easily do, given their skills and know-how with the technology," added Retona, a member of VERA Files' fact-checking team.
She warned that correcting people over dis- or misinformation should not be done defensively because, otherwise, the effort becomes counter-productive.
"Your goal should not be to ridicule them for believing the lies, but to make them understand and accept the truth," she said.
Arniel Ping, educator and vice president of the Philippine Association for Media and Information Literacy (PAMIL), agreed that "correcting people with care and correcting them in private will avoid any conflict."
Saying that "false information disguised as truth can fool us," Ping said being skeptical of information seen online would help readers develop the habit of protecting ourselves from dis-or misinformation, even if the post was shared by friends and relatives.
"It's difficult to discern true from false information especially with disinformation, which is created intentionally to deceive and harm people. We need to be reminded that there is an impostor in the information that we see online," Ping said.
To illustrate a non-confrontational way of correcting false information, Lim painted this scenario: "How do you engage with your 80-year-old uncle or your 50-year-old someone? Instead of saying, 'that's wrong,' how about we try saying, 'I received a similar message last week and it turned out to be wrong and this is what I found.' You round it up, soften the language a little bit.
"You can also say things like, 'Hmm…that's interesting. Do we know where the original article, the original source is? Ask the person to be more engaged on the issue," he added.
The online forum, organized by the ASEAN Youth Advocates Network (AYAN) and the Manila-based Asian Institute of Journalism and Communication (AIJC), was part of the concluding activities for the observance of Global Media and Information Literacy (MIL) Week in the Philippines on Oct. 31. It was intended to raise awareness among the youth to be discerning media and information consumers and producers.
After the forum, AIJC president-on-leave Ramon Tuazon launched the ASEAN Media and Information Literacy (MIL) Youth Club, an initiative to broaden the advocacy for young people to become critical consumers of media and information.
"For change to happen in this world, we should work with young people," said Tuazon, media development specialist for the UNESCO office in Myanmar. "When young people come together to commit to a better world, or shall I say, to a better virtual world, it gives all of us, young and old alike, hope for a better future," he added.
Tuazon emphasized the importance of involving the youth in media and information literacy advocacy, noting that recent studies show troll armies are dominated by young people who are techno savvy and motivated by generous financial gain, many of them oblivious of the negative effects of fake accounts, click baits, and trolls.
Eric Nam, global ambassador for the Global MIL Week, defined media and information literacy as "the ability to find disinformation, the ability to find out what is true and what is false, so that you don't take part in the spread of wrong and harmful information yourself."
Erica Sioson, information officer at the ASEAN Cultural and Information Division, said people have increasingly used social media and digital technology to combat the coronavirus disease 2019 (COVID-19) pandemic. However, she noted that it has also given rise to fake news and disinformation, which could exacerbate the spread of COVID-19, create confusion and security about medical science, and could promote divisiveness and cultural intolerance.
"Digital technologies can empower people by giving them access to media and information. At the same time, it opens them up to vulnerabilities if they're not equipped with the skill set necessary to navigate the digital space safely and perceptively," she said.