Text and photos by  DANIEL ABUNALES
NAVAL, Biliran – Every year, residents from Talustusan, a community 20 minutes away from this town, gather on Christmas eve at their community center to welcome the birth of Christ.
It was no different even after typhoon Yolanda (international name: Haiyan) hit the province over a month ago, but a sudden decrease in attendance was obvious in what used to be a jam-packed venue.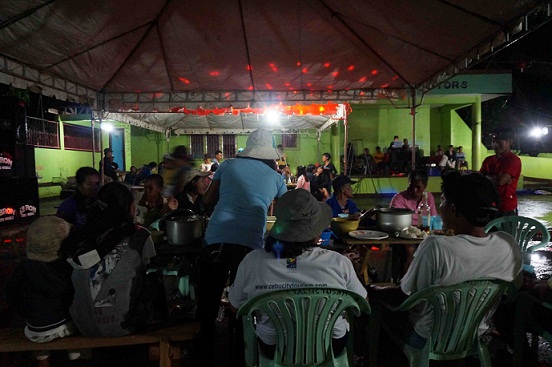 With a small generator lighting up the community center, residents from its seven different zones celebrated with a feast: They brought rice cakes like biko and suman, and other delicacies and shared them with other residents.
Others brought menudo and native chicken adobo to complement root crops like camote and cassava. Pancit was also common in all tables.
Barangay Talustusan chief Arturo Saclolo said in his speech that there was no reason to suspend the Christmas party even after Yolanda.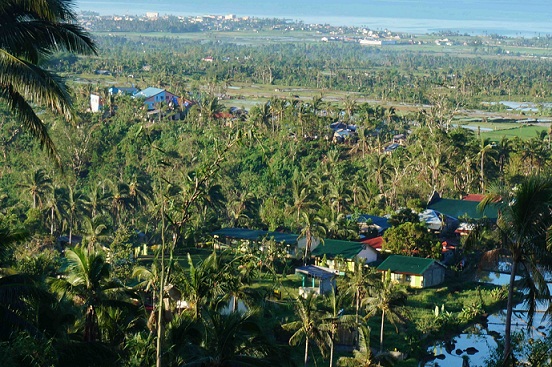 "Although there were houses that were damaged, we have no casualty, and no one was injured. That's something we should be thankful for," he urged. A total of 79 houses were destroyed by the typhoon.
An agricultural community, most of the houses in Talustusan were built under trees, especially those in coconut plantations.
Biliran, a province island between Leyte and Samar, is one of the areas put under signal No. 4 by the Philippine Atmospheric, Geophysical and Astronomical Services Administration. It sustained less damage  compared to its neighboring provinces like Leyte and Eastern Samar.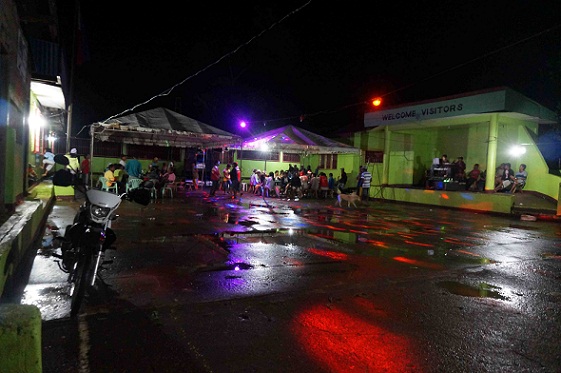 The Provincial Disaster Risk Reduction Management Council recorded five casualties in the entire province. Over five thousand families were homeless in its eight municipalities. It also recorded over P700 million in damages to property, which includes housing, school buildings and other infrastructure, agriculture, and fisheries.
The community's electricity has yet to be restored after Yolanda destroyed the entire province's electrification system. Energy has been restored in areas along the backbone line since December 15 but several communities remained in the dark in Biliran last Christmas day.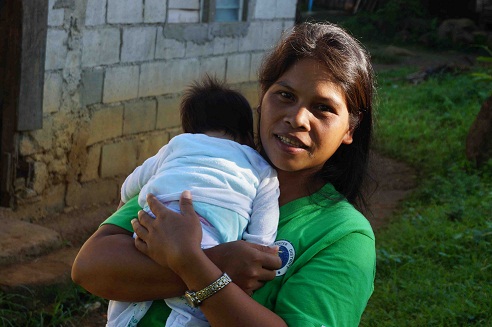 As of December 27, 19 barangays in the entire province were still without electricity.
Michael Gabing of Biliran Electric Cooperative said they are optimistic to restore 90 percent of the province's electricity before New Year. Earlier, the Department of Energy said electricity was already available in 98 percent of Yolanda-hit areas.
But the lack of electricity did not prevent community officials of Talustusan from holding their annual Christmas party. They rented a small generator, enough to light up the center and to operate the sound system.
While the gathering brought joy to the residents, there are those like Angelita Sabong and her family who think that officials should have postponed it.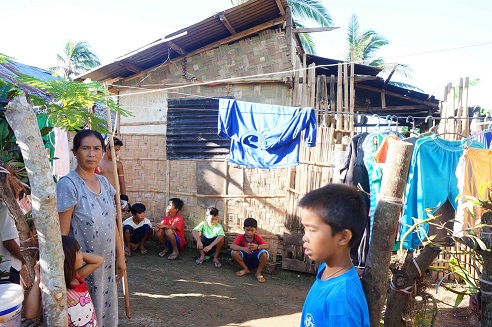 "They should have just organized something that will help those families who were affected by the typhoon," Sabong said.  She still attended the event because one of her kids begged her to see the dance lights and to listen to joyful music.
Sabong's family is one the families whose houses were damaged after typhoon hit the province. A mango tree fell on their house, which collapsed few minutes after they evacuated.
Unlike Angelita, Vinia Cobre decided  not attend the Christmas party. "It's difficult to go there to have a good time. I can't help but think of our house where the roof is half open."
A fallen tree also  damaged almost the entire house of Cobre. Her family was able to evacuate before the incident happened.
Although saddened by the situation Cobre's family still managed to have a noche buena of  sliced bread and pancit. She said she is thankful her family is together, all under one roof that day.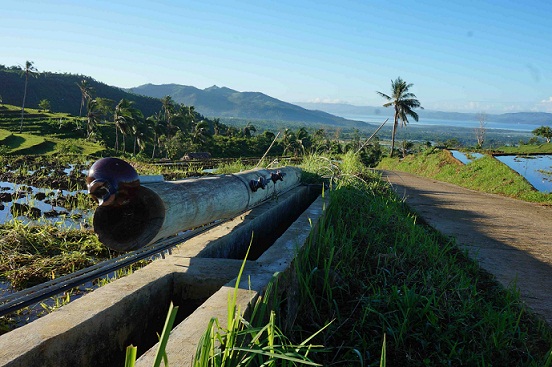 Some residents flocked to Manila before Christmas to celebrate the holiday season to avoid bad memories brought by Yolanda.
Saclolo said he is saddened that some residents have to travel to Manila to celebrate Christmas. He urged everyone not to dwell on what happened. "Bahala na kahit walang-wala tayo, basta ang importante salo-salo tayong magkakapitbahay (Even if we're left with nothing, what's important is the entire neighnorhood is together)," he added.

The community Christmas party has been religiously held since 2008. This social affair was organized by its community officials to promote camaraderie among residents, and for it to be a venue for thanksgiving.