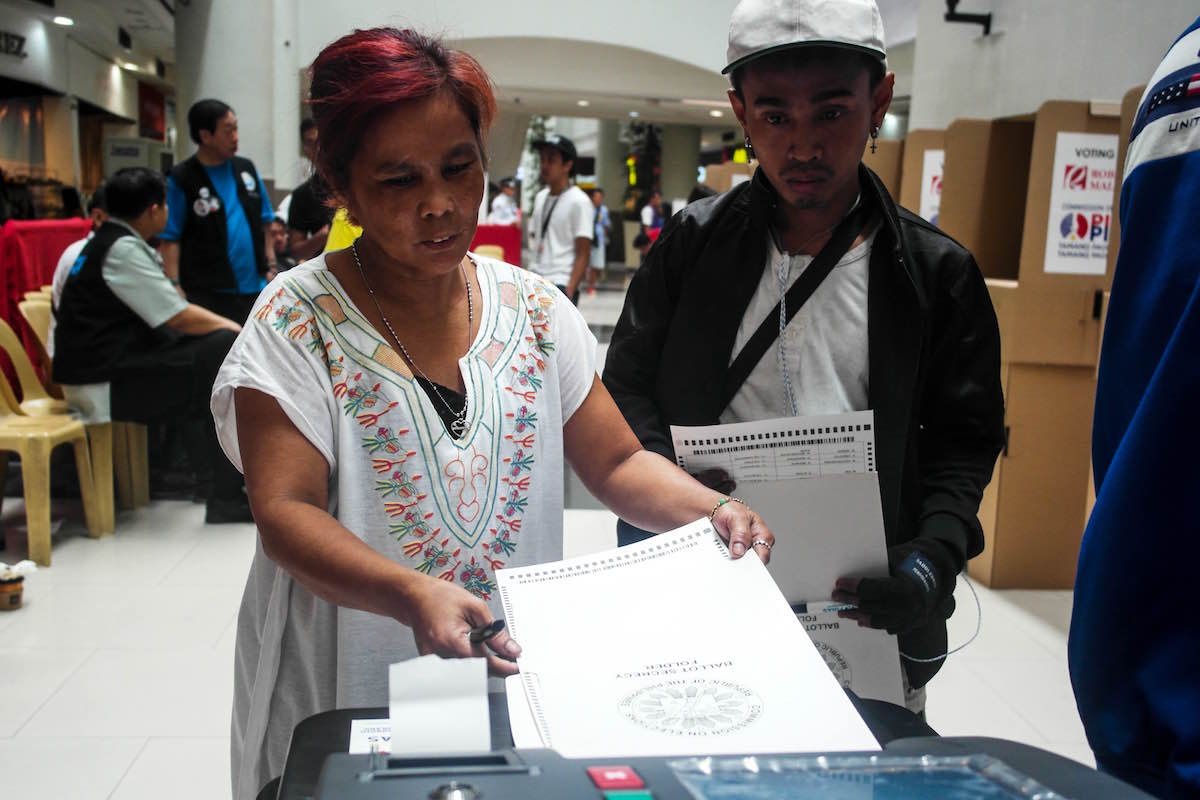 By MARIA FEONA IMPERIAL
WHEN polling places open on May 9, none of them would be in malls, as had been planned and hailed months before the elections.  
On April 27, poll chief Andres Bautista announced that mall voting, a pilot project of his administration, will no longer push through.
"I personally worked on this project and I sincerely believe that the idea would be for the benefit of the Filipino voters," Bautista said in a press release.
Persons with disabilities (PWDs) were equally disappointed. Some of them say, however, the decision was "somehow expected."
"I was actually disappointed because matagal nang plinano yun tapos hindi pa rin natuloy (it has long been planned but it still didn't push through)," lawyer Jessica Magbanua of Alyansa ng may Kapansanang Pinoy (AKAP-Pinoy) told VERA Files.
Magbanua said the disability sector was supportive of the project, but somehow it suspected that mall voting would be canceled because they felt there wasn't enough time to prepare for it.
It was too late, Magbanua said, to discover that voting in malls will violate some provisions of the law.
Disability advocates, even the National Council on Disability Affairs, were supportive of the mall voting project. (See Mall voting a temporary solution)
But even the general instructions promulgated by the Commission on Elections in February did not include procedures on voting in the malls .
AKAP-Pinoy Chairman Manuel Agcaoili said the plan lacked preparation. "I guess [the Comelec] didn't do too much of their homework, hindi sila nag-aral ng masyado."
"The idea is good, the implementation is where you have a problem. And not taking into consideration the problems and the law itself," he added.
Comelec en banc aborts mall voting, 4-3
Holding polls in malls was approved in March by the Comelec en banc. Three commissioners, however, reversed their decisions two weeks before elections.
Commissioners Luie Guia, Christian Robert Lim and Arthur Lim decided against it after the poll body started sending out voter information sheets to some voters who had been transferred to mall precincts, based on reports.
Commissioner Rowena Guanzon expressed dissent as early as November, citing possible violations of the Omnibus Election Code.
Guanzon said in a memo that establishing polling places in shopping malls exposes the poll body to legal repercussions that may derail the conduct of elections.
"(I)f the 2016 national and local elections become closely contested, votes cast within shopping malls might be questioned and struck out due to the legal infirmities of establishing polling places," the memo read.
Beyond legal concerns, Guanzon earlier pointed out that practical disadvantages of mall voting far outweigh the advantages despite its true intentions.
Only Commissioners Al Parreno and Sheriff Abas supported Bautista.
Bautista: Mall voting would have been ideal
When the Comelec conducted satellite registrations across 125 malls in the country from July to October last year, Bautista said it generated "substantial good will" among voters.
While there were a number of accessibility issues, some PWDs favored voting in the malls than in regular precincts. (See Low turnout of PWDs in metro-wide mall registration)
A December 2015 survey by the Social Weather Stations showed that three in five registered voters think voting in malls would be easier for senior citizens and PWDs, given the current state of voting centers in the country.  
A total of 1,200 registered voters were interviewed on whether or not they agree that voting centers be put in malls near their residences.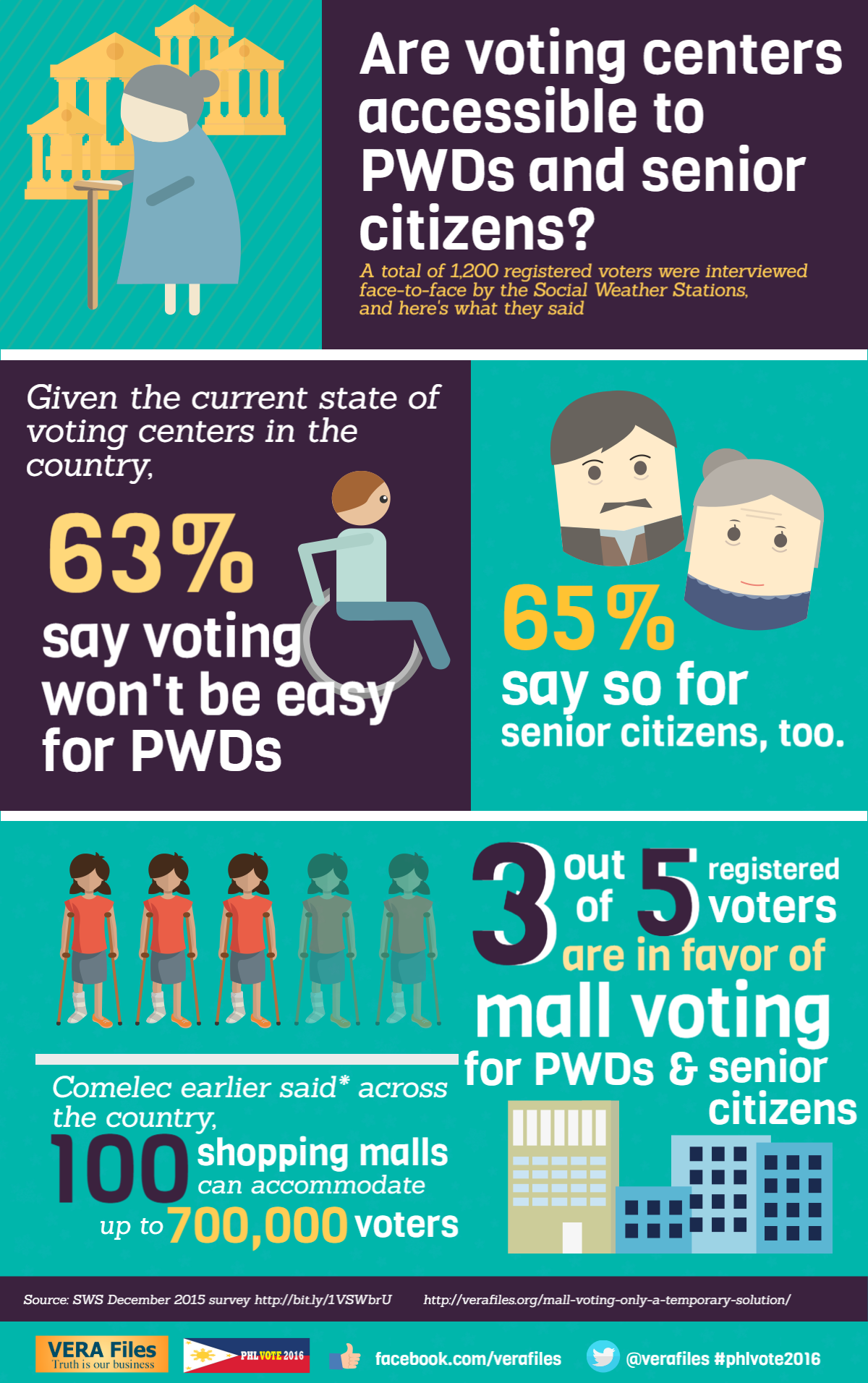 During the mock polls in February, not one voter with disability showed up in the sole mall voting precinct designated by the Comelec. Voters were selected based on location, not necessarily coming from vulnerable sectors to whom mall voting is intended. (See Zero PWD turnout in mock mall voting)
"Comelec explored the possibility of mall voting to give more voters the opportunity to vote in convenient locations nationwide," Bautista said.
The poll chief added that one of the goals of mall voting is  "enhancing the voting experience and making the voting exercise more inclusive especially for senior citizens and PWDs."
Unresolved issues would've risked disenfranchisement of 231,000 voters
Given unresolved practical and legal issues, poll watchdogs and even former election officials pointed out how voting in malls is still far from ideal.
In April, VERA Files reported on the complications of mall voting. This includes the lack of notice of movement, security and administrative control of the malls, possible lack of manpower from the police, and the waiving of parking fees, among others. (See Concerns about mall voting persist)
Sought for comment, Bautista refused to answer questions on the issue in a number of press conferences.
The poll chief finally spoke up, in an unexpected press conference on April 20, when former Comelec Commissioner Gregorio Larrazabal said mall voting is illegal.
Citing Section 153 of the Omnibus Election Code, Larrazabal said no location shall be changed 45 days before a regular election. Given only 19 days before election then, mall voting would be considered illegal and would have resulted in the "massive disenfranchisement of voters."
Asked about developments on mall voting, Larrazabal told VERA Files: "[There are] no more [developments]. Because there was [no mall voting] in the first place."
The decision to transfer a polling place is usually done when the previous polling place is no longer serviceable due to natural calamities or man-made acts, an election lawyer told VERA Files.  
Former poll chief Christian Monsod said Comelec must have a sufficient justification behind the transfer. "I would be surprised if they go ahead with it," he said.  
Lawyer Rona Ann Caritos, executive director of the Legal Network for Truthful Elections (LENTE), said without a resolution on the transfer of polling places, mall voting should not push through.
Otherwise, it could render useless the 231,174 votes cast in malls, and draw election protests which could lead to a failure of elections, she said.  
A day before the decision on mall voting was made, the Comelec had not released such resolution. In addition, the Comelec had not released the final list of malls to be used, putting the project in limbo two weeks before the election.
"If only we had enough time, we could have moved for the amendments of the election code so that (mall voting) will not run counter to what has been decreed by law," Magbanua said.
Comelec urged to make precincts accessible
Though frustrated, Magbanua said she understands the decision of the Comelec.
"Even if it is for purposes of making our voting convenient, we are not asking Comelec to violate a law to accommodate us. We understand that there are laws (that) have to be followed," she said.
AKAP-Pinoy looked into the possibility of petitioning the Comelec that mall voting be continued but decided to drop the move.
She said she hopes the poll body will be more prepared next time.
Now that mall voting is off the table, Comelec is left with the duty to ensure all polling precincts are accessible to people with disabilities (PWDs) and senior citizens come election day.
The first step, Magbanua said, is for Comelec to announce and encourage PWD voters to check beforehand their precinct location so they will be able to easily access the voting area, they know which building they will be casting their vote.
"I've started with myself, I personally went to the Comelec office in Makati. On May 9, I will not be confused as to where I should go," she said.
"The only thing I would do on May 9 is to look for that precinct, and hopefully it is accessible," she added.  
Comelec said 84 percent of 513 schools with 87,135 PWD and senior citizen voters have already been subject to accessibility audit.
Of the 84 percent, the Department of Public Works and Highways has allocated funding for 272 schools, and began construction of ramps, toilets, pathways and other accessibility features.
In January, Comelec unveiled what an accessible polling place in a public school would look like. (See Comelec unveils mockup accessible precinct)  
Voters with disabilities had a low turnout in 2013, with only 23 percent casting their votes. Disability advocates faulted the Comelec for failing to make the elections PWD-friendly. (See Comelec failure shuts PWD out of 2013 polls but volunteers fill the gap)
"Sa mga botante na nabigyan na namin ng abiso sa kanilang paglipat ng presinto sa malls, kayo po ay bibigyan namin ulit ng abiso kung saan kayo boboto. Pasensya na po sa abala (To voters whom we have issued notices to transfer to malls, we will issue new notices on where to vote. We are sorry for the inconvenience)," Bautista said.