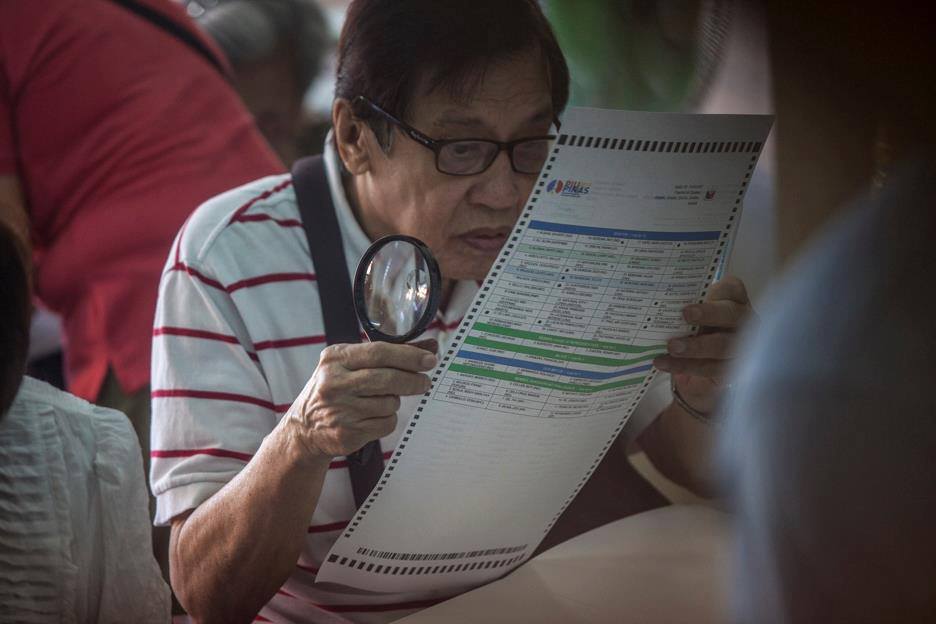 By VERA Files
CALLING emergency accessible polling places (EAPPs) "a mere band-aid solution," a poll watchdog has scored the Commission on Elections (Comelec) for failing to do enough to accommodate vulnerable voters.
The Legal Network for Truthful Elections (LENTE) said many persons with disabilities (PWDs), senior citizens, pregnant women and indigenous communities were disenfranchised because of inaccessible polling facilities and Comelec's lack of preparedness.
"In this year's elections, LENTE once again witnessed how our PWDs, senior citizens, pregnant women and indigenous communities were kept in the peripheries. Instead of aiding these individuals to equally exercise their right to suffrage, they experienced suffering," LENTE said in a statement.
"The emergency accessible polling places, though commendable, proved to be a mere band-aid solution to the bigger issue of having a better mechanism for registration and ensuring that every voting center in the country has an accessible polling place," it added.
Comelec chair Andres Bautista, speaking to journalists last night at the closing of the polls, said the commission is yet to asses its performance in accommodating vulnerable voters.
Back in November, Bautista had announced that a mall voting project would be implemented in areas with high concentrations of PWDs and vulnerable voters like senior citizens.
"Ito talaga ay primarily para sa kanila (Mall voting is really for PWDs and senior citizens)," Bautista told members of the media, as Comelec unveiled a mock polling place in a mall in Quezon city, air-conditioned, and with comfortable waiting areas and clearly marked express lanes for queueing.
A survey the following month by the Social Weather Stations (SWS) showed that three in five registered voters support the mall voting initiative, saying it would be easier for PWDs and senior citizens.
The idea, approved by the commission "in principle" would not come to be: on April 27, Comelec junked mall voting due to possible violations of existing election laws and other practical considerations.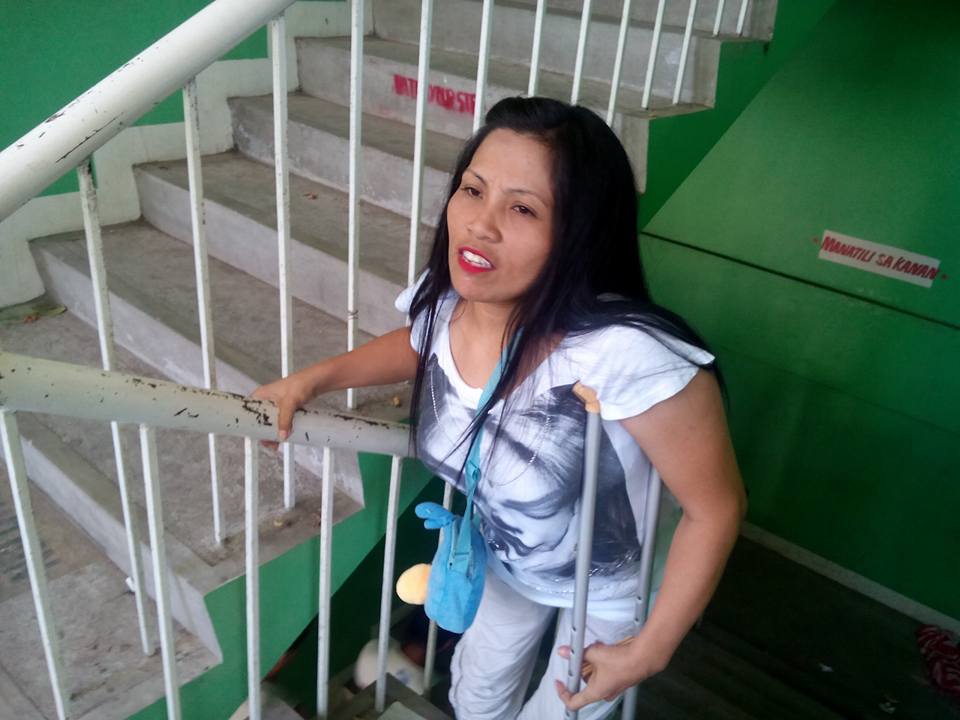 Its alternative were EAPPs, makeshift polling places located at the ground floor of multi-level voting centers for the vulnerable, whether or not they have signified their intent to vote in an accessible polling place (APP) according to law.
The EAPPs, according to the Comelec resolution finalized just 10 days before the elections, would be strategically located near the entrance of the voting center, with sufficient signage, ample space and waiting areas, appropriately sized tables or seats with desks and situated near the medical or legal help desks.
PWDs, senior citizens and heavily pregnant women are entitled to vote in EAPPs, yet have to sign a waiver to authorize the support staff to pick up their ballots from their original precincts as stipulated in Comelec Resolution 10108.
But the reality on election day was so far removed from the ideal that the poll chief, who was always talking about "enhancing the voting process,"  envisioned.
In some areas, EAPPs have burdened voters instead of helping them.
Carmen Zubiaga, acting executive director of the National Council on Disability Affairs (NCDA) was among those who were inconvenienced.
Posting about her experience on the day of the polls in the NCDA Facebook page, Zubiaga, who uses a wheelchair, said she had to vote on the second floor of her polling precinct.
"My precinct, which used to be at the ground floor, is now at the second floor. A PPCRV volunteer tried to call for help to bring me up but instead I instructed her to go to the BEI and tell them that they have to bring my ballot down," she wrote.
"The volunteer came back to me to tell that the BEI told her that I have to go up because they cannot bring the ballot down," she added.
Zubiaga's experience rings similar to what she faced back in the 2013 midterm polls, when she had to be carried up and down flights of stairs in her voting precinct in Taytay, Rizal.
It is also ironic, considering the NCDA is the lead government agency that takes charge of disability issues in the country.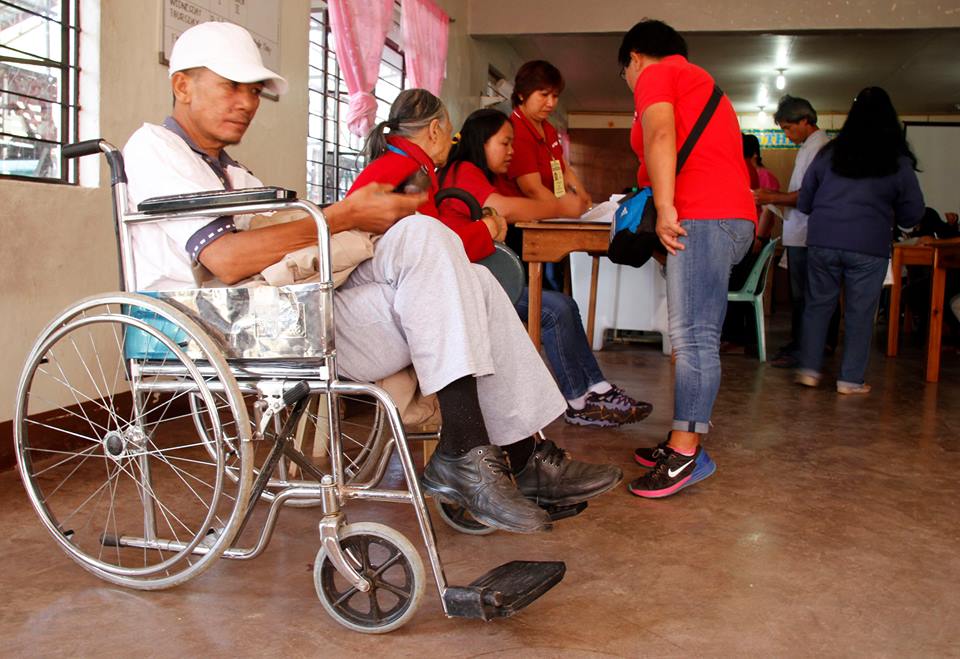 Abner Manlapaz, a disability advocate who also uses a wheelchair, as well experienced voting challenges despite voting through an EAPP.
"Ang hindi nabangit sa info dissemination is that we cannot get the receipt pagkatapos mai-submit ang balota. Hihintayin pa mamayang hapon ang sabay-sabay na paglalagay ng mga balota mula sa EAPP (What was not clear during information dissemination was that we cannot get the receipt after voting. Ballots from EAPPs had to wait until afternoon before they are fed in the counting machine)," Manlapaz told VERA Files.
"Masasabi ko rin na medyo mas mabagal ng kaunti ang pagboto kaysa sa ikaw mismo ang nasa presinto mo dahil ilang beses ring nag-akyat baba ang support staff bago niya nakuha ang balota ko (Support staff going up and down the building also made the voting process slower than when voters themselves get to vote in their precincts)," he added.
The inconvenience of waiting to vote in EAPPs has led some voters to brave inaccessible polling environments.
Senior citizens Mia Esteban, 74, and Josefa Basarde, 65, opted out of availing their EAPP at the President Corazon Aquino Elementary School in Batasan Hills in Quezon City after waiting for three hours under the heat.
They decided to climb up their polling place, and was done in 15 minutes.
In vote-rich Cavite, at the Bacoor National High School (BNHS) in barangay Molino 1, vulnerable voters were given priority but the absence of designated areas for PWDs has led to complaints.
"Ang tagal na niyang Comelec, bakit hindi pa rin nila nagagawang magkaroon ng iisang kwarto para sa mga PWD (Comelec has been around for a long time. How come they have not yet provided designated polling places for PWDs)?" said Joselito del Moral, who accompanied his sister Editha Dunton who has an orthopedic disability.
In Biliran, in the municipality of Almeria, the local Comelec merged accessible polling places with other precincts.
"May nag-assist naman pero okay na sana na hiwalay kami kasi nagkakatulakan dahil sa haba ang pila, (Assistance was provided, but a separate area would have been better because the long queue had led to shoving)," said Fe Niera, 79.
Almeria election officer Marietta Ventulan said the decision to merge due to lack of budget.
A total of 318,013 PWDs and 6,695,251 senior citizens had registered to in the 2016 elections, Comelec data show.
An accessible precincts law, Republic Act 10366, had been in place since 2013, but was not enforced in the polls that year.
Judging by the experience of PWDs and other vulnerable voters yesterday, it would appear the implementation of the law is still wanting.
Lawyer Rona Caritos, LENTE executive director, urged Comelec to strive to step up their information dissemination in the next elections.
The belated release of resolutions on
accessible voting had led to confusion and problems on elections day, Caritos said.
Some PWDs did have a relatively good voting experience, as Gherry Hamis, a respected Imam (Muslim religious leader) from Tawi-Tawi.
Hamis, who uses crutches, said he found no difficulty voting at the Nalil Elementary School in the capital Bongao, despite the grounds being muddy and flooded from a heavy downpour earlier.
"Anad na kita (We're used to it)," he said. – Jake Soriano, Daniel Abunales, Yang Aming, Allan Yves Briones, Bryan Ezra Gonzales, Maria Feona Imperial, Maria Raiza Javier and John Cavin Sabonsolin