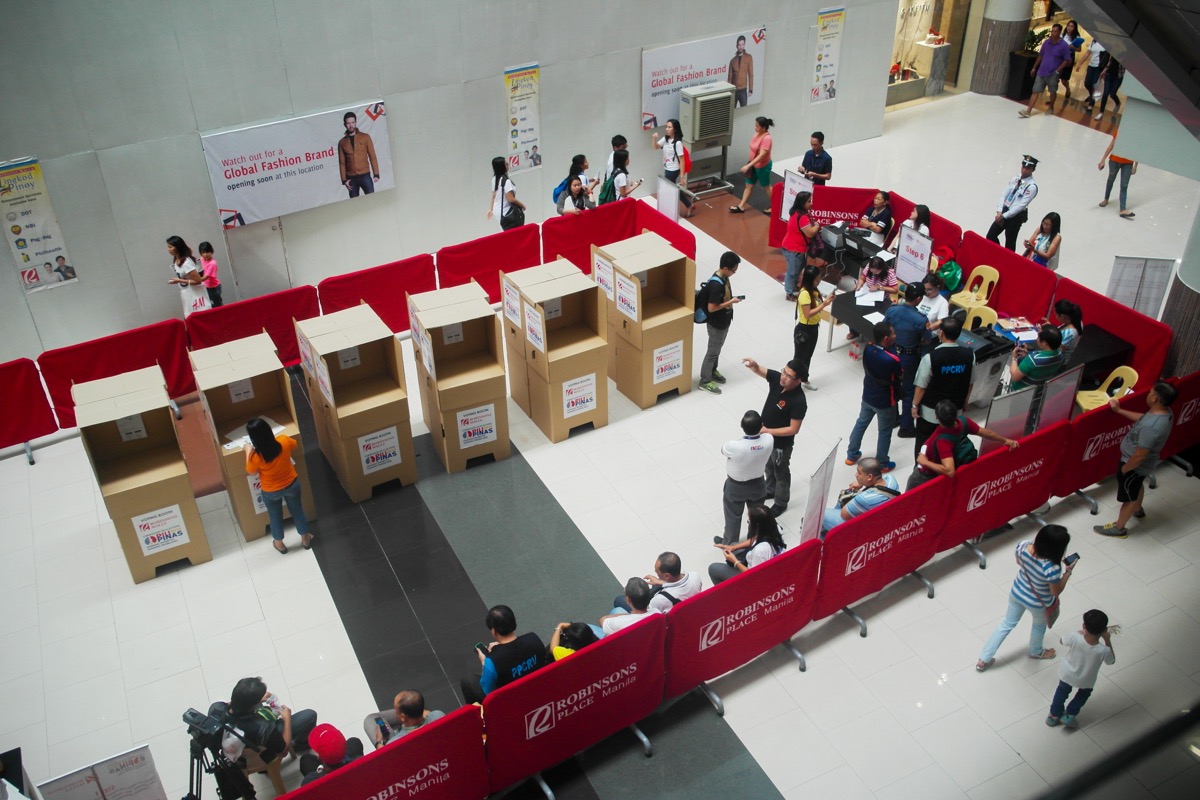 By MARIA FEONA IMPERIAL
NOT one voter with disability showed up in the only mall precinct used in yesterday's countrywide mock elections.
To disability advocates, the zero PWD turnout defeated the primary purpose of the Commission on Elections' (Comelec) mall-voting initiative. But the poll body insists mall voting was not intended for people with disabilities (PWDs).
PWD advocates say the Comelec should have taken advantage of the mall voting to include voters with disabilities and senior citizens to test whether the mock polls are accessible and convenient, aside from being credible and accurate.
But the 100 selected voters who were invited to cast their votes at Robinsons Place Manila do not necessarily come from vulnerable sectors. They were selected based on location. These are voters clustered in precincts within the vicinity.
Among 40 voting centers from Aparri to Basilan, Robinsons Place Manila was the only mall precinct designated by the Comelec for the mock elections. The rest were public schools.
The goal of staging mock elections is to test and ensure the adequate security, accuracy, system and functional capability and integrity of the vote-counting machines (VCMs), transmission, consolidation and canvassing systems amid issues of technical glitches, Comelec earlier said. (See Comelec urges public to join nationwide mock elections)
But it could have provided an opportunity to surface possible issues on accessibility that PWDs and senior citizens may face on election day.
"If the purpose is just to test the accuracy of the machines, they should not have put (them) up in malls. I don't see any big difference in testing the machines in the malls and in schools," lawyer and disability advocate Jessica Magbanua told VERA Files.
She said the Comelec should have included in its prior announcements that mock elections will also be held in malls. Comelec's news release on Friday did not specify which voting centers would be used, but only the barangays. (See Vote-counting machines to be tested in 40 barangays Feb. 13)
'PWDs won't reach expected turnout anyway'
Election officer Narciso Rabe admitted that for Saturday's mock elections, the Comelec did not specifically intend to target PWDs in the mall voting. The main goal, he explained, was to test the Consolidation and Canvassing System (CCS).
PWDs were not selected in particular, he said, but they could still participate if they happened to be included in the computerized voters list.
The expected 100 voter turnout would not be achieved had the Comelec tapped PWDs only, Rabe added.
"Mga ilan ilan lang yan, di man yan aabot ng 12 noon(There are only a few of them. They could be done even before 12 noon)," he said.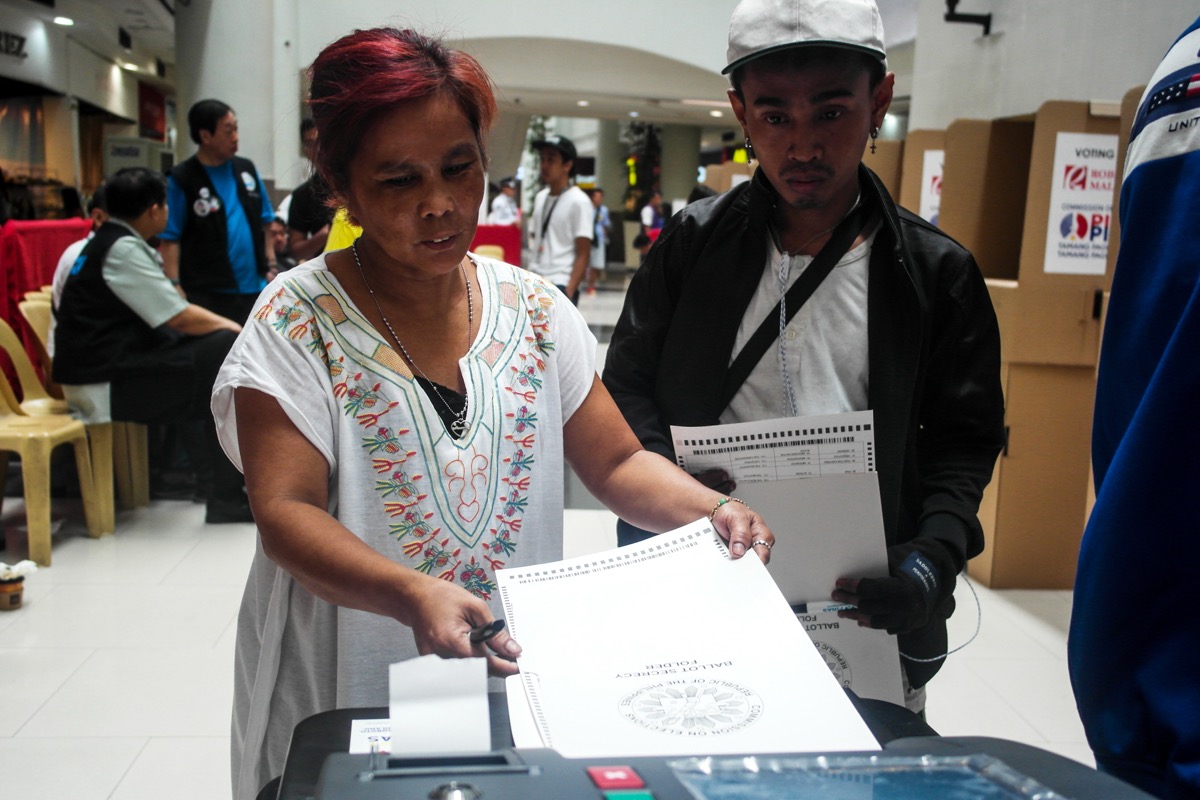 The nationwide mock elections were held from 7 a.m. to 12 noon. A total of 100 voters from each of the 40 voting centers were invited to participate, except in Ramon Magsaysay Elementary School in Quezon City and H. Atienza Elementary School in Malate, Manila, where full voting was observed.
In said precincts, voting closed at 5 p.m., and all registered voters covered in the areas were invited.
Rabe said that the Robinsons Place Manila precinct is a "regular precinct," and the mock elections there was "not (done to test) mall voting, but in preparation for the regular elections."
"Kaya lang sinabing APP, (dahil) accessible hindi lang sa PWD kundi pati sa regular voter (The reason why it's called APP is that it is accessible not only to PWDs but also to regular voters)" he said.
PWDs are given priority through express lanes in regular precincts anyway, he added.
Under Republic Act 10366, however, the state should provide for the creation of accessible polling places (APPs), which shall be located on the ground floor, preferably near the building entrance, free of physical barriers and provided with necessary services, including assistive devices.
The Comelec has earlier said mall voting is meant to provide ease of voting for PWDs and senior citizens, but is only a temporary solution. (See Mall voting only a temporary solution)
Comelec Chair Andres Bautista told VERA Files that in selecting voters, the Comelec identified precincts with many registered PWD voters. They also considered the location of their residence in relation to the mall.
As the mock elections in Robinsons Manila kicked off, Bautista said it would be nice if PWDs would participate also.
Yet out of the 66 voters who joined the mock elections in the mall precinct, only 15 were originally in the computerized voters list. The rest were walk-in mock voters, who were either members of the media, police, poll watchdogs and observers. Not one was a PWD.
Low electoral participation and representation
With barely 80 days before the May 9 polls, the least Comelec can do is to step up a nationwide campaign so voters, more specifically PWDs and senior citizens, can check where they are supposed to go on election day, Magbanua said.
Based on experience in observing elections in the past, Magbanua cited instances where PWDs and senior citizens couldn't vote because they would only know their names are not on the voters list on the day itself.
"I think we should learn our lessons in the past," she said.
Meanwhile, lawyer and poll watchdog Legal Network for Truthful Elections (LENTE) executive director Rona Ann Caritos said that should there be further mock elections, she hoped there would be "closer coordination" between the poll body and PWDs next time.
She agreed the aim of yesterday's mock elections was confidence-building amid software issues in the VCMs.
For her part, Magbanua says the Comelec not need stage another mock elections specifically designed for PWDs and senior citizens, but it would be beneficial if they could be accommodated.
Though considered the biggest minority, the PWD sector remains the only vulnerable sector without representation in Congress. Some attribute this to a consistently low voter turnout, and even fewer registrants from the sector.
In 2013, only 23 percent of registered PWDs were able to cast their votes.
For this year's elections, registration turnout slipped by 14 percent compared to October 2013 figures. Some of the PWD voters could have faced disenfranchisement due to Comelec's "No Bio, No Boto" campaign, according to disability advocates. (See Fewer registered PWD voters for 2016 elections)
"Sana makita nila iyong (I hope they see) need for us (PWDs) to be represented also," Magbanua said.