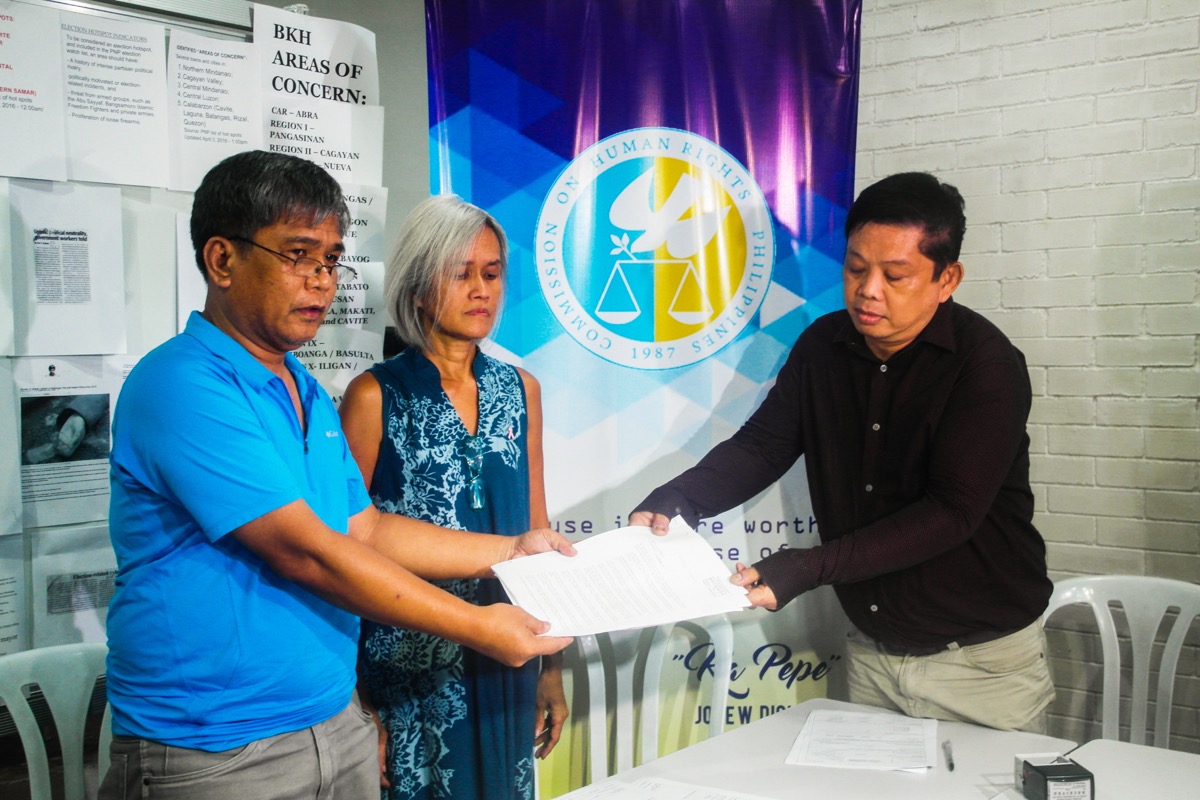 By MARIA FEONA IMPERIAL
PRESIDENTIAL race frontrunner Rodrigo Duterte, already facing a plunder case filed by Sen. Antonio Trillanes, has been slapped with yet another complaint, this time by disabillity groups and advocates.
Disability advocates Ranilo Sorongon and Liza Martinez charged the Davao City mayor before the Commission on Human Rights (CHR) Friday with violating the law when he ridiculed persons with disabilities (PWDs) and senior citizens during a now infamous campaign sortie in the Visayas weeks ago.
"As PWDs advocating for respect of the rights of all PWDs, including older persons with disabilities (and) our inherent dignity, diversity and humanity, we are outraged and vehemently and unequivocably condemn the disparaging comments of Mayor Rodrigo Duterte during his campaign sortie in Kalibo, Aklan," the complainants said in a statement.
At least 23 other disability groups and advocates support the complaint.
Sorongon and Martinez said their filing of the complaint is not politically motivated.
On April 20, regaling his audience in Kalibo, Duterte performed: "Iyong isa doon, classmate ko pa. Eh na-stroke, paganoon-ganoon (One of them was my classmate who was a stroke victim)," as he mimicked the half-paralyzed movement of a stroke victim.
Showing no mercy, he added, "Gusto ko sabihin, 'pakamatay ka na lang (I wanted to say, 'just kill yourself').'"
The complaint accuses Duterte of violating Republic Act 9442, a law amending the Magna Carta for Persons with Disabilities, which prohibits the verbal and nonverbal ridicule and vilification of PWDs.
Public ridicule, as defined by the law, is "an act of making fun or contemptuous imitating or making mockery of PWDs whether in writing, in words, or in action due to their impairments."
Vilification, meanwhile, is "the utterance of slanderous and abusive statements against a PWD," and/or "an activity in public which incites hatred towards, serious contempt for, or severe ridicule of PWDs."
"What kind of example does an aspiring president of the Republic set when he causes his constituency to make mockery of sectors who struggle to rise above oppression and inequality they experience, including those from the State itself?" the complainants said in their statement.
"By ridiculing older persons and PWDs in his campaign sortie, Mayor Duterte has made his conduct a matter of public importance. By his various remarks on rape, objectification of women, and now, PWDs and older persons in the guise of 'narrative' and humor, he has shown a pattern of impunity and oppression," they added.
As well, the complainants accused Duterte of violating the Magna Carta itself (RA 7277) and the Code of Conduct and Ethical Standards for Public Officials and Employees (RA 6713).
"As a public official and employee, we find his language, actions and demeanor completely unacceptable. He has made fun of marginalized and disadvantaged sectors, comprising at least 15 percent of the population," the complainants said in their statement.
Duterte, they said, has signified no apology or remorse for these remarks against PWDs and senior citizens ever since.
"He has done this for the sheer purpose of jokes or narratives to regale and entertain his campaign audiences. We deem this behavior crude and discourteous, unprofessional and discriminatory," they added.
CHR Chair Jose Luis Martin Gascon said the commission will look into the matter, regardless of Duterte's comment having been made in jest.
"We live in a society where humor and wit is important, and we do not wish to stifle human nature. But when it comes to rights and when it comes to issues of non-discrimination and fair treatment, there are certain behavior that is expected not just of public officials but everyone, as we treat each other in a civil society," Gascon said.
"Whether or not is mentioned in jest, is something we will seriously take a look at. Importante din yung context ng statement (The context of the statement is also important)," he added.
Gascon said the CHR will give Duterte's camp five days to answer the complaint in the interest of due process.
Under RA 9442, any person who ridicules PWDs will be fined from P50,000 to P100,000, or face imprisonment of six months to two years.
Despite his controversial statement against PWDs, and another infamous rape comment before that, Duterte has maintained a strong lead over his presidential rivals, based on the most recent elections surveys.
In the latest SWS surveys, Duterte maintained the top spot at 33 percent—a double-digit lead over independent candidate Senator Grace Poe who had 22 percent.