By PABLO A. TARIMAN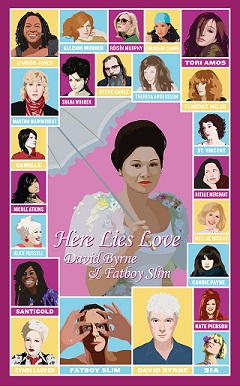 FORMER First Lady Imelda Romualdez Marcos is turning 84 this year and there is no sign she will ever consider retirement in public life.
In the coming May 13 elections, she is seeking second term as congresswoman in the second district of Ilocos Norte after representing her home province, Leyte, some years back.
Two Filipino writers, Kerima Polotan and Carmen Pedrosa, have written the biography of the country's most talked First Lady and it is most likely, another edition is in order.
But the big news in the theater circuit in the United States is that a disco opera (it is also known as a song cycle) entitled "Here Lies Love" by British producer Fatboy Slim and  American musician David Byrne will open on April 2 at the The Public Theater in New York.
The Imelda disco musical will be directed by Alex Timbers ("Bloody Bloody Andrew Jackson") with choreography by Annie-B Parson.
Within a pulsating dance club atmosphere, said the theater press release, Byrne and Fat boy Slim  will deconstruct the astonishing journey of Filipina First Lady Imelda Marcos, retracing her meteoric rise to power and subsequent descent into infamy and disgrace at the end of the People Power Revolution.
The complete cast of "Here Lies Love"  features Renée Albulario (Ensemble), Melody Butiu (Ensemble), Natalie Cortez (Ensemble), Debralee Daco (Ensemble), Joshua Dela Cruz (Ensemble), Jose Llana (Ferdinand Marcos), Kelvin Moon Loh (Ensemble), Jeigh Madjus (Ensemble), Ruthie Ann Miles (Imelda Marcos), Maria-Christina Oliveras (Ensemble), Conrad Ricamora (Aquino), Trevor Salter (Ensemble), and Janelle Velasquez (Ensemble).
Moreover, the  musical started as a concept album in 2006 featuring  many guest female singers like Cyndi Lauper, Florence Welch and Santigold, alternately playing the roles of Marcos and her servant, Estrella Cumpas, in each its tracks.
In the introduction to the album, Byrne said: "The story I am interested in is about asking what drives a powerful person—what makes them tick? How do they make and then remake themselves? I thought to myself, wouldn't it be great if—as this piece would be principally composed of clubby dance music—one could experience it in a club setting? Could one bring a 'story' and a kind of theater to the disco? Was that possible? If so, wouldn't that be amazing!"
Jose Llana (he was he male lead in "Flower Drum Song" opposite Lea Salonga) plays President Marcos and Ruthie Ann Miles as Imelda Marcos.
Going over a few songs in the disco musical, one is astonished how the librettist managed to sum up Imelda's life in the two-track album.
It is obvious the musical got much of its materials from the Pedrosa book, "The Untold Story of Imelda Marcos."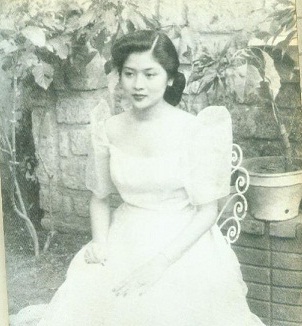 In the opening song, "Here Lies Love," the song echoes Imelda's obscure days in a garage near Malacanang:
          When I was a young girl in Leyte
          My dresses were all hand-me-downs and scraps
           I'd see the people smile, when I would sing for them
           How happy they all seemed—when I would dance
           Is it a sin to love too much?
           Is it a sin to care?
           I do it all for you
           How can it be unfair?
           I know that when my number's up
           When I am called by God above
           Don't have my name inscribed into the stone
            Just say:
            Here lies love…here lies love…here lies love—
The most telling song is the duet of Imelda with her former maid, Estrella Cumpas, whose life became miserable when she recounted Imelda's life to biographer Pedrosa.
The song echoing Imelda's San Miguel days:
Estrella & Imelda:
           They called us garage people
          Where we lived there, you and me
          When you're poor—it's like you're naked
          And every drop of rain you feel
Estrella:
         When it rained we slept on boxes
         There was water all around
         Imelda:
         But the people in the big house
         Never bothered to find out
         No clothes, no bed, no jewelry
         Sometimes I had no shoes
        Estrella:
        A typhoon came—the house collapsed
        And the neighbors passed us food
       Estrella & Imelda:
      They called us garage people
      Where we lived there, you and me
      When you're poor—it's like you're naked
      And every drop of rain you feel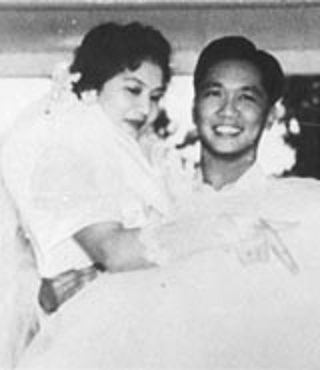 The  11-day courtship between the former president and first lady is highlighted in the disco musical song  "Eleven Days":
He's so fast, tell me what's his name?
It was only a moment, but I don't feel the same
He gave me—two roses
He gave me—two roses
One is open
One is closed
One is the future
And—one is my love—
Eleven days—since the moment we met
Eleven days—I will never forget
Eleven diamonds—on the ring that he gave
I haven't seen him—in
Eleven days
Eleven days
Without doubt, "Here Lies Love"  is another look at the life and times of Imelda Marcos with disco setting. It sure is not anything as grand as  Andrew Lloyd Webber's "Evita" but for once you get to realize a character like the former first lady comes only once or twice  in a century.
(The 85-minute "Here Lies Love" runs at the Public Theater, 425 Lafayette Street (between Astor Place & 4th St) New York, NY  starting April 2 until May 19 every Tuesdays, Wednesdays & Fridays at 8PM; Saturdays at 5PM & 9:30PM; Sundays at 2Pm & 7PM).