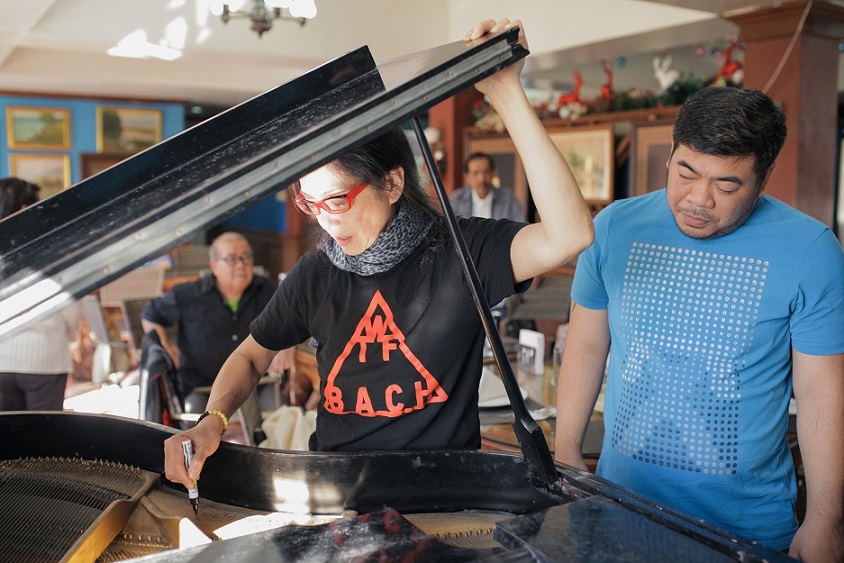 Autographing an antique grand piano at Iggy's Inn with manager Louie Bautista witnessing.
On pianist Cecile Licad's sixth and second to the last appearance in a grueling tour of Manila, Iloilo, Nueva Ecija, Baguio and finally Roxas City, Prof. Ben Tapang of the University of the Philippines Baguio and Guacamole Productions introduced her as the "sublime goddess of music" who needed no introduction.
Wearing a wide smile, an electric blue blouse with three-fourths sleeves which she had just bought in the Science City of Muñoz, skinny black jeans and stiletto Sergio Rossi heels, the 57 year old Licad, her long hair hanging loose and her face masked with faint dabs of powder and lipstick, strode onstage with such charming confidence that the audience had no inkling that she and the concert organizers had been grappling with a piano crisis the day before.
She arrived in Baguio Dec. 5 with a small, tight team made up of impresario Pablo Tariman, piano tuner Alex Comoda, whom she brought with her in the Visayas and Northern Luzon tour, and photographer Floyd Evangelista Flores. Her immediate concern was the state of the piano she would play on, but the organizers from the Baguio end, Joseph Uy and Alan Andres of the Cultural Arts Events Organizer and this writer from Guacamole Productions, prevailed on her to have lunch first.
She ate her grilled chicken with red rice con gusto and even asked for a second serving of the healthy balatinao rice so she could mop up the rest of the leftover sauce. She dug into Tariman's big order of fish and chips when he couldn't finish it anymore.
When asked if she wasn't yet exhausted from her killing schedule of consecutive performances in Iloilo and elsewhere, she waved her large hand, saying, "That's nothing." But there was no hubris in the statement. It was said like her outreach tour was more par for the course, an everyday occurrence in the life of a world acclaimed "pianist's pianist," as The New Yorker described her.
The problem came when the piano she was supposed to play on was presented to her. Although it was a fairly new grand measuring five feet eight, her dissatisfaction became evident as the afternoon wore on and she continued running her fingers across it.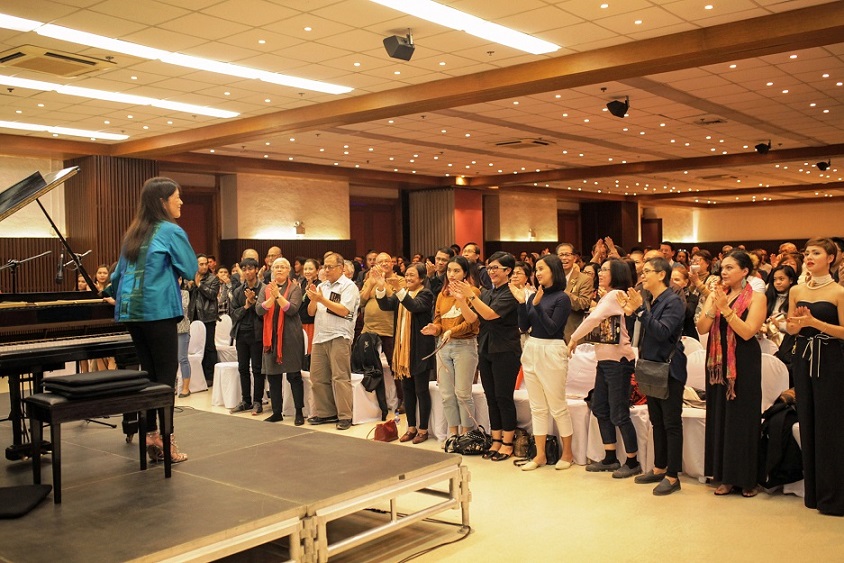 Acknowledging a standing ovation at the CAP Convention Center auditorium in Camp John Hay.
After several attempts by piano tuners Comoda and Jason Tandoc, with the assistance of able-bodied piano movers, to fix the problem, she declared it unplayable by her standards because it lacked a certain "brilliance and resonance, the audience won't be able to hear the details."
Then she jokingly said, "Baguio's supposed to be home for organic stuff. Why do you have a piano that sounds plastic?"
As the afternoon wore on to evening and the dinner host, Mitos Benitez Yñiguez, waited for Licad's party at Hill Station, the pianist continued to save the situation, even telling Tandoc at one point, "I'd love to play on your piano, but it won't work."
Over dinner, she jokingly said, "Why don't we go on a midnight hunt for grand pianos in Baguio?" Tandoc earlier informed her where these could be found—in whose homes and in what institutions. The problem was the owners were adamant about lending these pianos.
Tariman said, "Wait till they hear who's going to play the piano. That might make them change their minds."
While she ate her supper of laing, pickles and lechon kawali, again with a cup of red rice, Licad agreed to try The Manor's grand piano situated at its ground level piano bar. Although the tuners had misgivings about it, that was the piano eventually rolled out for the concert itself.
Comoda said, "Miss Cecile, if worse comes to worst, the piano strings might come loose and hit your eyes."
To which she answered, "Then I'll wear goggles!"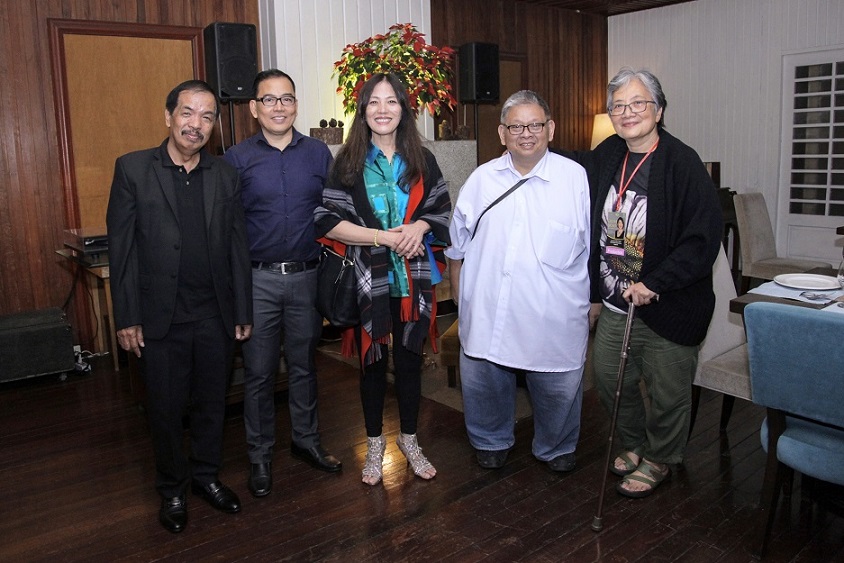 The team behind the recent successful Licad concert in Baguio city: (from left) Pablo Tariman, Alan Andres, Joseph Uy and the author.
At one point she was willing to settle for a good upright, but Tariman wouldn't hear of it, saying, "It doesn't look good for a paying audience."
The next morning's rehearsal went well while adjustments were made on the older grand piano. The organizers had an inkling that Licad would be in a good mood (not that she's a moody artist) because she heartily ate an authentic Filipino meal at Iggy's Inn, hosted by owners Des and Auring Bautista.
She raved over the kare-kare, asking Mrs. Bautista how she made it without the fat rising to the top of the sauce. Licad said she would cook ox tripe in New York for five hours and the result wasn't as good.
At the concert venue (CAP Convention Center in Camp John Hay), the excitement was palpable. The souvenir programs sold out very fast. People had their pictures taken by or in front of the giant tarpaulin featuring Licad displayed at the lobby. There was a new audience who would witness her performance as evidenced. This was made up of university students who were given complimentary tickets shouldered by the Universities of the Philippines and of Baguio.
The cries of "bravo" and "brava" just kept on pouring in during the first part of the all-Chopin program. The artist herself wrote the program notes, explaining that "I have chosen a program which represents Chopin in many ways emotionally and in various genres."
This was a side of Licad unseen by many—her sensitive, writing side. Of Berceuse in D flat Major Op. 57, she wrote: "In 1844 he composed his exquisite Berceuse. A work of compelling charm. A tour de force of pianistic filigree. It sings like an enchanted nightingale."
When she hit the last note on the 12th etude, more known as the "Revolutionary Etude," the audience rose as one, clapping and crying for "More!"
She generously obliged with three encores: Chopin's "Minute Waltz," Gottschalk's "Souvenirs d'Andalousie, Op.22" and Buencamino's "Larawan." BenCab, National Artist for Visual Arts, handed her a bouquet and bussed her on her cheeks.
And just like that another memorable Licad appearance in the highland city, her third after an absence of over 10 years, ended. Asked if she would revisit the city soon, she assented, saying, "Wasn't that fun?"
Post-concert crowd lining up for Ms. Licad's autograph