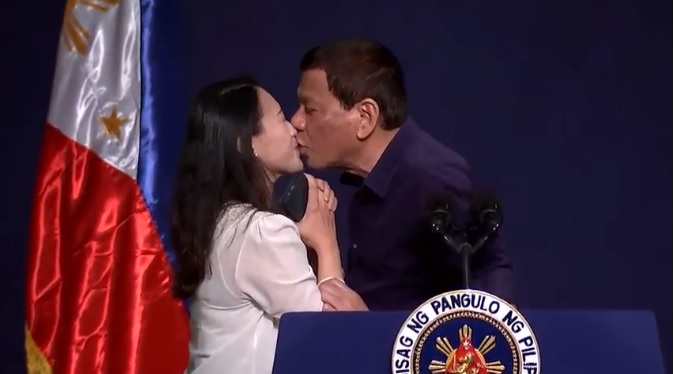 Screengrab from ABS-CBN video. RTVM Malacanang has removed this part from its video of the event.

I have a question to those who think that there was nothing wrong in President Duterte kissing Bea Kim, a Filipina married to a Korean during his meeting with the Filipino community in South Korea in Seoul last Sunday: Is it still okay with you if Duterte would do the same to your wife or daughter?
I was scandalized by what Duterte did. I felt sad listening to Kim saying, "Iyung kiss, parang twist lang iyun, pampakilig sa mga audience. (Thatkiss, it's is just to teasethe audience .)"
I found offensive Presidential Spokesperson Harry Roque justification: "That is very accepted in the culture of Filipinos."
Actress Mae Paner pointed out, "In the Filipino culture, women are held with respect. What he did to Kim showed his low regard of women, even the way he gestured her to kiss him."
In the Filipino culture, men are strong and respectful of women. Dirty Old Men are equated with low life.
We saw it on TV. (By the way,RTVM has deletedthe kissing scene in its video of Duterte's meeting with the Filipino community in Seoul.) Duterte wanted to give away two books "Altar of Secrets" by Aries Rufo about scandals in the Catholic Church. He called for volunteers from the audience. "Huwag ang lalaki, may bayad 'to. Halik (Not a man. This has to be paid with a kiss)."
He motioned to a woman (Kim) saying "Handa ka naman makipaghalikan, halika. (You seem ready to kiss, come here.).
This is how ABS-CBN reported that much criticized incident:
"Huwag kang mag-amen-amen dyan. Halika dito! Ang beso-beso?" Duterte told the woman, while pointing to his pouted lips. When the woman was about to go down, the President asked her to stay.
"Dalaga ka?" asked Duterte. (Are you still single?)
"Hindi. Married po," the woman said. (No, I'm married)
The President asked the woman if her husband was there. The Pinay said no.
Duterte, through hand gestures, asked the woman if she could kiss him on the lips, and said, "Kaya mo sabihin na biro lang? (Can you tell your husband that this is just a joke?)"
We saw and heard the cheering of the crowd.
Asked about the negative reactions in Manila, Roque said in a press briefing in Seoul: "You know, the kiss really was an act that was intended really to please the Filipino crowd gathered at the moment. And if there's anyone who should complain, it should only be the woman who was kissed and she's not complaining. She has said for the record that she was proud of the fact that she was able to come that close to the President. And she's not complaining, I don't think anyone else should. The President of course has had the policy of doing what he does, because he does things the way he does things. If some people are offended so be it. But in this instance we have to highlight that the woman had nothing to say but positive things about the experience. Let's leave it at that."
Roque admitted that "It is not an acceptable norm but what I'm saying is the only person who should complain is the woman and she's not complaining, the lady and she's not complaining so let's leave it at that."
Yes, Kim did not complain. There's a video by Filipino News Central showing Kim downplaying the kissing scene as "Walang malisya 'yun. Iyung kiss, parang twist lang iyun, pampakilig sa mga audience. Walang ibig sabihin iyun, promise… Sa kaniya, sa akin, walang ibig sabihin."
Roque noted that "the Filipino community appreciated the act. It was an act of endearment intended towards all OFWs."
Now, what if employers of female OFWs take the President's example and do what he did to Kim?
Lawyer Romel Bagares, former associate of Roque, wrote in Facebook: "We now have a very good defense for sexual harassment cases involving top lechers in government who like to prey on 'job order' employees. It's called the 'acts of endearment' or 'kultura lang ng katuwaan' defense. Not that it wasn't there before. It's just that it had gained greater currency in the light of current government practice.'"