A video which has gotten nearly 700,000 views on Facebook (FB) falsely claims President Rodrigo Duterte recently ordered the release of former Army Maj. Gen. Jovito Palparan from prison.
The claim is fabricated. No such pronouncement has come from either the president or Malacañang.
The fake Nov. 15 post by FB page PH News Today carried a 15-minute video where Duterte was speaking to a crowd while a news ticker read: "Breaking News: Gen. Palparan palalayain na (to be freed)!"
The clip was grabbed from a 54-minute recording from the Presidential Communications Operations Office of a speech Duterte gave on Jan. 22, 2019 in Lucena, Quezon.
While the president rambled about communist rebels and the war on drugs in PH News Today's clip, he made no mention of Palparan in it nor in any part of the speech.
The former Army general, nicknamed "The Butcher" by left-leaning groups, was sentenced to reclusion perpetua in 2018 for the disappearance of University of the Philippines students Sherlyn Cadapan and Karen Empeño in 2006. He was found guilty of kidnapping and serious illegal detention.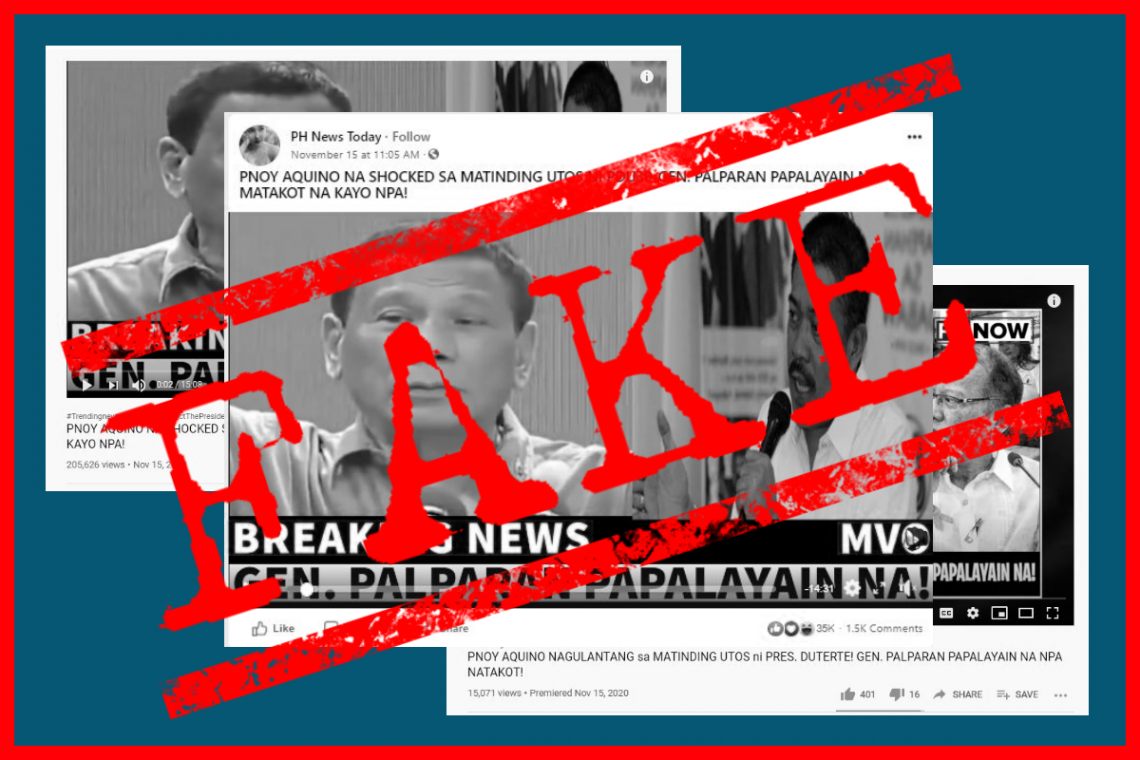 The untrue post also falsely claimed in its caption that the fake pronouncement "shocked" former president Benigno "Noynoy" Aquino III. An unrelated photo of Bayan Muna Rep. Carlos Zarate from Davao Today published in 2013 was also shown throughout the video.
A call for Palparan's release made the news in September when former Interior Secretary Rafael Alunan wrote a FB post saying the military man should be pardoned because "he was doing his duty fighting enemies of the state." Two days later, Presidential Spokesperson Harry Roque said Palparan will continue to serve his life sentence unless pardoned by the president.
According to social media monitoring tool CrowdTangle, several Facebook accounts published earlier this month a video claiming some netizens were calling for the "absolute pardon" of Palparan.
PH News Today's false video now has more than 38,000 reactions and 7,200 shares on FB. The same video is also circulating on YouTube, published by the channels PH NOW and MEMA VLOG OFFICIAL which have collectively received more than 290,000 views.
PH News Today was created last Nov. 6, MEMA VLOG OFFICIAL on Aug. 19, and PH NOW on Jul. 31, 2016.
(Editor's Note: VERA Files has partnered with Facebook to fight the spread of disinformation. Find out more about this partnership and our methodology.)