Two images of crying women amid the ruins of houses were published by Filipino Facebook (FB) users just days ago, suggesting they are victims of Typhoon Ulysses (international name: Vamco).
The posts are misleading. The circulating photos actually show victims of Tropical Storm Wipha in Vietnam, which ravaged the country's northern provinces in August last year.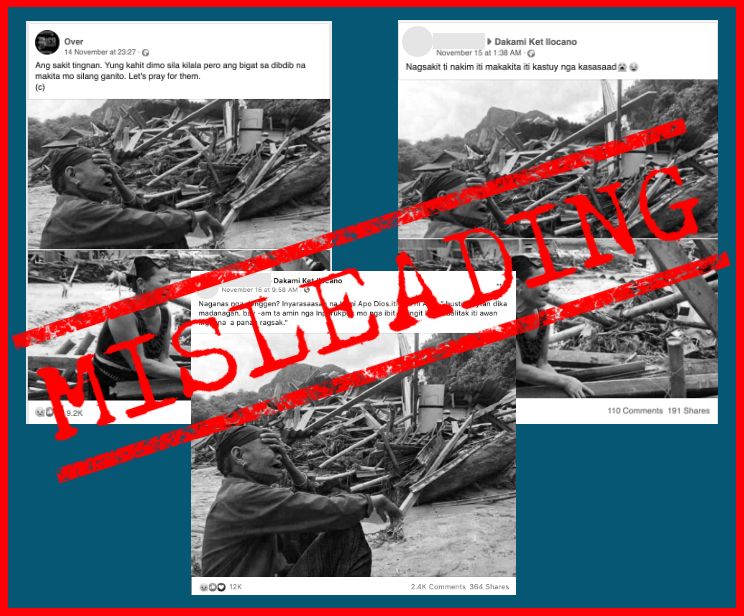 Three days after Ulysses made landfall in Luzon, FB page Over published on Nov. 15 the photos with the caption: "Ang sakit tingnan. Yung kahit dimo sila kilala pero ang bigat sa dibdib na makita mo silang ganito. Let's pray for them. (It hurts to see. Even though you don't know them, it makes your heart heavy to see them like this) (c)." Three FB users in public groups Dakami Ket Ilocano and Team afp and pnp..(army-marines-navy-airforce.) followed suit a few hours later and the next day.
The picture of a sobbing old lady wearing a blue blouse first appeared online in a report on Aug. 4, 2019 by Vietnamese online news media Dan Tri. The article carried photos showing how Wipha devastated Sa Ná village in Na Mèo commune, located at the Quan Sơn district of Vietnam's Thanh Hóa province.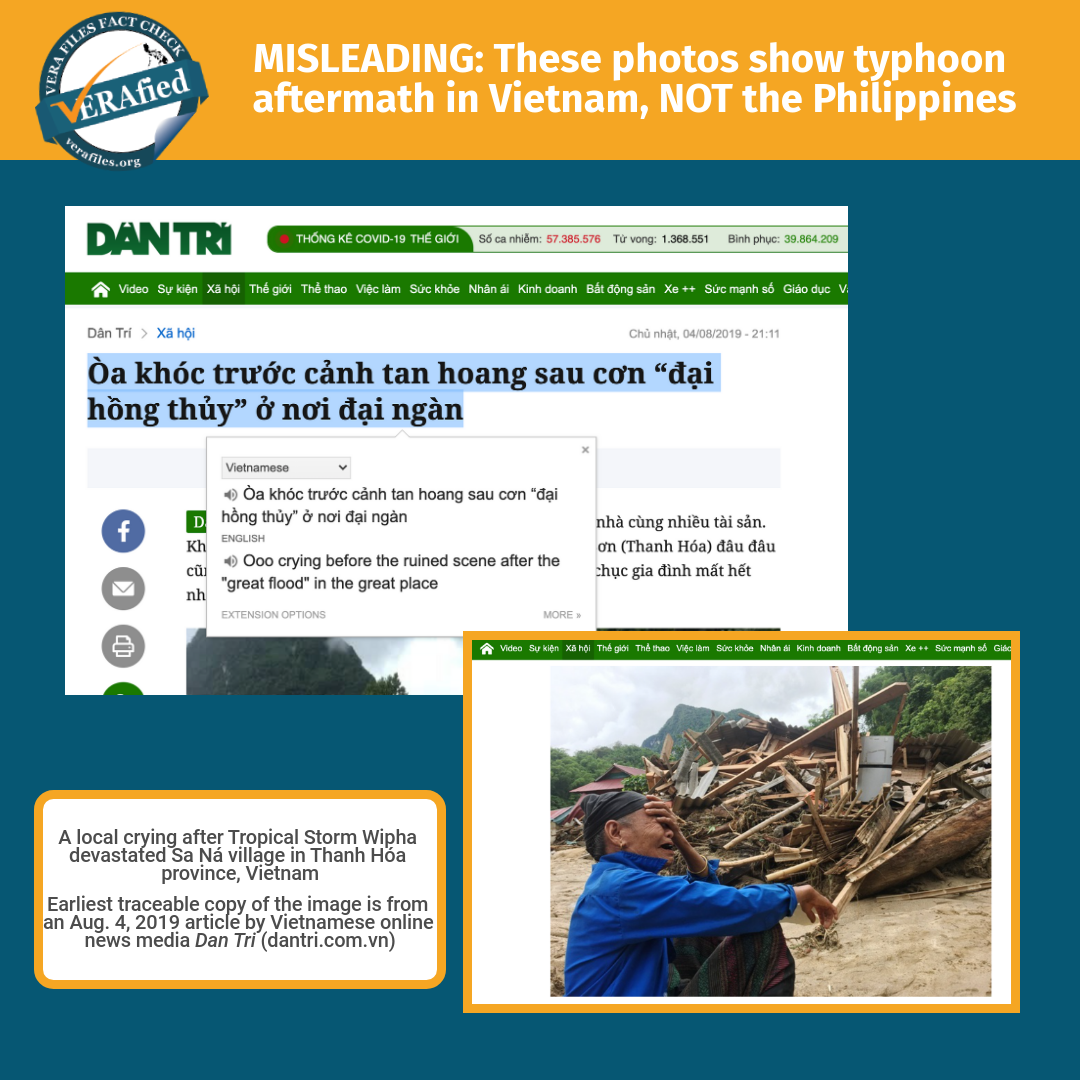 The same photo appeared in an August 2019 information bulletin of the International Federation of Red Cross and Red Crescent Societies about the floodings in Vietnam brought by the storm.
The second image, which shows another crying lady wearing a red top surrounded by the muddy ruins of houses, also showed the condition of Sa Ná village and its residents a day after Wipha hit the area.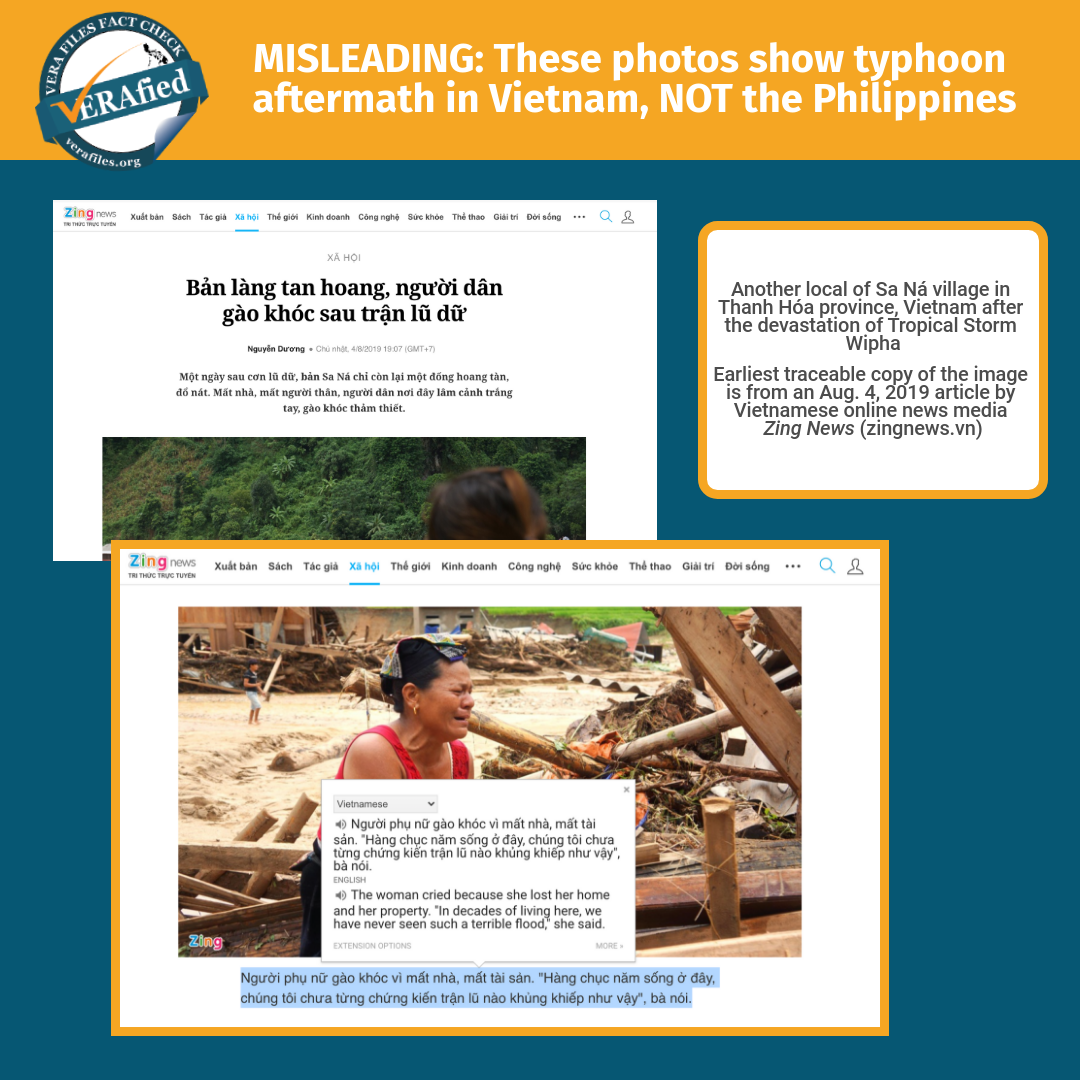 The photo was first published in an Aug. 4, 2019 article by Vietnam-based online media Zing News. The story was reposted on the website of Vietnam's Central Steering Committee for Natural Disaster Prevention and Control earlier this April.
The misleading FB posts bearing the photos were published a few days after Typhoon Ulysses made landfall on Nov. 11 and 12. The typhoon brought heavy rains in Luzon and caused massive flooding in Cagayan Valley, Central Luzon, CALABARZON, and the National Capital Region.
Clips of flooding in Laos and Thailand have also been circulating online, misleading the public that they are images of the massive floods in Cagayan. (See: VERA FILES FACT CHECK: Clips of Laos, Thailand flooding WRONGLY used to show 'Cagayan' during typhoon Ulysses)
The erroneous posts by FB page Over and in FB groups Dakami Ket Ilocano and Team afp and pnp..(army-marines-navy-airforce.) collectively received over 29,000 reactions, 2,500 comments, and 1,500 shares from social media users.
Over was created in November 2018, while Dakami Ket Ilocano and Team afp and pnp..(army-marines-navy-airforce.) were made in June 2016 and May 2019, respectively.
(Editor's Note: VERA Files has partnered with Facebook to fight the spread of disinformation. Find out more about this partnership and our methodology.)