There will be no more outdated and potentially harmful public transport vehicles in Philippine roads in the next five years. That is, if everything goes according to the Department of Transportation's (DOTr) comprehensive transport plan.
"'Yung mga old and dilapidated vehicles, bawal na sa lansangan (are no longer allowed on the road)," DOTr Secretary Arthur Tugade said in a speech Monday at the 62nd founding anniversary of the Philippine National Police Highway Patrol Group (PNP-HPG) at Camp Crame.
The five-year plan starts with the release of the Omnibus Franchising Guidelines (OFG) by the end of the month.
The OFG seeks to provide a "safe, reliable and convenient public transport" to the commuting public, DOTr Assistant Secretary Mark Richmund De Leon told VERA Files.
In terms of safety, it promotes stricter safety standards for public utility vehicles (PUVs) through speed limiters, electronic brake system and GPS tracking devices. It also pushes for use of seat belts for school services.
The OFG will streamline transport network routes all over the country, and fill the void in areas where access to public transport remains poor, De Leon said.
Through the OFG, local government units (LGUs) shall be required to prepare their respective public route transport network plans.
This is to address redundancies in areas where, for instance, tricycles ply conflicting routes with jeepneys because franchises are issued and regulated by the local government.
Through a local transport network plan, LGUs may register the need to upgrade to a better form of transport, such as a bus or a bus rapid transit for areas with high demand.
The OFG also hopes to address traffic congestion by adopting a fleet management system that shall deploy PUVs more efficiently.
Through the fleet management system, PUVs shall be dispatched in fixed time intervals.
The OFG aims to increase public transport ridership. De Leon said some opt to use private cars because they fear that public transport services are unsafe.
"If we address those factors, it will really promote use of public transport, make it more convenient, make it connected and integrated," De Leon said.
However, the plan has met criticisms from transport groups and professional drivers who fear losing their jobs in the process of "phasing out" old vehicles.
"We are not saying that this is a phaseout. We are saying that this a modernization program. Majority of public transport operators are very much into this program already," De Leon said.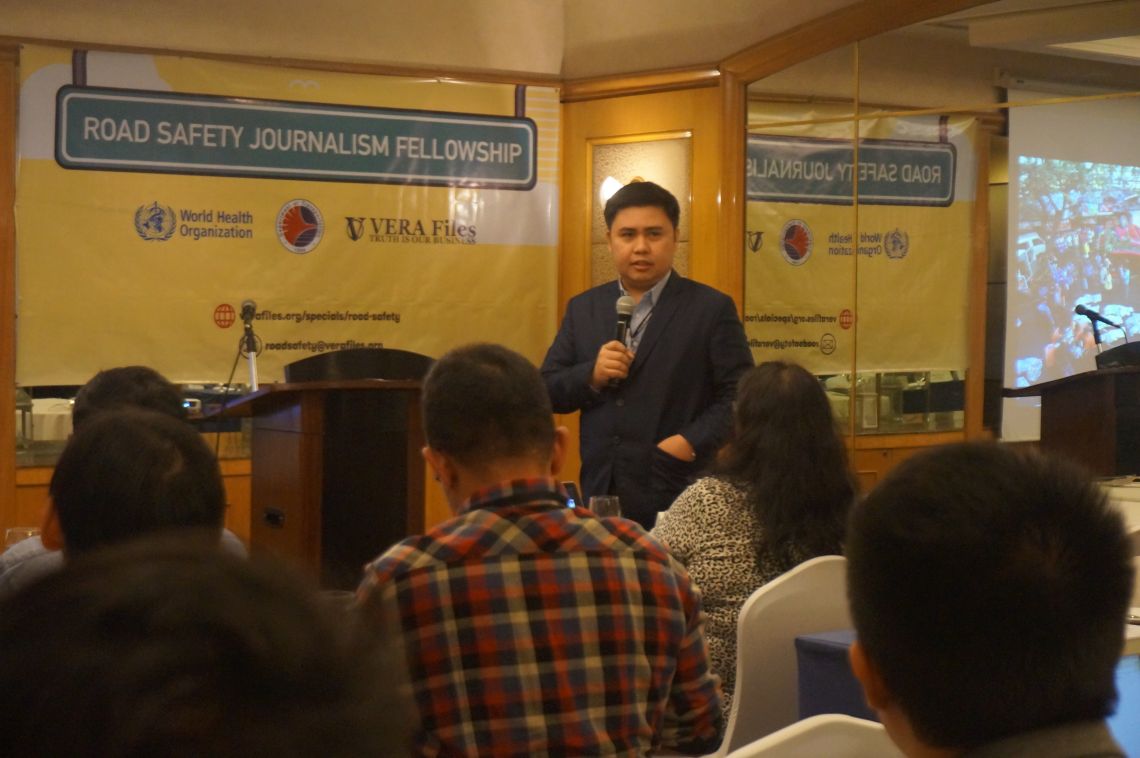 DOTr Assistant Secretary Mark De Leon speaks with journalists in March
He clarified that in the new scheme, jeepneys will be retained, but will be improved and modernized into a "safe, reliable and environment-friendly" PUV.
In his speech, Tugade said: "Ang tanong nila sa akin: Paano na ang aming hanapbuhay? Ang sagot ko naman: "Sana ang inyong hanapbuhay, hindi kumitil ng buhay (Transport groups ask me: How about our jobs? My reply: I hope your jobs won't kill others)."
Safety remains a concern for the commuting public. In February, 15 were killed when a bus carrying more than 50 students of Bestlink College of the Philippines who were on their way to a field trip rammed into an electric post in Tanay, Rizal.
The Senate probe on the fatal crash revealed that the bus was already 29 years old, with clashing engine and chassis numbers.
In Metro Manila, at least 446 people have been killed in road crashes in 2016, according to data from the Metro Manila Development Authority (MMDA). The MMDA recorded a total of 109,322 road crashes, of which 3,528 were due to human error, the second highest cause of road crashes.
"No accident factor" has consistently topped the causes of road crashes in MMDA data. This means there was no stated cause of road crash in the police blotter.
The lack of driver's education, especially among public transport drivers in the Philippines is to blame, according to PNP-HPG Chief Antonio Gardiola.
"We really need to educate our drivers. 'Yung mga professional drivers, they drive for a profession. Karamihan matuto lang mag-drive, okay na (Most of them just learn how to drive, and that's it.) But they lack basic safety knowledge and courtesy," he said in an interview with VERA Files.
"Kung courteous ka [sa road rules], hindi ka makaka-meet ng accident (If you obey road rules, you won't probably meet an accident,)" Gardiola added.
The PNP-HPG calls on the public to participate in its activities that aim to promote road safety and free trainings on first aid.
"One thing we'd like to impart to the motoring public especially drivers is our safety riding on motorcycles," Gardiola said.
During the event, selected riders of the PNP-HPG competed in the road safety challenge where they tried an intricate obstacle course allowing for very limited movements. The rider who commits the least number of errors and finishes the fastest shall be hailed the winner.
The goal, Gardiola said, is for the public to "see how a safe driver would operate the machine."
PNP Chief Ronald de la Rosa also toured the Camp Crame grounds to check the quality of helmets, inflatable vests, and other safety accessories being sold by distributors at the event.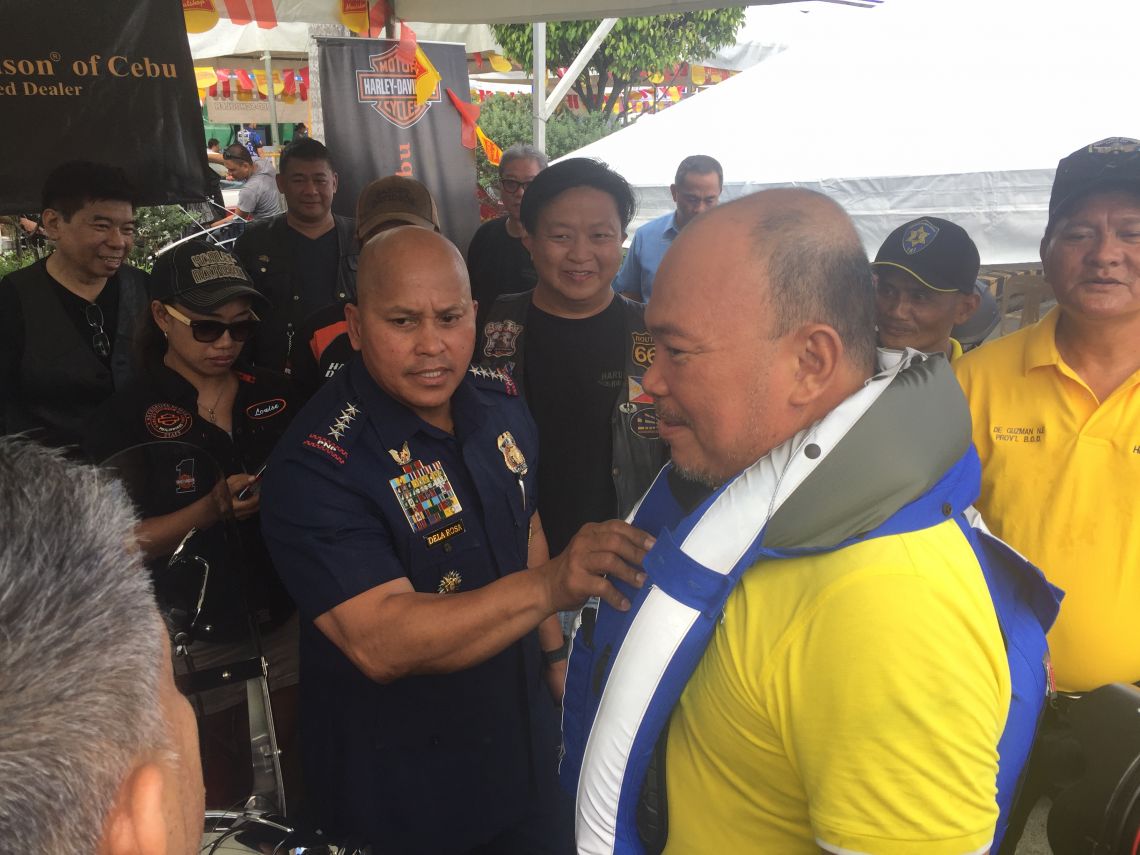 PNP Chief Ronald De La Rosa checks an inflatable vest sold by one of PNP's partner organizations.
Individually riding a 211-kg motorcycle, the "Daring Dozen," considered an elite group of the PNP-HPG, also showed off their skills in patrolling the highways given extreme conditions. An estimated 1,500 members of the PNP-HPG from across the country attended the event.
The PNP-HPG anniversary coincides with the fourth United Nations Global Road Safety Week, which runs from May 8 to 11, 2017. This year's theme, "Save Lives: #SlowDown" focuses on speeding as a key risk factor for road crashes, which accounts for up to half of road crash deaths in low- and middle-income countries like the Philippines.
Other activities lined up include a media briefing on May 9 by the DOTr, in partnership with ImagineLaw, on pertinent policies such as the Road Speed Limiter Act, the joint memorandum circular on speed limits and road classification, and the memorandum of agreement between the DOTr and the PNP on road crash data collection.
On May 11, SafeKids Worldwide Philippines will lead an advocacy walk and tarpaulin signing of UN's #SlowDown campaign among government, transport stakeholders, civil society organizations and children's rights groups. There will also be Brownbag Sessions on Road Safety on May 11 and 12 at the World Health Organization Western Pacific Regional Office.
This story is produced under the Bloomberg Initiative Global Road Safety Media Fellowship implemented by the World Health Organization, the Department of Transportation and VERA Files.