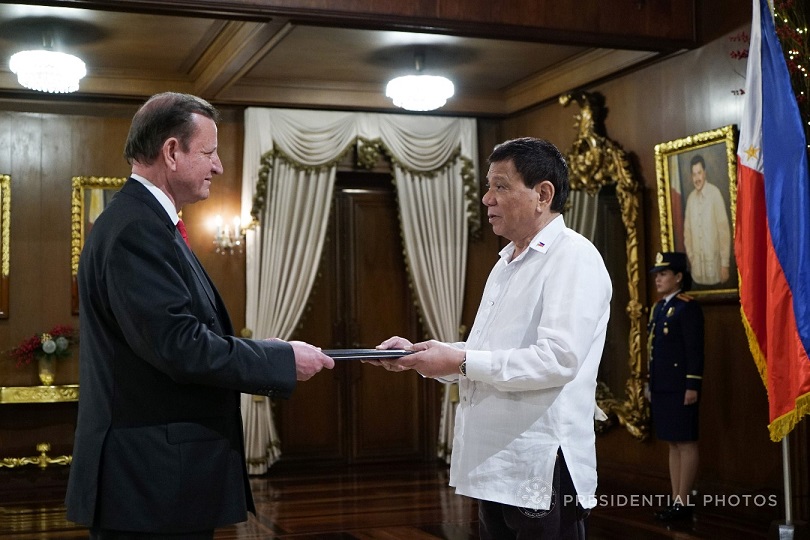 Pres. Duterte receives the credentials of Ambassador-Designate of Malta to the Philippines John Aquilino in Malacañan Palace on January 9, 2017. Malacañang photo by King Rodriguez.
At the birthday party of House Speaker Pantaleon Alvarez last Friday, President Duterte again justified his being uncouth with the flawed reasoning that he did not study to become a statesman.
"Kaya ugali ko talaga, pang-mayor lang. Nung sinabi nila na hindi ako statesman, hindi naman ako nag-aral pang-statesman (My habits are for being mayor. They say I'm not a statesman. I didn't study to be a statesman.)
One year ago, Jan. 9, he said the same thing in a televised address."I may not be really be the ideal public official that you'd want me to be. Sabi, hindi raw statesman. Eh p— ina statesman, ang kinuha ko law. (They said I'm not a statesman. Expletive..statesman) There's no such degree as statesman. Bakit mo ipilit mo sa akin ganon, statesman, statesman? Wala ka naman ginawa sa bayan mo (Why do you insist for me to be a statesman, statesman. You didn't do anything to your country)," he said.
"Hindi na bale hindi ako statesman, basta patay lang lahat 'yang mga g— drug lord diyan. Talagang mamatay ka, sigurado 'yan. Sabihin ko talaga, kayong mga drug lord, (Never mind if I'm not a statesman as long as all the drug lords are dead. They will really die, I said you drug lords)," he added.
That's distorted reasoning. And it's embarrassing for one who brags about having taken foreign service course at theLyceum University.
The common idea of a statesman is a respected political leader who is skilled in governance and carries himself with dignity. Attributes which we do not equate with Duterte.
But Duterte cannot choose not be a statesman because when de decided to run for president, he should have known that the President of the Philippines is both head of government and head of state. Unlike in other countries like Singapore and Malaysia, when the head of government is not the head of state (Prime Minister Najib Razak is head of government, not head of state; Singapore's Lee Hsien Long is head of government, not head of state).
As head of state, the President shapes and expresses the country's foreign policy. Ambassadors and special representatives merely echo the policies that he lays down. The direction that he is leading the country towards China is an act of a head of state. He represents the country in international events as both head of government and head of state.
As head of state, he should be a statesman.
One definition of a statesman is "a political leader whose wisdom, integrity, etc, win great respect."
That cannot be said of Duterte.