Twice last week, President Duterte complained about China's activities in the South China Sea- a stark departure from his panderingstand since the start of his presidency.
Always, he was all praises for China's President Xi Jinping, who will be coming here for a state visit in November, for the military equipment that he said was used in the war against Muslim extremists in Marawi and for the multi-billion infrastructure projects that it is undertaking in the country.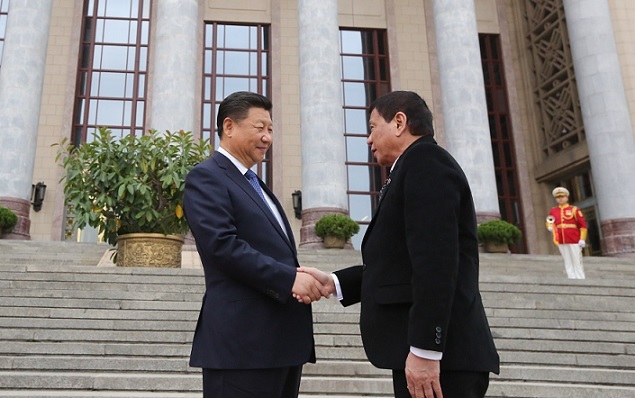 China's President Xi Jinping welcomes President Duterte in Beijing Oct. 2016. Malacañang photo.
He was unperturbed about China's continued expansion in the disputed waters of South China Sea and the installation of military facilities in the seven artificial islands it occupies.
He is even pursuing a joint exploration project in Reed Bank, within the country's exclusive economic zone,a violation of the Constitution.
He assured everybody that in all of these discussions," China never asked for any, not even a one square [foot] of real estate in this country."
Last Aug. 14, in his speech before entrepreneurs in Malacañang, he spoke again of the rifles that China donated for the war in Marawi. "I tried to buy but it was given to me for free. To this day, China has not even demand — anything,"he said.
Then he blurted out something that he never said before: " So it's very clear that the gambit really is the China Sea."
Since he knew that China's generosity is not for free, why is he allowing them to deepen their foothold on Philippine territory?
Time and again, Duterte's excuse was the Philippines is so military weak, China will pulverize us if we go to war with them. But a country can assert it's sovereignty in many ways except going to war. No one ever thought of War in asserting Philippine sovereignty over Scarborough Shoal and in the Spratlys.
Before Duterte dropped that remark about what he thinks China wants for the favors that it gives, he talked about regional superpower's seven artificial islands in the South China Sea, which the Arbitral Tribunal in its 2016 decision on the complaint filed by the Philippines, violated the United Nations Convention on the Law of the Sea and caused severe harm to the marine environment.
Duterte said, "You cannot create an island. It's man-made and you say that the air above this artificial island is yours.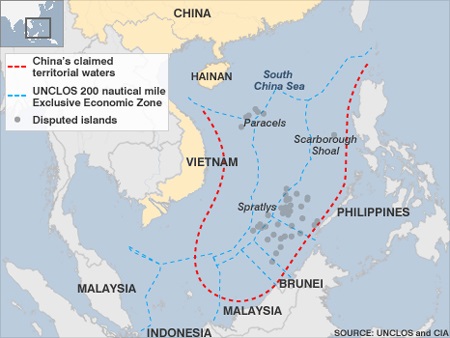 South China Sea map showing China's 9-dashed line map which the Arbitral Tribunal said is invalid.
Two days after, he repeated his complaint about China in his speech at the convention of his daughter's political party Hukpong ng Pagbabago in Davao City. This time he talked about Filipino aircraft being shooed away from the air space near the artificial islands.
Duterte said, "You know, when you create an artificial island I think that it would be… Ang sabi ko sa China, "yung sabi niya, "Filipinos. Go out of…" You cannot create islands there and claim the sea. That is not an island. Artificial islands are not pro — are prohibited in the middle sea. Iyan nga ang rule diyan eh.
"Just because we are friends, huwag mo na kaming — "Filipinos. Go out there or that is your responsibility if anything will happen." Alam naman — you know very well that we will not attack anybody there. And we are a claimant of the group of islands.
"And we are not — I told you we are not prepared to go to war with you, so why do you have to say those nasty words? There"s no need for that. We are your friend. "
China, in a statement to Reuters, insisted on their right to protect their islands, "China has a right to take necessary steps to respond to foreign aircraft and ships that deliberately get close to or make incursions into the air and waters near China's relevant islands, and provocative actions that threaten the security of Chinese personnel stationed there."
Has Duterte realized the folly of his subservience to China? I seriously doubt it. This might be just a bargaining stance.