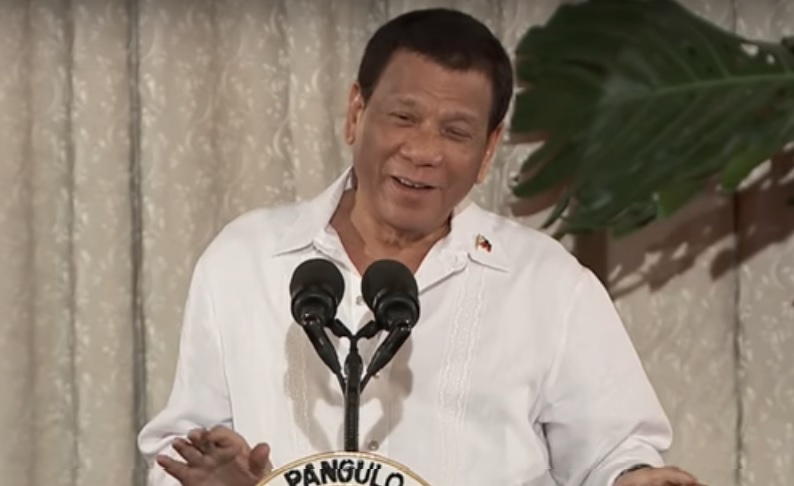 President Duterte admitting before civil service career officers that he has committed extra judicial killings. Screengrab from RTVM video.
This time, President Duterte is telling the truth: he has killed people without the victim or victims going through due process.
Malacañang was extremely bothered by the President's admission of guilt that aside from statements by Presidential Spokesperson Harry Roque and Legal Counsel Salvador Panelo downplaying it, they issued a separate statement.
This is amidst opinions by international legal experts that Duterte's statement is an admission of guilt and will weigh heavily against him in the cases filed before the International Criminal Court.
Duterte, a lawyer and a former prosecutor, made the admissionin his speech at the oath taking of the new career executive service officers, the elite backbone of government bureaucracy, in Malacañang last Sept. 27.
His exact words: What are your sins? Ako? Sabi ko nga sa military, anong kasalanan ko? Nagnakaw ba ako diyan ni piso? Sige daw. Did I prosecute somebody na ipinakulong ko? Ang kasalanan ko lang 'yung mga extrajudicial killing (Me? I told the military, what's my fault? Did I steal even a peso? Did I prosecute somebody that I put in prison? My only sin are the extrajudicial killings.)"
Before he said that, in the same speech, he said, "There are things that I have to do because I have to do it. Who will do it?"
He quoted police officers saying that before him there was no extrajudicial killings: " Alam mo 'yang pulis noon, sabi nila walang (You know, the police said) — before you Duterte, there was really no killing, no extrajudicial. "
Immediately Panelo and Roque played their old recording of the President "was not serious" and reduced it to a "matter of language." Roque attributed it to Duterte speaking in a Visayan language, which many Visayans took as an insult.
Roque said Duterte's statement was not self-incriminating. "In the first place, hindi naman iyan isang sinumpaang salaysay 'no, so paano sasabihing self-incriminating iyan. Hindi po. That's the President po being himself, being playful, being… highlighting the point na hindi siya corrupt. (In the first place, it was not a sworn statement, so how can it be self-incriminating? That's the President being himself, being playful, highlighting the point that he is not corrupt.)"
Other lawyers do not agree. They suggest that RoquerevisitThe People of the Philippines, plaintiff-appellee, vs. Pablito Andan y Hernandez @ bobby,accused-appellant.(http://sc.judiciary.gov.ph/jurisprudence/1997/mar1997/116437.htm) where it said "Appellant's confessions to the media were likewise properly admitted. The confessions were made in response to questions by news reporters, not by the police or any other investigating officer. We have held that statements spontaneously made by a suspect to news reporters on a televised interview are deemed voluntary and are admissible in evidence."
Critics of Duterte said his confession will add to the materials that ICC Prosecutor Fatou Bensouda would be evaluating as she is now in the preliminary examination stage before deciding whether to proceed to an Initiation of Investigation on the Information against Duterte filed by three groups – Atty. Jude Sabio, Sen. Antonio Trillanes IV and Rep. Gary Alejano, and families of victims of Duterte's drug war.
A provision in Article 53 (Initiation of an investigation) of the Rome Statute, the treaty that established the International Criminal Court, states that the Prosecutor shall initiate an investigation after having evaluated the information made available to him or her.
One of the considerations is "The information available to the Prosecutor provides a reasonable basis to believe that a crime within the jurisdiction of the Court has been or is being committed."
As it is said in the Bible, "The truth shall set you free."
Duuterte's admission may yet be what truth-seeking, freedom- loving Filipinos have been praying for.