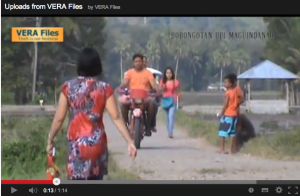 Video by FREDERIC LORENZO, I-Watch
UPI, Maguindanao—When results of the barangay elections are announced, it won't only be the top candidates who will be "winners" in some villages here.
Villagers in some barangays here have been betting on election results and have put their money on who they think will be their next barangay captain and kagawads (councilors).
In Borongotan, one of Upi's 23 villages, the bets were on two candidates for barangay captain and 16 kagawads since certificate of candidacies were finalized on October 17.
Former kagawad Rogel Claudio confirmed residents have indeed been entering their bets.