Speeding vehicles
kill.
That is why the
transport department wants all 1,600 local government units (LGUs)
around the country to set and enforce speed limits in their
respective areas.
"We acknowledge
that speed kills…Now is the appropriate time we enforce these speed
limit settings so that we can slow down vehicles," said Transport
Undersecretary Mark de Leon at the signing on July 25 of a memorandum
of understanding (MoU) that would facilitate the nationwide
implementation of speed limits.
Setting speed
limits in different LGUs is provided for in a joint memorandum
circular – JMC 2018-001—issued more than a year ago but whose
implementation has been hampered by the lack of skilled manpower to
enforce speed ordinances, or even draft such laws.
"We have 1,600
local government units all over the country. LTO (Land Transportation
Office) only has 1,500 enforcers. We really lack enforcers so we
really need the support of the local government units to make this a
sustainable policy," De Leon said.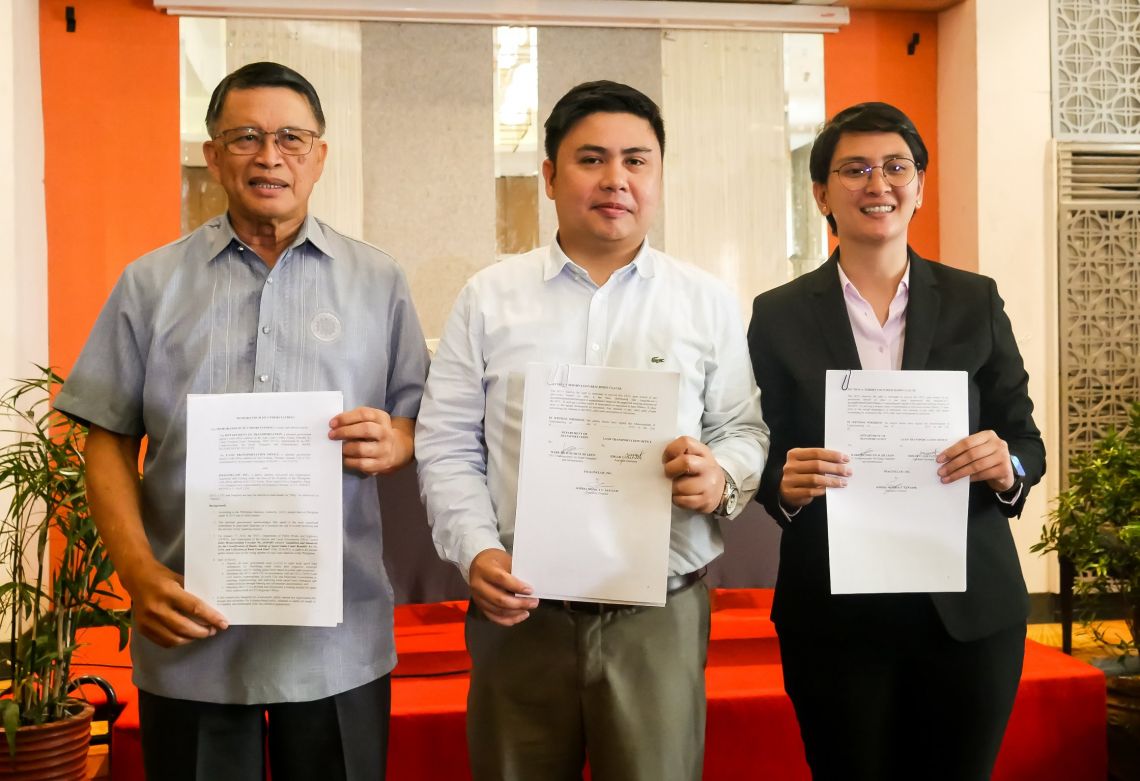 LTO Assistant Secretary Edgar Galvante, Transport Undersecretary Mark de
Leon and ImagineLaw Executive Director Sophia San Luis show copies of a
signed MoU on speed limits. Photo by Reiven Pascasio.
The MoU, signed
by De Leon, LTO Assistant Secretary Edgar Galvante and ImagineLaw
Executive Director Sophia San Luis, provides for additional training
for government units on how to set and enforce speed limits.
Road safety
experts say speeding is the most important contributor to road
fatalities and the setting and strong enforcement of speed limits is
one of the most important interventions in reducing road crashes and
road crash fatalities and injuries.
According to the
Philippine Statistics Authority, there were 12,690 casualties from
road crashes in 2016.
The World Health
Organization says studies suggest that a one km per hour decrease in
travelling speed would lead to a 2–3 pct reduction in road crashes.
The JMC 2018-001,
signed on Jan 17, 2018, sets guidelines and standards for road
classification, speed limit setting, and road crash data collection.
It also provides LGUs a template speed limit ordinance and mandates
LGUs to show proper speed limit signs.
The JMC is a
joint undertaking of three departments – transportation, public
works and highways, and interior and local government – and is
intended to strengthen the implementation of Republic Act 4136, also
known and the Land Transportation and Traffic Code, the basic law
regulating land transportation in the country.
Training of LGUs
Atty San Luis,
whose public interest organization has been the government's
partner in crafting and implementing the JMC, said 300 LGUs have so
far been trained in enacting speed limits since the Circular was
issued. Experts from New Zealand and Slovenia have been tapped to
provide speed enforcement training, she added.
"In just a
year, we managed to train 300 out of the 1600, which I think is
already a lot considering there were elections. But now, we are
starting the training again and we have, at least, the next three
years to complete the LGUs," she said.
Among LGUs that
have implemented their own speed ordinances are the municipality of
Bontoc, the site of the bus crash that claimed the lives of 14 people
in 2014; General Mariano Alvarez and General Trias, Cavite; Sta.
Maria, Laguna; Antipolo, Rizal; Pagbilao and Tiaong, Quezon;
Guinobatan, Albay; Balatan, Camarines Sur; and Consolacion, Cebu.
"The next order
for us is to call the national DILG office to ask them to follow-up
with the LGUs," declared San Luis.
For this part,
LTO's Galvante says his office is putting together measures that
can be implemented by its enforcers to ensure safety on the road, but
acknowledges that training of enforcers and coordination with LGU
counterparts are necessary.
Equally
important, he said the LTO will have to "bring in the DPWH to
classify the roads."
Based on existing
DPWH road classifications, the speed limit for cars on open roads is
80 kilometers per hour, but this speed should dip to 20 kph when it
passes crowded streets, which include school zones and markets. For
trucks and buses, on the other hand, the maximum allowable speed in
open roads is 50 kph.
When needed, LGUs
can set lower speed limits, according to the January 2018 JMC.
Monitoring
compliance

San Luis also
said ImagineLaw will be launching a website called 'Dahan-Dahan sa
Daan' to record all the speed limit ordinances that will be enacted
in the Philippines.
"When you enter
the website, you will see a map, and all the different LGUs will be
tagged."
The tags will be
classified by color. Municipalities with green tag signify an
effective speed limit ordinance; orange tags either mean they are not
fully compliant with the circular or not all roads are covered by the
ordinance. The red tag means an absence of a speed limit ordinance.
"So if you
click on the tag, you will be able to download it in template letter
that any individual can send to their local government to request for
the enactment of speed limits," said San Luis.
She said the
website can help citizens "call out their LGUs to implement the
speed limit ordinance."
This story is
produced under the Bloomberg Initiative Global Road Safety Media
Fellowship implemented by the World Health Organization, the
Department of Transportation and VERA Files.