Speeding is the biggest contributor to road crash fatalities in the Philippines so road safety advocates and vulnerable road users welcome the call for lower speed limits, especially in commercial and residential areas.
The World Health Organization (WHO) has called on countries to adopt 30 kilometers per hour speed limits on streets where people live, work and play to reduce road crash fatalities, adding that every year, more than 1.3 million people die in road traffic crashes. The deaths have been described as "the equivalent of a COVID-19 pandemic every single year."
"Low speed, livable streets are vital to reduce road traffic deaths and injuries," the WHO said as it kicked off the campaign #StreetsforLife #Love 30 as part of the celebration of UN Road Safety Week, May 17-23.
"Limiting driving speed to 30 kph not only promotes healthier lifestyles through walking and cycling but also decreases air and noise pollution."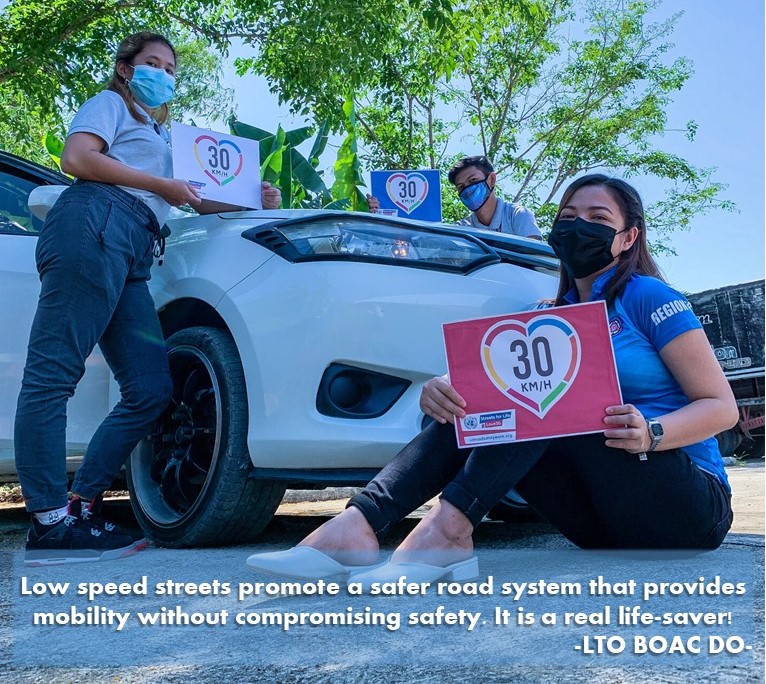 Officials from Land Transportation Office advocate for #Love30. Photo from ImagineLaw.
For Keisha Mayuga, founder of the biking group Life Cycles PH, the call for lower speed limits will boost local initiatives that promote biking as an alternative mode of transport amid the pandemic.
"Speeding vehicles add fear to cyclists and people who want to learn how to bike. For streets without protected bike lanes, it is best for passing vehicles to slow down," she said in a webinar on May 21 organized by public law organization ImagineLaw.
The national government and some local government units are working on setting up protected bike lanes in certain roads to protect the rising number of cyclists who now use major thoroughfares to get to work.
"Not all streets can accommodate bike lanes, so 30 kph can help lessen the impact of cars on cyclists," said Mayuga. "I am also scared when I bike at night and cars are speeding. They (drivers) may not know that there is a cyclist ahead."
"We all deserve streets for life where roads are walkable, livable and shareable," said ImagineLaw communications officer Roch Bartolay.
"Others may ask, why do we need to slow down when there is traffic? When we think of it, there are certain times of the night or very early in the day where vehicles on the road move faster, and it's particularly dangerous for us road users," she added.
About 12,000 Filipinos die on the roads each year, according to the Philippine Statistics Authority.
In the nation's capital, 65,032 road crashes were recorded in 2020, according to a profile from the Metro Manila Accident Reporting and Analysis System (MMARAS).
Most of these crashes involve motorcycles, followed by cars, trucks and bicycles.
The highest number of road crash fatalities are pedestrians hit by these vehicles. These cases account for 20% of all recorded road collisions.
The report estimates that 178 crashes happen everyday in Metro Manila.
Slow down for cyclists, pedestrians, PWDs
There are road users who are more vulnerable because they are not protected by an outer shell that a car provides, Bartolay explained, referring to pedestrians and cyclists. "That is why we see #love30 as urgent. It is essential because we know that low speeds or slowing down really saves lives," she added.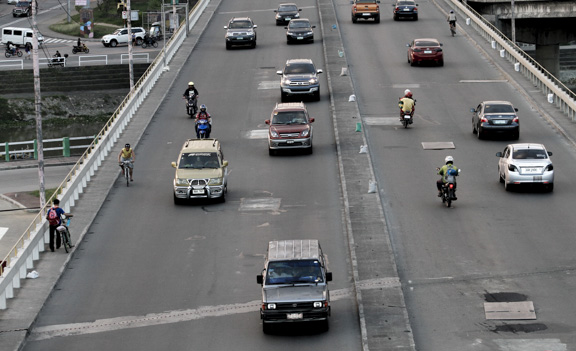 File photo
According to the WHO, the link between speed and injury severity is particularly critical for vulnerable road users such as pedestrians and cyclists. It said pedestrians are seen to have a 90% chance of survival when struck by a car travelling at 30 kph or below. At a speed of 45 kph, road crash victims have less than a 50% survival rate.
Dr. Maureen Ava Mata, an amputee and a disability rights advocate from the Alyansa ng may Kapansanang Pinoy (AKAP), can only agree that limiting speed is crucial to road safety.
"There were many times I almost got into a car crash. It would be good if the speed limit for cars is a little slow, so drivers can be aware of areas where pedestrians cross….to anticipate the dangers we may encounter," she said at the webinar.
Mata said government's prioritization of people with disabilities (PWDs) has always been on her wish list. One way to help them is by implementing a speed limit of 30 kph on certain roads.
"Just imagine someone who cannot walk, cannot see, cannot hear and they have to cross (the road)…We can be very productive as long as we are provided with an accessible transportation system and walking areas," she said.
"If you don't have a disability, you will not know what we need. If you help us, we will help you. It's up to us to ensure that no one will be left out," she added.
Mayuga clarified that not all roads need to be limited to a maximum of 30 kph, but only those where residential and commercial establishments are situated.
The WHO says that 30 kph speed limits in streets where people and traffic mix "help prevent road traffic deaths and promote physical activity, because when streets are safe, people walk and cycle more."
Based on current road classifications by the Department of Public Works and Highways, the speed limit for cars on open roads in 80 kph. But this speed should dip to 20kph when cars pass crowded streets, including school zones and markets. For trucks and buses, the maximum allowable speed on open roads is 50 kph.
These rules, however, are largely violated, resulting in many crashes on the road. One of the reasons is the absence of localized speed limits.
This prompted the Department of Transportation to reach out to LGUs to set and enforce speed limits in their own areas, but this initiative has been hampered by the lack of skilled manpower to draft local laws and enforce these ordinances. The training of LGUs has been set in motion but the timetable had been pushed back by the pandemic.