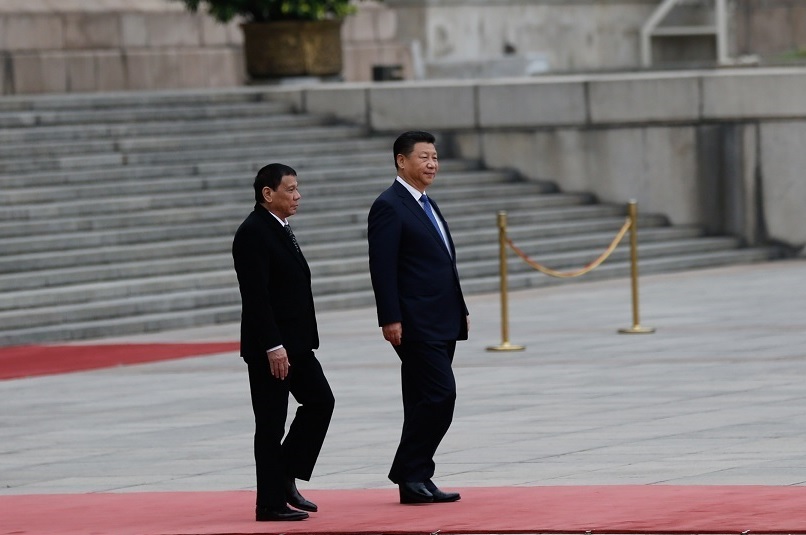 Chinese Pres. Xi Jinping welcomes Pres. Duterte in Beijing in Oct. 2016. Xi will be coming to Manila on Nov 20 and 21.
We will be watching out for the details of the agreement on the joint exploration in the Spratlys that is expected to be signed in the presence of President Duterte and Chinese President Xi Jinping when the latter comes to Manila on Nov. 20 and 21. If there would be any agreement on joint exploration at all.
Duterte and his foreign secretaries, present and past, have assured us Philippine sovereignty will not be compromised. We would like to believe them but we are still concerned especially after the President surrendered to China the Philippine claim in the Spratlys with his statement in Singapore last Wednesday while attending the ASEAN summit.
In an doorstep interview, Duterte, talking about the three-year time frame for the China –ASEAN Code of Conduct for the South China Sea said, apparently referring to the regional military superpower :"You are there, you are in possession, you occupy it, tell us what route shall we take and what kind of behaviour."
As Rep. Gary Alejano (Magdalo partylist) said, "It is highly irresponsible, not only for a President of a sovereign country, but also as the present dialogue coordinator between ASEAN and China, to show a clear and submissive deference to Beijing regarding such sensitive matters as the Code of Conduct in the South China Sea. The President should exercise caution in making statements that imply capitulation to China's whims or may otherwise compromise not only the Philippines' but also ASEAN's interest in the region." he said.
Former Foreign Secretary Alan Peter Cayetano had talked about a 60-40 sharing in favor of the Philippines for any gas or oil extracted in the joint exploration with China. Although nolocation was mentioned, it is presumed that the area would include the Reed Bank (Philippine name is Recto Bank; Chinese name: Liyue Tan) site of the controversial 2005 Joint Marine Seismic Undertaking with China and Vietnam, the constitutionality of which has been questioned before the Supreme Court which has not decided up to now.
In his speech during the first Subaraw Biodiversity Festival in Palawan on Nov. 10, before he left for the ASEAN summit, Duterte, talking about China and the Philippine victory in the Arbitral Court, proceeded to say: " And so now meron na tayong — maybe we'll also try another activity of exploration. Exploration lang naman eh. The word is to explore, meaning to say to find out."
Duterte should be reminded about Article XII, Section 2 of the Constitution which states that: "The exploration, development, and utilization of natural resources shall be under the full control and supervision of the State. The State may directly undertake such activities, or it may enter into co-production, joint venture, or production-sharing agreements with Filipino citizens, or corporations or associations at least sixty per centum of whose capital is owned by such citizens. .."
Duterte should also get a briefing from one of his presidential advisers, former House Speaker Jose de Venecia, how he was able to circumvent the prohibition of "exploration" and instead came up with the brilliant idea of "seismic undertaking" in the JMSU.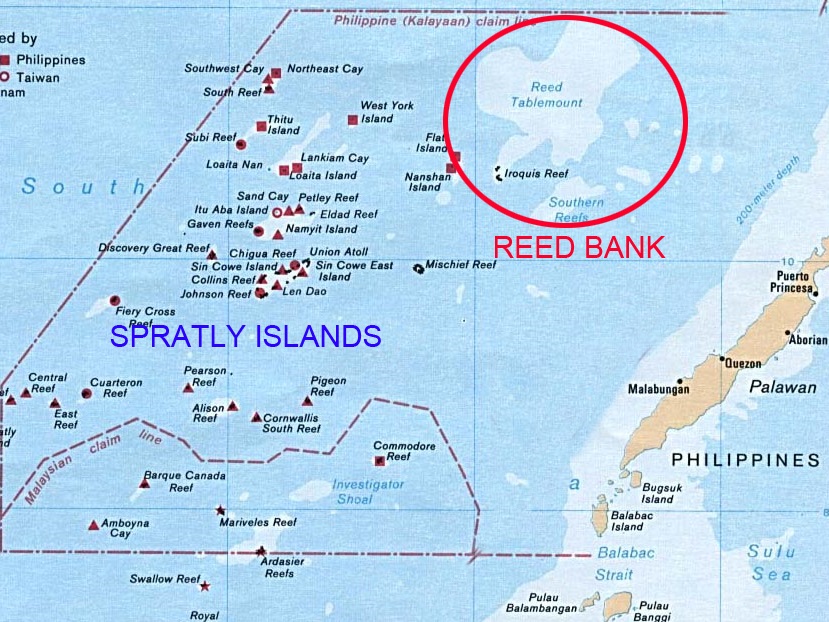 From Wikipedia
Last year, when the idea of joint exploration with China was mentioned by Duterte, I wrote a piece that recalled the JMSU. Here's a portion of that column:
"It's good that the public's mind be refreshed about JMSU.A brainchild by then House Speaker Jose de Venecia, originally it was only between China and the Philippines and the term used was "exploration."
"Then acting Justice Secretary Merceditas Gutierrez warned De Venecia and the DFA the Constitutional provision that 'exploration' of Philippine natural resources can only be done by the State. They were able to find a way to circumvent that provision by using the word 'seismic undertaking.' Vietnam, which also claims parts of the area to be covered by the deal, later on joined the project. Findings in that 'seismic undertaking' were supposed to be used in the next phase of the cooperation which was joint development.
"Signed in 2005, the agreement involvedthe PNOC, the China National Offshore Oil Co. (CNOOC) and Vietnam Oil and Gas Corp. (PetroVietnam). It covered a total 142,886 kilometers in the disputed South China Sea and included almost 80 percent of the Kalayaan Group which the Philippines claims. Reed Bank near Palawan was also included.
"There's a dark story behind the JMSU.
"It was connected to the $904.38 million package of investment from China that included the graft-ridden Northrail, NBN-ZTE telecommunications deal and Zhongxing Technology Equipment (ZTE) Diwalwal mining project.
"China made it clear to Philippine officials that that multi-million package would be delivered only if JMSU pushed through."
In his Palawan speech Duterte gave a hint that they are thinking of going around the word "exploration." He said, "Exploration lang naman eh. The word is to explore, meaning to say to find out."
JMSU was completed in 2007. China has the findings. They have an idea if there's basis to the initial studies that the area contains oil, gas, and condensates worth $23.2 billion.
Harry Roque, when he was still presidential spokesperson, said in a TV interview, "We have gone beyond determining if there are resources.The only issue now is, is it commercially viable,"
He went further sayingthe cooperation with China will be taking off from the result of the JMSU. "This will now actually entail joint exploration and possible exploitation of natural resources."
It is important for China to have a foothold in Reed Bank again and they know that the best time to do it is while Duterte is president.