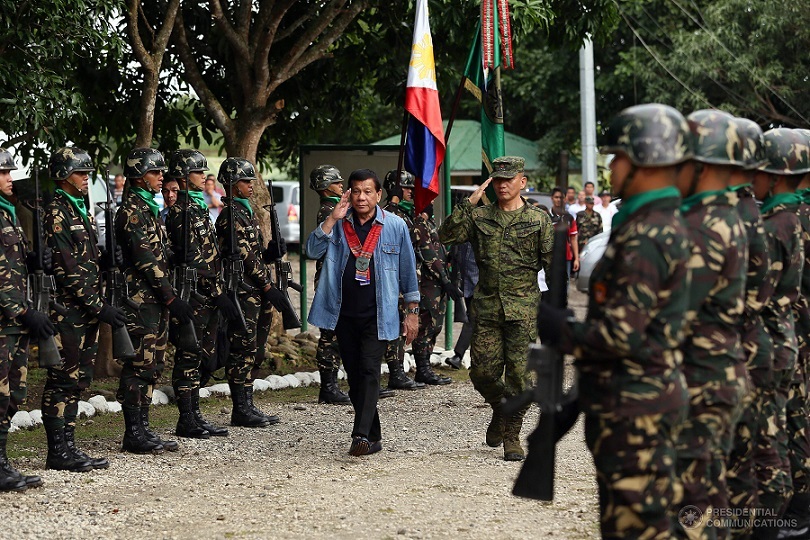 Pres. Duterte is accorded military honors upon his arrival
at the 1002nd Infantry Brigade headquarters in Malungon, Sarangani,on July 5,
2017. With him is 1002nd Infantry Brigade Commander Col. Roberto Ancan. Photo
by Robinson Niñal,Jr. Malacañang photo.

Former congressman Ashley Acedillo (Magdalo Partylist) said the only kind of governance President Duterte knows is authoritarianism.
In his paper "Martial Law, Mindanao and the Mind of Duterte," presented in a recent Last Thursday Colloquium (TLC) at the University of the Philippines, Acedillo said, "Pres. Duterte's style of leadership relies on unquestioning obedience, little or no dissent, a license for heavy-handed tactics and a lack of consultation and/or consensus. Simply put, from the time he first became elected mayor of Davao until he relinquished the reins of the city to what would effectively be hereditary title to the mayorship (to his daughter, Sara, no less and with a Vice Mayor in the person of his son, Paolo), Rodrigo Duterte has evolved from a local warlord like in most Philippine localities into an accomplished autocrat amidst a fragile and flawed democracy that is the Philippines. This is the only way he knows how to govern. This has been his template as Mayor. And this will be his template as President."
He pointed out how Duterte's decision to put the entire Mindanao under martial law preempted the National Security Council that should have made the determination. He also cited how the declaration was incoherent with the statements by security officials hours before it was announced.
Acedillo, a former Philippine Air Force officer, took note that Duterte has been floating about Martial Law since the beginning of his presidency at the average of once a month beginning August 2016 in his public speeches and "even doing it twice in December last year."
Acedillo said past administrations had faced bigger enemy forces and more serious challenges and they were all able to repel them just by AFP operations or combined AFP and PNP operations.
"I am not fearful of Martial Law because the AFP and our soldiers are its implementors. I fear for the country because of Martial Law's progenitor," Acedillo said.
The Supreme Court on July 12 upheld the validity of Duterte's May 23 declaration of Martial Law in Mindanao, which was sparked by clashes between government armed forces and terrorist groups following a botched attempt by the military to arrest Abu Sayyaf leader Isnilon Hapilon in Marawi City.
Here is Acedillo's paper in full: