House Speaker Pantaleon Alvarez said he will be pushing for a five-year extension of Martial Law in Mindanao declared by President Duterte last May 23 and is supposed to end on July 22, two days before he delivers his second State-of-the Nation address.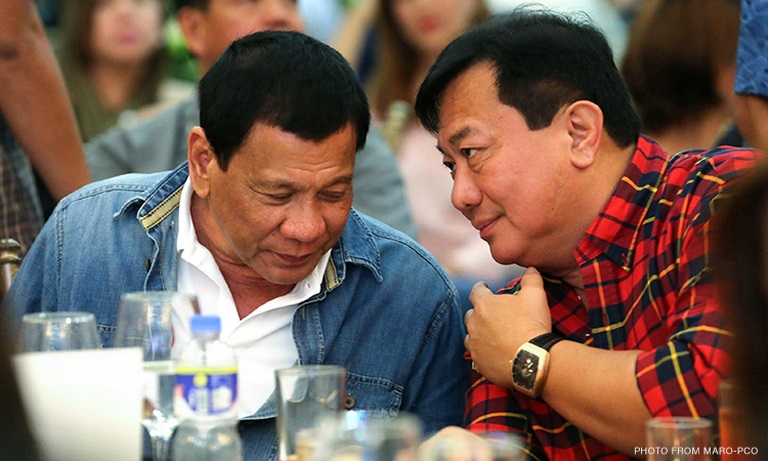 President Duterte and House Speaker Pantaleon Alvarez
Alvarez, who has proven himself valuable to Duterte for shepherding a docile House of Representatives to the latter's bidding, said Saturday, ""If I can convince my colleagues, I will push for an extension until 2022, because two months is too short. Five months or one year or two years is too short."
Alvarez did not say what is needed that cannot be done in normal times, without the sword of Martial Law hanging over Mindanao.
Duterte himself does not seem so eager to lift martial Law in Mindanao. News reports said when he was asked last week if he would lift it before delivers his second SONA on July 24, he replied, "No".
"I consulted the military and the police and they said it was critical. It will be the Armed Forces and the police who will say if it's no longer critical," he said.
Brig. Gen. Restituto Padilla, AFP spokesperson said they are still assessing the situation in Marawi that is entering its seventh week as a battlefield between government forces and terrorist groups of Maute and Abu Sayyaf which get support from the dreaded Middle East-based ISIS (Islamic State in Iraq and Syria).
There is no pressure for Duterte to end his Martial Law declaration in Mindanao. In fact, he is getting all the support. The Supreme Court upheld the validity of his Martial Law declaration in the whole of Mindanao overwhelmingly 11 – 4.
Actually, only one Associate Justice Marvic Leonen opposed his declaration all the way. Senior Associate Justice Antonio T. Carpio said Duterte's declaration of Martial Law is valid only in Marawi City.. Chief Justice Lourdes Sereno and Associate Justice Benjamin Caguioa saw the need for Martial Law in Lanao del Sur, Maguindanao, and Sulu.
The Filipino people do not seem to worry about Martial Law in Mindanao as reflected in the survey of Social Weather Station conducted last June 23 through 26 with 66 per cent of the respondents satisfied with the way Duterte is running the country.
Never mind that in Mindanao, his net satisfaction rating dipped 12 points from 87 in March to 75 in June. His satisfaction rating increased in Luzon and Visayas for an overall assessment of "very good."
If he is getting high score with Martial Law and all the Extra-Judicial Killings in connection with his anti- illegal drugs campaign, why should he stop? He should give the Filipino people more of the same.
The Filipino people's embrace of Duterte's authoritarianism reminds us of the boiling- a- frog syndrome.
If you put a frog into a pot of boiling water, it will leap out right away to escape the danger because its survival instincts are geared towards detecting sudden changes.
But, if you put a frog in a kettle that is filled with tepid water, it will enjoy the coolness and become complacent. It will not immediately react if you gradually heat the kettle.
Before it knows it, the water is boiling and it would be too late for it to jump out of the kettle. It will end up a boiled frog.
There's a lesson to learn from the nilagang palaka.