Disinformation knows no distance, especially when it comes to Filipino migrant workers.
Historical revisionism, misleading information on the Philippines' economic condition, erroneous legal advice, and vaccine-related misinformation are the common types of disinformation that circulate among overseas Filipino workers (OFWs) observed by former VERA Files fact-check trainees.
On Feb. 18, VERA Files, with the support of international nonprofit Meedan, held the webinar "OFTW! Overseas Filipino Truth Warriors: Empowering migrant workers to fight disinformation."
The event revisited VERA Files and its partner organizations' projects in the past three years that empowered overseas workers against the infodemic.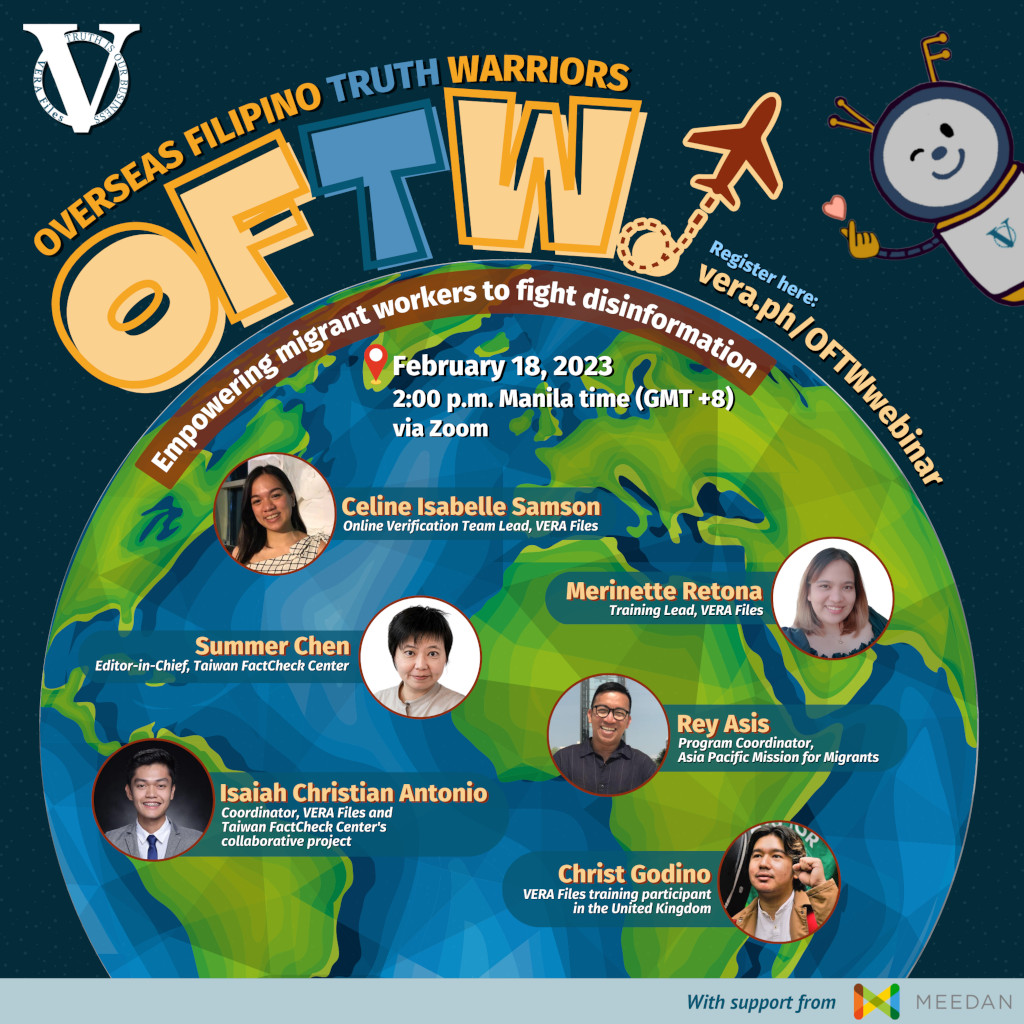 VERA Files President Ellen Tordesillas stressed the importance of reaching out to OFWs who mainly rely on information from social media.
"Even as Facebook and other online platforms serve as a link for the OFWs and their families back in their homeland, it also became a source of something which is not very pleasant, which is disinformation, a source of lies and falsehood, which created confusion. That's why we embarked on this project of fact-check training," Tordesillas said.
Shalini Joshi, Meedan's Program Director for Asia Pacific, also highlighted how misinformation cuts across borders.
"Misinformation travels across borders and boundaries and addressing this misinformation is really important. VERA Files has led the way in the Asia-Pacific region to address misinformation across borders," Joshi said.
VERA, the truth bot
VERA Files, in partnership with Viber and Meedan, launched VERA The Truth Bot in 2021.
The first of its kind in Asia-Pacific in Viber, it is a tip line where people can post links, images, videos and statements for fact-checking.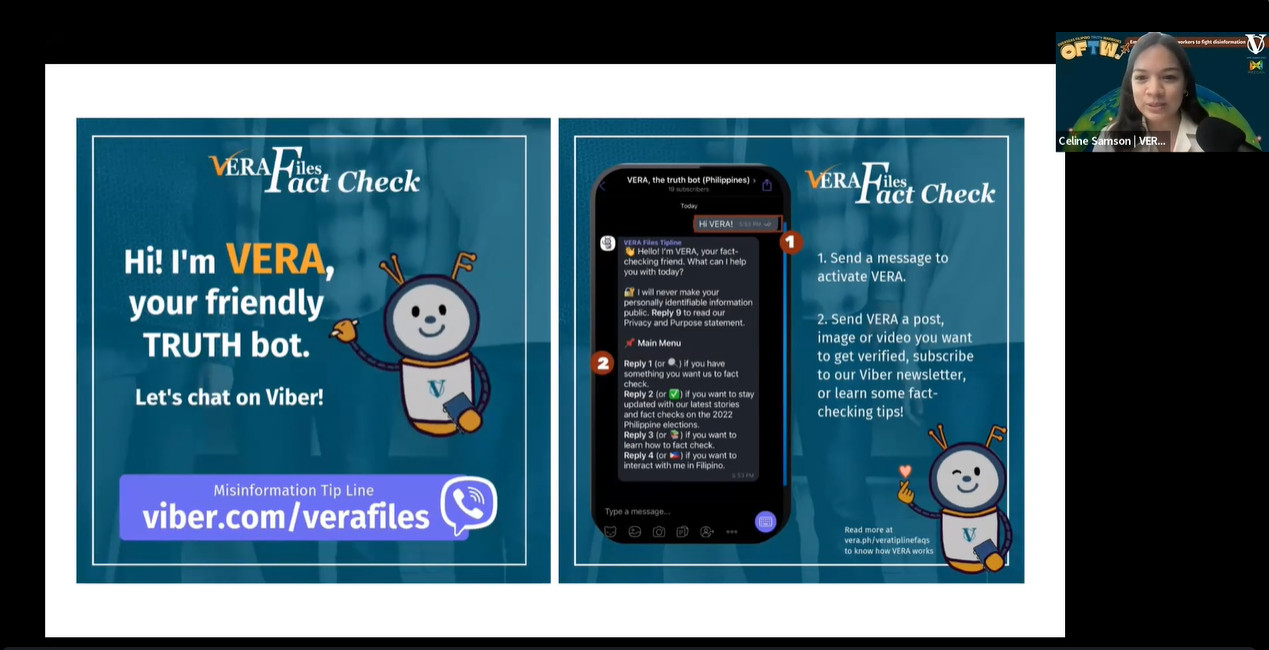 According to Celine Samson, VERA Files Online Verification Team Lead, the tip line, available in English and Filipino, has received 2,743 tips from Jan.1 to Dec. 31, 2022.
The tip line, which started looking at disinformation in private spaces, has also become a way to equip OFWs against mis-/disinformation.
"We also realized that the tipline is a way to reach out to Filipinos who were mainly using private messaging applications. And who are those? They are mainly migrant Filipino workers… We found this tip line as a way to try to involve them in addressing mis/disinformation," Samson shared.
VERA Files also partnered with Taiwan Fact Check Center, led by editor-in-chief Summer Chen, in introducing the tool to Filipino migrant communities in Taiwan.
"Filipino workers in Taiwan cited that their main source of information actually comes from social media. Most of them are active users of TikTok and YouTube and we already know that these platforms have loads of videos perpetuating conspiracies and false information," Isaiah Christian Antonio, coordinator of the collaborative project, explained.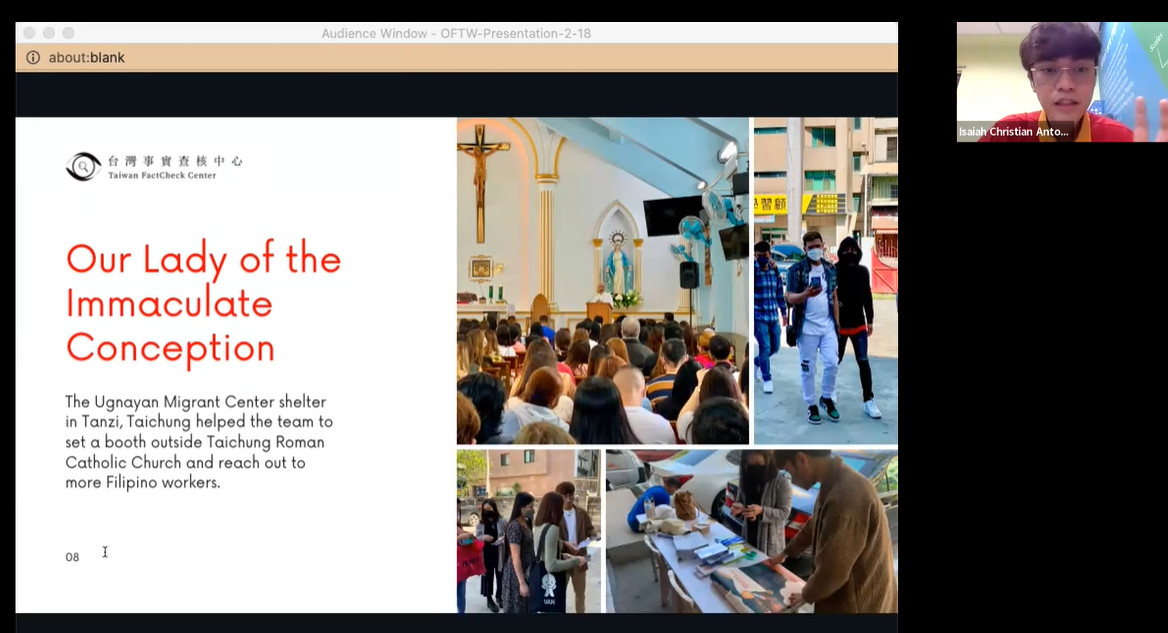 Antonio's team introduced the tip line to Filipino communities in New Taipei, Taoyuan, Taichung and Hualien.They also visited various organizations, workers from different companies and cities and even tapped local fellowships to bring the tip line closer to OFWs.
Chen added that the key in cross-country collaboration such as this undertaking is "having the same mission" and "understanding each other very well."
Fact Check Training
Merinette Retona, VERA Files' Training Lead, further expounded on the fact-checking training initiative in line with the organization's belief that "everybody can and should be a fact checker."
Overseas Filipino workers from Europe were participants in VERA Files' first fact-checking training in 2021. Later, it conducted comprehensive fact-check training for overseas workers in Taiwan, South Korea, and Hong Kong in 2022.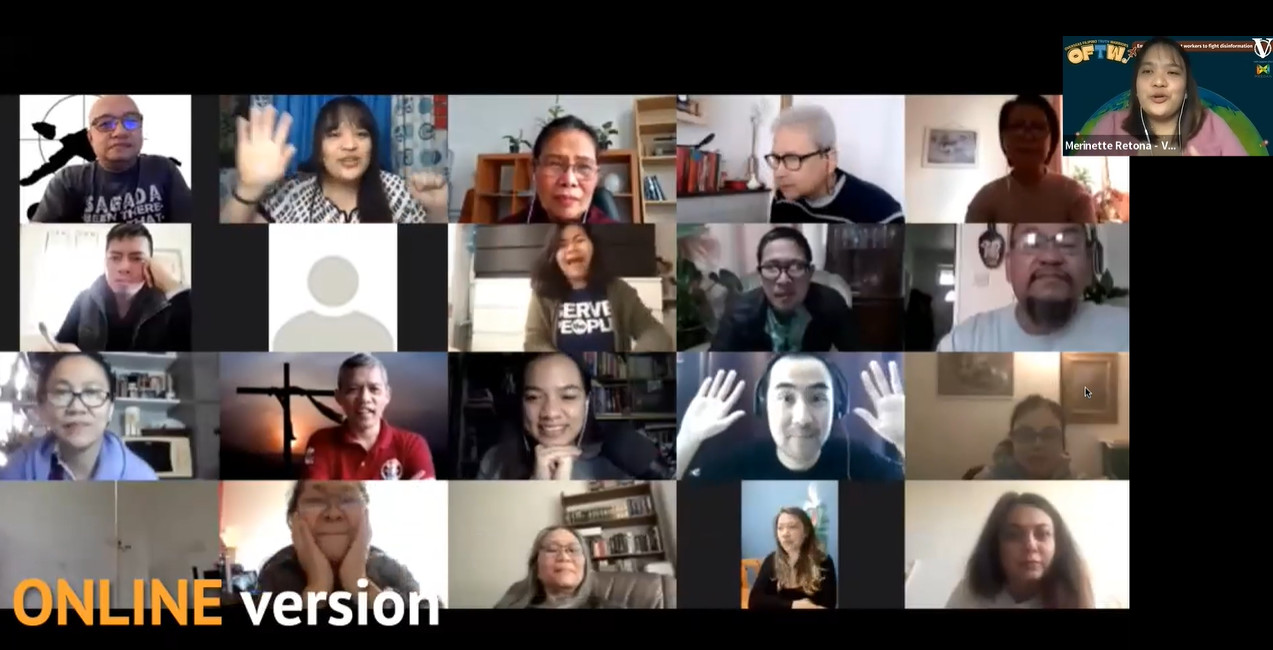 According to Retona, the training programs have reached 4,500 individuals since 2019. Of the 566 individuals trained under the comprehensive activities, 78 were Filipino migrant workers.
Rey Perez Asis, program coordinator of Asia Pacific Mission for Migrants, narrated how the 2022 trainings influenced the Filipino domestic workers, caregivers, fishers, and factory workers who attended.
Asis shared they became more critical, shared the lessons with their networks and created groups that engaged in conversations on social media. Training lessons would later find its way into their respective online broadcasting programs.
Christ Godino, a trainee from the United Kingdom, also said that after their month-long session, they started building trust with the community, disseminating VERA Files resources and other materials, and opening an information hub for Coronavirus disease.
"I stepped in to become a community champion, a person trained to fact-check, to immerse with the community that is trained to communicate with them in long conversations, and confront difficult conversations within the community," Godino added.
VERA Files and its partner organizations' initiatives prove that disinformation knows no distance, just as there are many ways to combat it.