A road crash in the Philippines costs more than the sum of your medical bills and the damage to your car.
In 2017, the Department of Health has determined that the average cost of a minor injury resulting from a road crash is around P71,483. How is this so?
Initial costs include hospitalization, medicines, vehicle repair, and worst of all, is the loss of income as a direct result of the injury. The longer a person recuperates from the injury, the greater potential income lost on a daily basis. This loss of income will turn into a serious debt problem if the road crash injury resulted in a permanent disability. More so if the victim is the breadwinner. Medicines and treatments will be compromised in favor of cheaper alternatives and worse, turning to the use of unproven herbal alternatives, which has been observed to be common among those with chronic pain from disability.
In 2017, Department of Health also reported that the average cost of a fatality resulting from a road crash will cost an average of P200,000. Again, what may not have been factored here is the potential income loss. The resulting grief is also uncompensated at P200,000.
What costs are incurred in a road crash?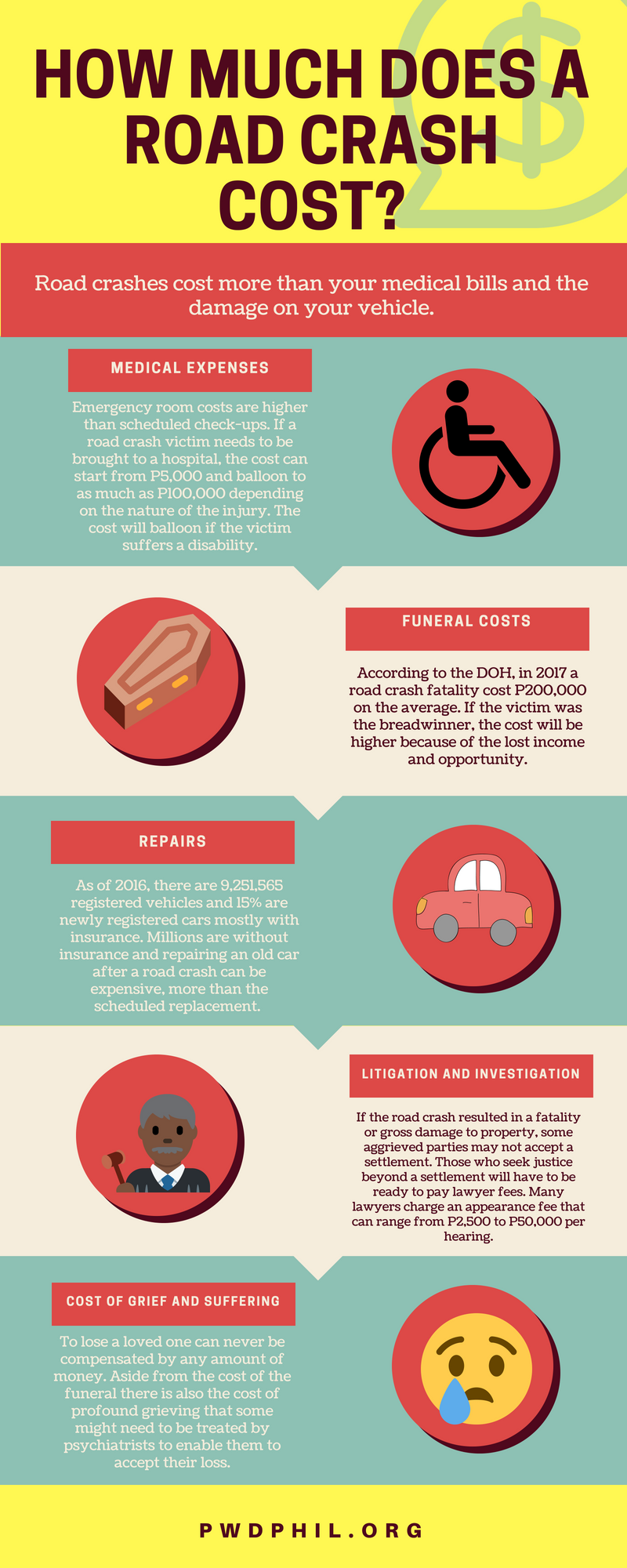 A road crash is an expense to all who encounter it, whether as a victim, perpetrator, traffic manager or passer-by. Whether you were at fault or not, as a victim, there are substantial costs incurred resulting from the road crash. There are:
Medical cost – this is especially burgeoning for those whose injuries are debilitating, such as those suffered by pedestrians, cyclists and motorcycle riders or what are known to be vulnerable road users. Injuries sustained by vulnerable road users are great and usually require extensive medical treatment, in which case also results in extensive medical bills. While the government is ready to help, the bills may keep coming if the injury leads to a permanent disability.
Funeral cost – according to the Department of Health, in 2017 a road crash fatality would cost an average of P200,000, greater or lesser depending on the circumstances of the victim's death. If there is a court case, or even if there a settlement, costs will still be circling around the victim, even more if the victim had been gainfully employed at the time of the crash.
Lost labor and economic output – this cost balloons as the victim is unable to go to work. Not all employers are able to give paid sick leaves to their employees, thus the longer the victim coalesces, the greater the amount of lost income. Or worse the victim might lose his/her job entirely as there are employers who have the habit of terminating employees who are ill or with disability.
Pain, grief and suffering – no amount of money can ever compensate for the loss of a loved one. As those who have lost family members to road crashes, the pain is sudden and not the easiest to deal with. Sometimes, the grieving family members are unable to go to school or work, others will need some form of psychiatrict treatment to deal with the loss. This is especially true for parents who have lost their children to a road crash. No amount of settlement can make the pain go away.
Damage to property – the most expensive repairs are not found in the car's exterior. It is the repairs in the undercarriage, brakes, body frame and engine and these components are usually the most damaged in a road crash, especially in head-on collisions.
Towing cost – it is not usually factored as a significant cost, towing can make an unnecessary dent in your wallet. Towing can start from P500 per hundred meters to thousands of pesos and still requires you to pay a fine on top of the towing cost. Unless your vehicle was wrecked beyond repair, towing can sometimes even destroy your vehicle and worsen the damage. Lucky if your car has comprehensive insurance, but for owners of cars that are more than 10 years old, this could spell most cost that the owner can afford.
Litigation and investigation cost – if you decide to pursue a case against another motorist who you strongly believe is the cause of the damage or lost life, then lawyers, litigation and investigation runs can be costs that you will have to shoulder. Everyone knows that civil lawsuits can drag on for years with the cost not going down. Criminal cases are usually faster, but our justice system can be really slow no matter the urgency, thus justice is surely delayed, as well as closure for the victims and their families. This is the reason why many victims opt for settlement rather than a conviction from the court. The downside, is that even in the death of the victim, a settlement becomes a free get-out-of-jail card that the perpetrator can use to avoid being charged with homicide resulting from reckless imprudence. As long as there is a settlement between the perpetrator and victim or victim's family, there will be no jail time.
Insurance cost – insurance is costly whether you believe it or not. It is costly because the premiums cannot be paid in tranches, it must be paid in full for a one-year coverage especially for cars. There is no installment for car insurance policies. While an older car may have a lower premium, there is less coverage as compared with a later model vehicle. Also larger vehicles like SUVs have a higher premium than bantam to medium cars. Comprehensive insurance also doesn't mean that all of the repair cost will be paid the insurance company. There is a participation cost that is required, anywhere from P5,000 to P25,000 depending on the policy and premiums paid. If the damage not exceed the participation cost, the insurance company might not pay for the repairs, thus the cost will have to be shouldered by the owner.
Road crashes are essentially preventable with a few good habits and conscientious measures. If all of us are aware of the importance of road safety on our lives and properties, we would be spending less money on things we could have done away with and spend more on self-enjoyment pursuits.
This story, first published at www.pwdphil.com, was produced under the Bloomberg Initiative Global Road Safety Media Fellowship implemented by the World Health Organization, Department of Transportation and VERA Files.