The death of 23-year-old nurse Renz Jayson Perez came as a shock to many. A frontliner vulnerable to the coronavirus (COVID-19), his death on Aug. 23 was a result of a hit-and-run crash.
Perez was biking along a main thoroughfare in Manila when he was hit by a pick-up truck. He was pronounced dead-on-arrival at the Philippine General Hospital but it took many more days before the man behind the wheel surrendered.
Perez was a nurse at the Jose Abad Santos General Hospital in Binondo. Months earlier, a community doctor in Manila biking home from work was also fatally hit from behind by a truck.
Their deaths added to the number of road crash fatalities and to the hundreds of road crashes that continue to occur in Metro Manila and the rest of the country despite a lockdown.
According to a report from the Metro Manila Accident Reporting and Analysis System (MMARAS), there were 3465 road crashes recorded in March, the month when Metro Manila and other parts of the country were first placed under quarantine.
In June, its latest record, there were 1221 road crashes, where at least 12 people died.
While the number is a steep decline from 6876 cases in February, prior to lockdown, the continuing occurrence of road crashes at a time when there are fewer people and vehicles on the road and more police patrolling the streets, raises a question.
During a road safety webinar on Oct. 2 organized by public interest law group ImagineLaw, advocates shared some reasons why road crashes continue despite the lockdown.
Four reasons
Ishtiaque Ahmed, Officer-in-Charge for Sustainable Transport Section at the United Nations Economic and Social Commission for Asia and the Pacific (UNESCAP), cited four possible reasons.
"First, if we consider traffic engineering theory…Generally, low traffic volume means higher speed…Drivers have opportunities for speeding so naturally, speeding-related road crashes increase," he said.
The surge in demand for food and product delivery service providers amid the lockdown and the resultant job switch of some workers could also be another reason for the road crashes, according to Ahmed.
"In an UNESCAP survey, we have found that people used to other jobs now became food service delivery providers. Some are not well-trained when driving. So, as a result, they can drive recklessly…to save time and to earn more," he said.
Feelings of "frustration and depression" can also be more evident these days due to the pandemic, Ahmed says.
"You will hear honks [on the road]. People are restless. As a result, people will drive rough and restless."
Lastly, Ahmed said police enforcers' focus may be somewhere else other than possible road crashes as their attention is fixed on monitoring the public's compliance with COVID-19-related rules.
That said, the UNESCAP official commends the Philippines for being one of "a few southeast Asian countries with speed enforcement," especially because over 60 percent of road crash fatalities are reported in the Asia and the Pacific region.
Enforcement amid the pandemic
Land Transportation Office (LTO) Regional Director of the National Capital Region, Atty. Clarence V. Guinto, assures that "despite the pandemic, enforcers are still performing their jobs."
He also acknowledges that the limited number of motor vehicles along the highways could be a factor in an increase of speeding vehicles, as cited by Ahmed, but claims that there are still checkpoints in many areas to avoid cases of speeding.
"We have a lot of checkpoints…to ensure the health protocols and that [the enforcers'] presence somehow is a deterrent to traffic violators, particularly to speeding," he said.
Guinto claims the LTO is in "the process of increasing deputized enforcers" to monitor the road better.
While there are specific laws that can only be enforced by LTO personnel, Guinto said they plan to deputize members of local government units (LGUs) to help out.
"We have to deputize as many as we can to address the speeding, to address other violations of traffic," he added.
No local speed ordinances
Despite pandemic's impact on road safety efforts, ImagineLaw Executive Director Atty. Sophia San Luis claims the state of the Philippines' traffic rules had improved since 2016 – the year their group started to conduct a policy analysis to figure out the localized status of speed enforcement in different areas nationwide.
San Luis said their group found that the "speed limit provisions of the code are not immediately enforceable."
Under section 38 of Republic Act 4136 or the Land Transportation Code, LGUs would have to identify the appropriate speed limits for their roads.
"We also interviewed hundreds of LGUs and found that many were unaware of this mandate. In fact, many have either copied the speed limit provisions of the Land Transportation Traffic Code in their very own Traffic code, which means the provisions are also ineffective, or have no speed limit ordinance at all," she said.
"We also found that many LGUs with speed limit ordinances did not have speed measurement equipment, and the technical capacity to conduct speed enforcement," she added.
An example of such equipment is the radar gun which shoots an invisible electromagnetic beam at a car. The beam helps in calculating the car's rate of speed.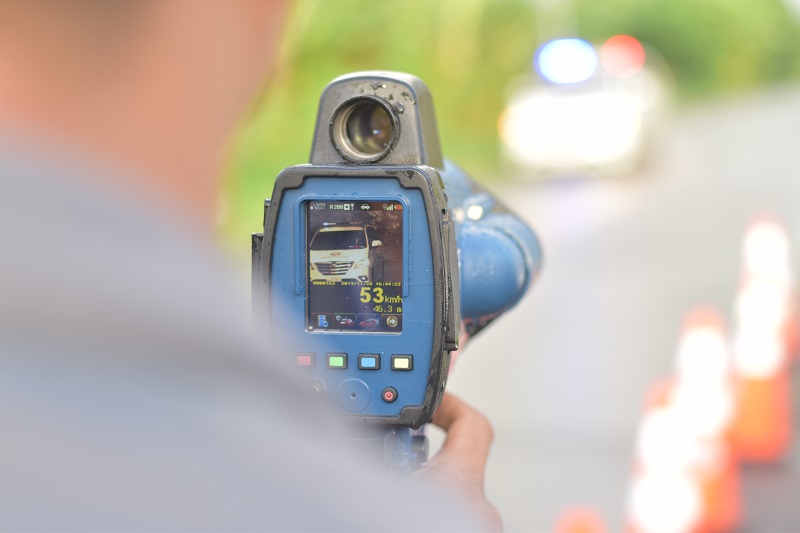 A speed measurement device calculates a car running at 53 kilometers per hour. Photo c/o ImagineLaw
San Luis said it was a turning point for the group in "advocating for a national government policy to help remind LGUs of their mandate to classify roads and set the appropriate speed limit; provide LGUs with guidelines on speed limit setting and enforcement; and provide a model speed limit ordinance that LGUs can easily adopt."
International trainers
In July 2019, Global Road Safety Partnership (GRSP) consultants Robert Susanj from Slovenia and Mark Stables from New Zealand, started what would be a months-long assessment of the enforcement of road safety laws in the country.
"There was a clear need for speed enforcement to be undertaken nationally…Following our assessment meeting, we identified an open admission of lack of high-level training in speed enforcement tactics. We also identified a training deficit, a lack of equipment, how to correctly and efficiently use the speed enforcement devices, and deficit in tactical use," Susanj said.
In Oct. 2019, the foreign trainers conducted their Train-the-trainer workshop where officers from the LTO, the Philippine National Police and the Highway Patrol Group were present.
"But what was important was that the assessment gave us a good insight on the current system in the Philippines – how they conduct the traffic," Susanj said.
"In six months, we were able to train 150 law enforcement personnel and different agencies in speed risk and speed control techniques. A core group has been trained to become a pool of trainers," he added.
Stables said the training was "enthusiastically received."
"There wasn't much exposure to speed guns by operational staff, so a lot of the time we spent getting familiar with different devices. It involves making sure that the people involved know exactly what they had to do," he said.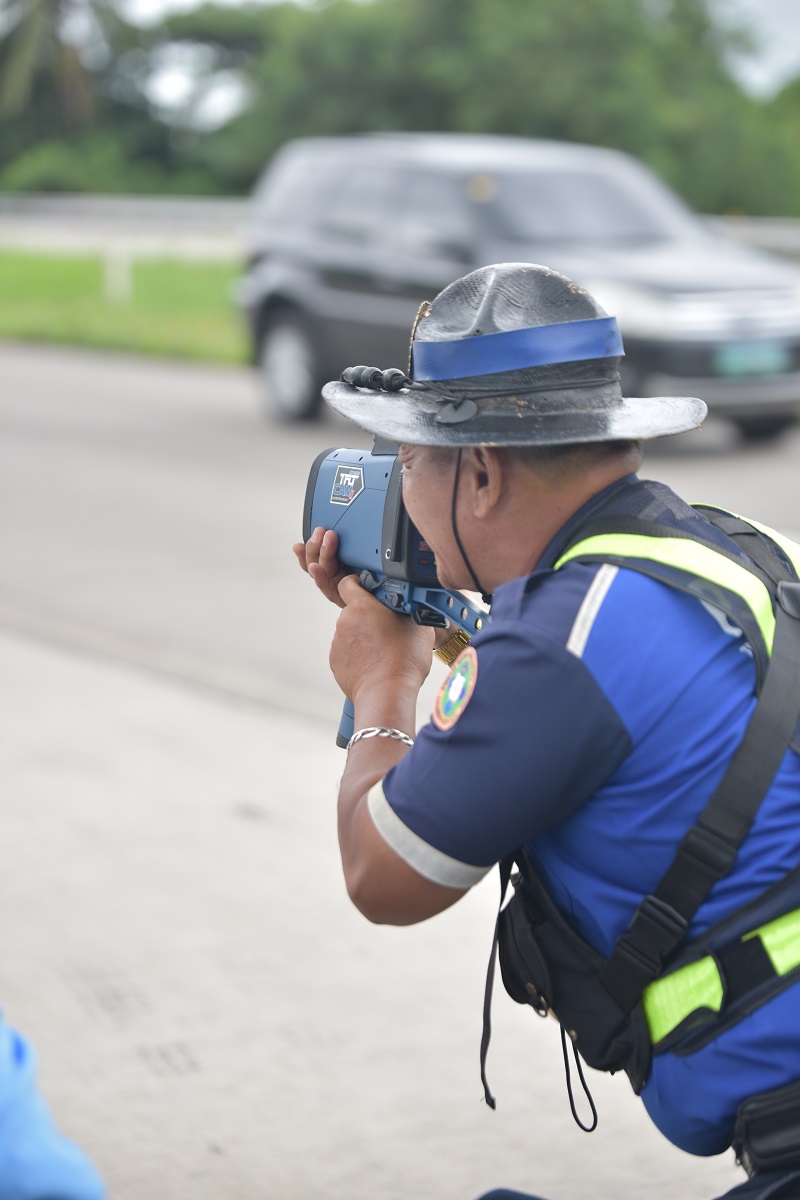 An enforcer uses a speed measurement device during a road safety training. Photo c/o ImagineLaw
The GRSP consultants also provided local enforcers with relevant documents — device record, operator checklist, reporting form, tasking sheet — to ensure proper documentation and enforcement.
'Slow down to save lives'
Over the last decade, road crash deaths and injuries have been increasing in the country.
The Philippine Statistics Authority recorded at least 12487 road deaths in 2018. That translates to about 34 fatalities everyday or at least one every hour.
GRSP Chief Officer Dave Cliff, in a video greeting during the webinar, said they will continue to support the country in better managing speed, particularly in enforcing speed limits.
"We know that by reducing speeds, we reduce crash risk and we reduce deaths and injuries," Cliff said.
San Luis also said they will continue to work with the LTO in migrating their road safety training online to cope with the limitations imposed by the COVID-19 pandemic.
"As you can see, the road towards a country with zero road deaths is never straight and narrow. It has taken four years to prepare the country for speed enforcement, and the end is not yet in sight. Still, with the progress that has been made in just four years, and with the renewed focus of the LTO and the DOTr [Department of Transportation] on road safety, we are confident that we will get there," she said.