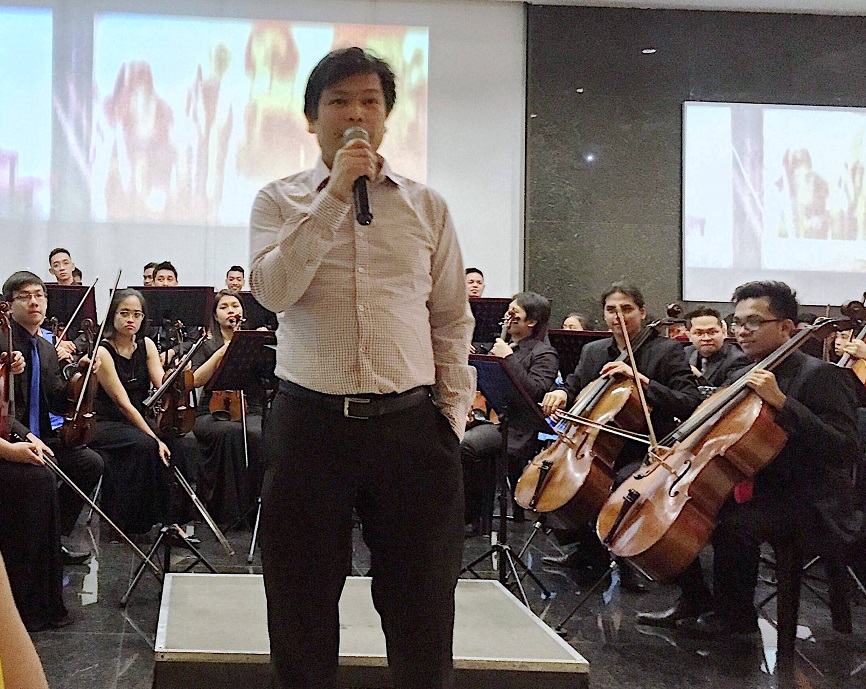 MSO executive director Jeffrey Solares
A ticket to a typical concert of the 92-year old Manila Symphony Orchestra (MSO) would cost an exorbitant P5,000 if there were no corporate or individual sponsors, patrons and donors or season subscribers.
Which was why executive director Jeffrey Solares, who also doubles as conductor of the Manila Symphony Junior Orchestra (MSJO), exhorted those present at the recent launch of the orchestra's season at the Ayala Museum to support the MSO to continue meeting "the highest international standards in performance and repertoire. Music has a special role in bringing people together."
With what he called "50 committed musicians" making up the orchestra, the MSO's projects include its annual gala season made up of five concerts a year, rush-hour concerts at the Ayala Museum, paid engagements at corporate events and private recitals (the MSO can even be hired for parties), outreach and education concerts.
Forthcoming concert features violoncellist Claus Kanngiesser on June 3 at The Theater of Solaire at Entertainment City, 1 Aseana Ave., Parañaque.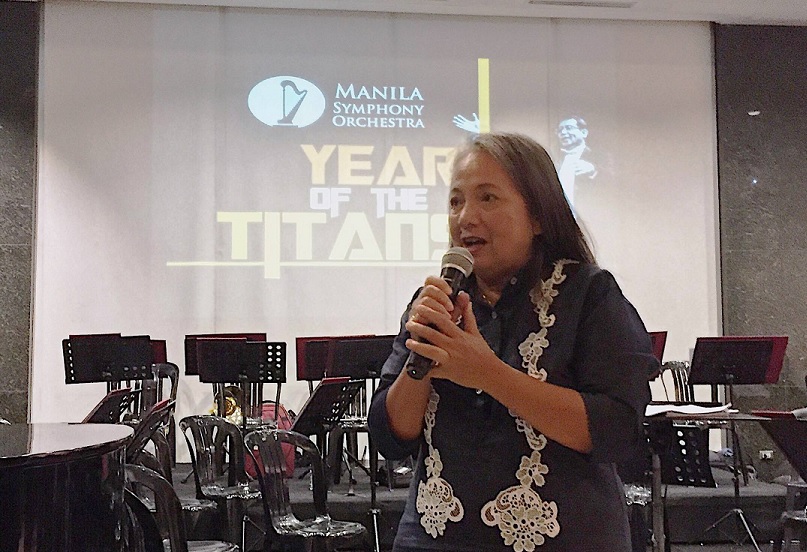 MSO president Maan Hontiveros
The MSO has branched out to include the Music Academy founded in 2014 to, as Solares put it, "prepare the next generation of musicians and dedicated teachers." The curriculum is a combination of performance and pedagogy, he said. The Academy has three branches already: on Taft Ave., Manila, at Glorietta Ayala Center and Makati Circuit.
He said the most advanced students of the Academy form the MSJO, established at the same time as the school. Already the MSJO has won an international award—second prize at the 2017 Summa Cum Laude International Music Competition in Vienna, Austria.
Solares added, "Hopefully, this year we will place better in the competition."
Music judges discovered in Vienna the MSJO's 10-year old cellist Damodar Das Castillo who was offered a scholarship at the Mozarteum in Salzburg, Austria. He has been studying German in preparation for his studies there. He left this month for Europe and has appeared already in a recital with the cello class of Prof. Barnara Herzl.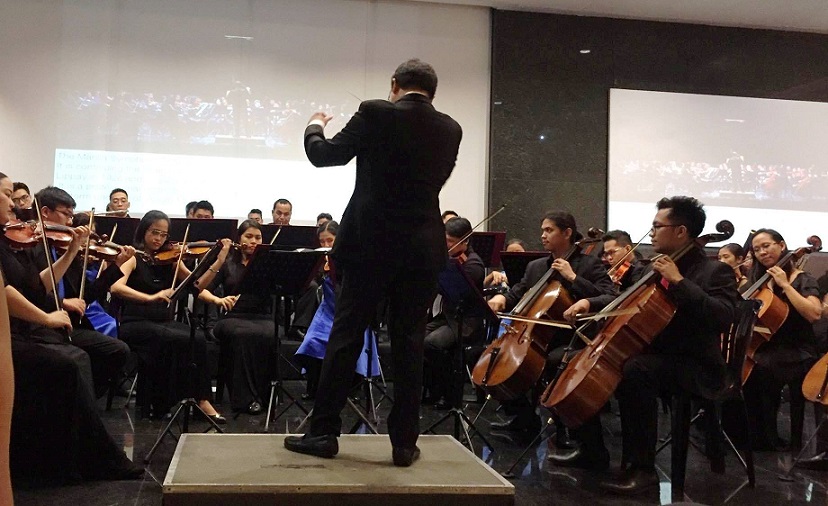 Arturo Molina conducting the MSO with some junior orchestra members
Solares said the Academy "contributes to people development." Children who study the violin, for example, learn such traits as discipline, focus, among others. He makes it a point not to miss the Pre-Twinkle class every Saturday. "It is my therapy," he confessed.
The MSO ED is confident that "with MSJO we'll have a future in music. The legacy of classical music will be kept alive."
He thanked sponsors like Toyota Motors, Empire East Corp., Avida, Global Business Power Corp., Metrobank Foundation,, Ayala Insurance and individuals like Antonio Cojuangco, Sen. Franklin Drilon, Jose Feria, Dee Zobel, Kazu Sakai, Dr. Benito Legarda, Francisco Sebastian, among others, and without whom ticket prices would be so expensive.
He cited Standard Insurance Inc. for underwriting a training program for musicians that includes the purchase of new instruments.
Ida Anita del Mundo, MSO's new marketing director, who is also part a violinist of the orchestra, said it made a different in her new responsibility that she is doing "what I love."
MSO president Maan Hontiveros said that to keep the orchestra going, "it takes a village. Spread the word that there's a thriving, talented orchestra that deserves to be heard. Without music, a country dies. Music feeds the soul.."
The Pre-Twinkle class of Jeffrey Solares playing Twinkle, Twinkle Little Star