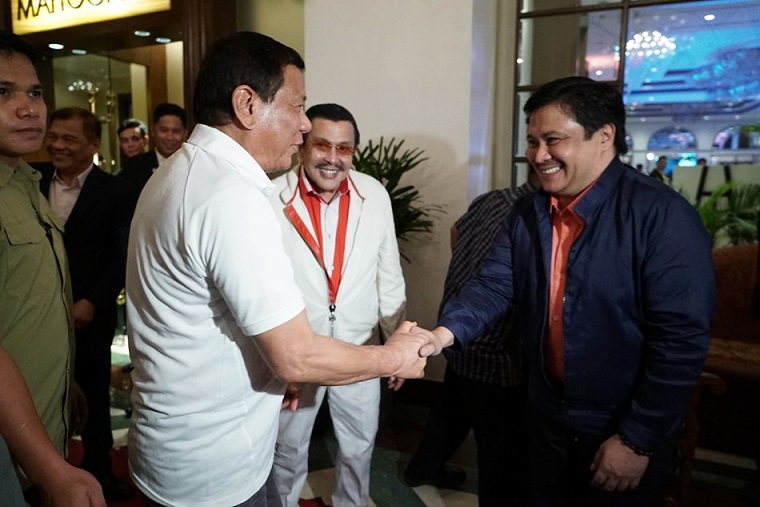 Pres. Duterte greets former Sen. Jinggoy Estrada, who is out on bail. Photo taken during the birthday of former President Estrada in 2019.
Former Sen. Jinggoy Estrada, who failed in his bid to return to the Senate in the just- concluded elections, called me up yesterday complaining of my description of him as "corruption-tainted."
Accusing me of being "mean", Estrada said, "I've committed mistakes, corruption is not one of them."
He reminded me that he was cleared by the court of the charges of plunder and graft.
I didn't have time to clarify with him which case he was referring to.
In 2001, immediately after his father , President Estrada, was ousted, both father and son were charged with plunder in connection with the multi million collection from jueteng, an illegal numbers game, and other anomalies. He was acquitted by the Sandiganbayan but his father was convicted. The older Estrada was pardoned by then President Gloria Arroyo which paved the way for his running for president again in 2010 and Manila mayor in 2016.
Or was he referring to the resolution of the Sandiganbayan that there is no strong evidence that the younger Estrada was the "main plunderer" in the alleged abuse and misuse of his Priority Development Assistance Fund.
It will be recalled that in 2014 Estrada was charged of misappropriating P183 million of his Priority Development Assistance Fund to fake non-government organizations of Janet Lim Napoles.
In a resolution a resolution in September 2017the Sandiganbayan said,"Although there is evidence to show that there were glaring irregularities in the disbursement of accused Estrada's Priority Development Assistance Fund (PDAF) allocations and that he received a sum of money from his participation in these irregularities, there is no strong evidence to show that he is the main plunderer within the contemplation of the plunder law and as alleged in the information."
The graft court's decision paved the way for the granting of P1.33 million bail bond to Estrada.
Reminding Estrada that he has not been acquitted and he is just out on bail, he shot back, "Why are you sure I will not be acquitted? What if I will be acquitted."
I said, "Then I will report that you have been acquitted."
Jinggoy said he does not care if I favor his half-brother, outgoing senator JV Ejercito, "but not at my expense."
It is public knowledge that Jinggoy and JV do not have warm relations.
I had written that had former President Estrada, who also lost in the mayoralty contest of Manila, "not allowed the corruption- tainted Jinggoy to run for the Senate, it is safe to say that JV would have been re-elected. It would not have been a total wipeout for Estrada."
Jinggoy also said "Bakit wala ba akong nagawang mabuti? Did you write about the legislations that I have passed?"
He proceeded, "Hirap sa inyo, gusto nyo siraan at pabagsakin si Presidente."
This time he was referring to President Duterte because he added:" Di ba kasama ka doon sa Matrix?"
I told him the Matrix is a big lie and that I will write about our conversation.
This is it.