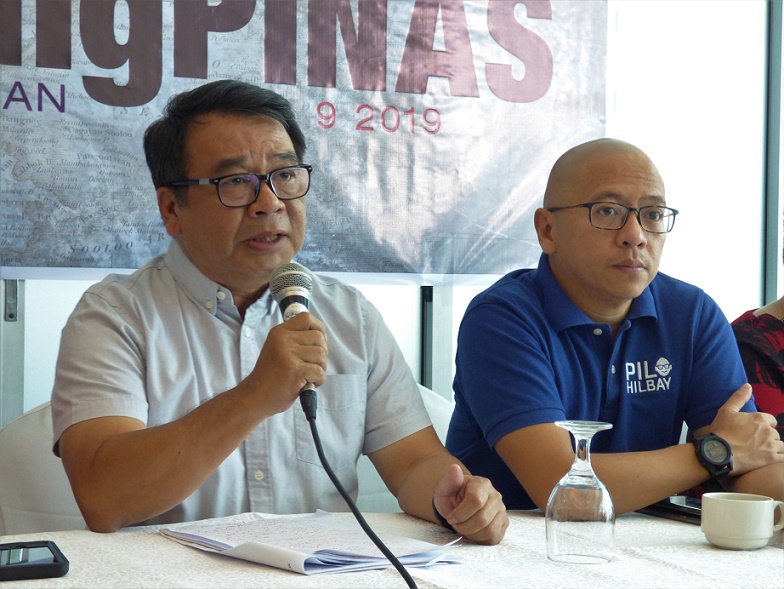 Senatorial candidates Neri Colmenares and Florin Hilbay. Photo by VJ Bacungan.
Neri Colmenares says there's something different about his second try for a Senate seat.
"I feel this is an election where independent, progressive candidates like me have better chances," the 59-year-old human rights lawyer said.
Fresh from a press conference where he blasted the Duterte administration for "kowtowing" to China, the veteran lawmaker, renowned for his combative persona in debates, was more relaxed and candid talking about his campaign.
"Bakit? Kasi clear ang issues. Very sharp ang contrast. Ano ang posisyon mo sa TRAIN Law? Anong posisyon mo sa China?" Colmenares said. "I can say straight – I am no sa TRAIN Law, I am no sa China, whereas the administration candidates cannot answer."
"I hope we can transform this advantage into a win," he added.
Colmenares said part of the reason he's feeling good about this campaign is that there is more focus on senatorial candidates in midterm elections.
"There is no President to focus on and it's very advantageous for very qualified, articulate and analytical senatorial candidates and disadvantageous for some candidates who are not really qualified except for song-and-dance routine," he said, referring to the campaign style of the administration-backed candidates.
Colmenares also said that, despite not having TV ads, he has been picking up in pre-election surveys.
"The last Pulse Asia survey, I was 19. Then I was in a Veritas survey, I was 9," he said. "Tapos we were in all the debates. And kung wala ka mang ads, kahit papaano, naco-compensate ka ng mga debates ng radio and TV."
Colmenares ranked 19-23 in Pulse Asia's February 2019 nationwide pre-election survey, up from rank 24-29 in the January 2019 poll.
Battle against big bucks
Despite the promising news, Colmenares admitted that the administration's bets remain a very strong threat.
"Definitely, they're on top," he said. "And all LGUs (local government units) are afraid, so they would support them. The moment the LGUs will support the administration candidates, foreclosed kami [we are foreclosed]. It takes a very courageous local government official to say, 'No, I will support an independent candidate like Neri Colmanares.'"
Colmenares said funding remains his biggest challenge as an independent candidate.
"Tatlong termino ako sa Kongreso, 'di naman ako nagpayaman diyan," he said. "The advantage lang namin, yung Makabayan, may machinery kami. Kahit saang probinsya, may lalandingan ako."
Colmenares also said that although he has many supporters who are online, social media is not the "great equalizer" that many purport it to be.
"Akala ko nga, advantage ko ang socmed, pero ang lakas din ng mga rich and powerful na magkaroon sila ng fake accounts or dummy accounts at pera ang gumagana doon," he said.
As a result, Colmenares said he doesn't only have to contend with finding ways to spread his message, but also with combating fake news.
Look back
Colmenares advised voters to elect people who don't just talk the talk.
"Each candidate will say, 'I'm pro-people, I'm pro-poor, I'm pro-women, I'm pro-environment, I'm pro-workers,'" he said. "People should ask, 'Are you just saying this because you're running for election and the moment you sit in the Senate, you will forget all your promises?'"
Colmenares said it is important to look at what a candidate has accomplished before the elections.
"I can look people straight in the eyes and say, 'Look, I fought for increase in pension, I fought for higher wages, I fought for genuine agrarian reform, with or without election,' so that probably assures people that this is not something I will forget the moment I sit in the Senate," he said.
"I have been known for being a fighter for the people in Congress and I will still be a fighter for the people in the Senate," Colmenares added.