The Christmas holidays are upon us – shopping sprees, office parties, family reunions, and the expected traffic snarls worse than the already problematic congestion in the streets of Metro Manila on any given day.
According to the Metro Manila Development Authority (MMDA), the volume of vehicles in major roads in the national capital region rises 20 percent during this season, and more pedestrians are likely to be injured or killed this month.
Using data from the Metro Manila Accident Recording and Analysis System (MMARAS), data science firm Thinking Machines found that from 2005 to 2015, an average of 18 pedestrians a day were either killed or injured every December in the region.
Road crashes involving pedestrians commonly happen during rush hour, at 5 p.m., on Fridays and weekends. 41 percent of these crashes involve collisions with a motorcycle.
"Usually, when a pedestrian crosses, he or she will look out for the bigger vehicles like buses and trucks because those are the types that could get you killed once hit. But they fail to consider that behind that big vehicle is a motorcycle," Richard Domingo, officer at the MMDA Road Safety Unit, said in Pilipino.
But motorcycle drivers are also at fault, especially with their habit of swerving in between larger vehicles and their refusal to stop even when they see a pedestrian about to cross the street, he said.
The high number of pedestrian-related incidents every December is just part of a bigger problem: the number of pedestrians killed or injured in road crashes in Metro Manila have been increasing since 2005, witnessing a drop only in 2015.
Any person who travels by walking for at least part of his or her journey is considered a pedestrian, according to the World Health Organization. It says globally, 22 percent of road traffic deaths involve pedestrians. Pedestrians make up the world's third most victimized group during road crashes, next to car occupants and those driving two or three-wheeled vehicles such as motorcycles.
According to Domingo, footbridges are generally effective in ensuring pedestrian safety. Currently, there are 109 footbridges all over Metro Manila, based on MMDA data.
But it's the public's refusal to use footbridges, especially when no one is watching, that causes these crashes between pedestrians and vehicles, he added.
During his time as a traffic enforcer, Domingo said he had to deal with an old couple who just came from the market and were carrying two big bags each full of goods. Citing old age, they refused to climb up the footbridge and Domingo had no choice but to help them cross the street. He had done the same for persons with disabilities, he said.
But other people take advantage of situations when traffic enforcers help senior citizens and PWDs cross the road. They follow suit and not use the footbridge.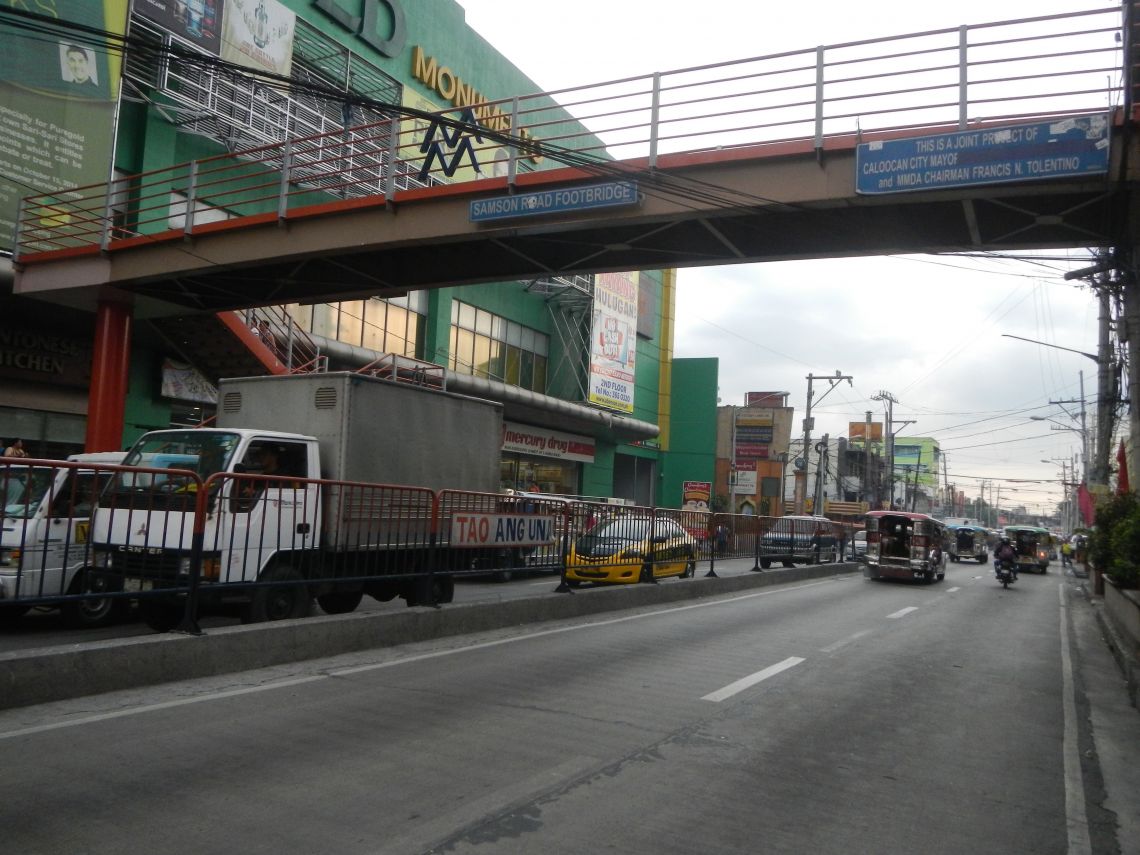 A footbridge in Caloocan, Quezon City.
To ensure the use of footbridges, WHO says their accessibility and security have to be addressed.
The organization launched in May a road safety technical package that highlights "key evidence-based measures identified by many of the world's leading road safety experts and their agencies as those most likely to impact road traffic deaths and injuries in the short and long term."
These solutions relate to infrastructure design, vehicle safety, laws and their enforcement, emergency post-crash care, leadership on road safety and speed management.
Halfway across the globe, a group thinks differently about the effectiveness of footbridges.
The US-based National Association of City Transportation Officials (NACTO) discourages the use of pedestrian overpasses and underpasses, saying these infrastructure take up sidewalk space, dramatically increase walking distance, and are frequently avoided by pedestrians in favor of a more direct crossing.
It adds that these bridges are very expensive to build, yet poorly maintained and often underutilized because they raise personal safety issues on the part of the pedestrians.
NACTO is a nonprofit association of 51 major North American cities aimed at helping local officials design safer streets.
In May, it released the Global Street Design Guide to set a new global baseline for designing urban streets, shifting from vehicle movement to an environment that "puts people first." The guide was created with inputs from 72 cities in 29 countries, including Bandung in Indonesia, Nairobi in Kenya, Bogota in Colombia and Buenos Aires in Argentina.
The guide, downloadable on the internet for free, also provides information on how pedestrian crossings and sidewalks can be designed for a more walkable environment, including its location, dimension and other safety measures.
This story, was produced under the Bloomberg Initiative Global Road Safety Media Fellowship implemented by the World Health Organization, Department of Transportation and VERA Files.