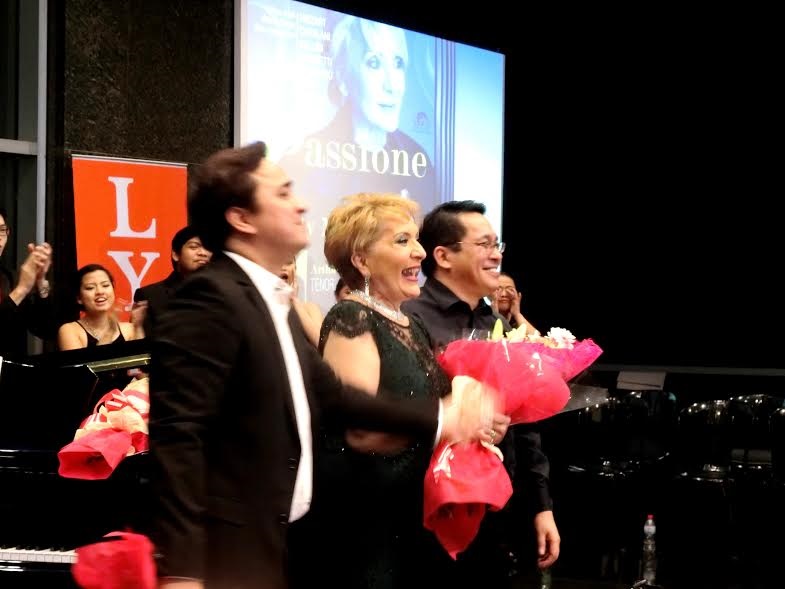 Tenor Arthur Espiritu, soprano Nelly Miricioiu, pianist Najib Ismail with Viva Voce in the background. The performance was pure food for the soul. Photo by Anna Leah Sarabia.

Some 36 years after her debut at the Cultural Center of the Philippines, Romanian diva Nelly Miricioiu made her fifth engagement in the country with leading Filipino tenor Arthur Espiritu and created a storm of applause that made the concert one of the year's most talked about opera tandem.
"What a fantastic evening of unparalleled artistry from Miricioiu, Espiritu, pianist Najib Ismail and Viva Voce!" posted baritone and choral conductor Jonathan Velasco on Facebook. "This concert is pure food for the soul."
Baritone Greg Abelardo de Leon said the concert was a truly breathtaking performance and visual artist Marivic Rufino added: "The concert was absolutely divine!"
Actress Vangie Labalan: "I was moved to endless tears by this performance. It was pure happiness seeing the soprano sing our own kundiman. For the first time, I heard a great Filipino tenor. He is simply brilliant and I think I will be dreaming of him every night after this concert."
Arts lover Jenny Llaguno exclaimed after the performance: "She's a diva in the real sense of the word: bravissima but not arrogant. Her eyes say it all–the humble spirit, the authentic kindness!"
It was easily one of the most patronized concerts at the Ayala Museum which had to add extra chairs to accommodate a big audience turn out. By profile, it was the best gathering of seasoned opera aficionados in this part of Metro Manila graced by two world beauty queens, 1964 Miss International Gemma Cruz Araneta and Miss Universe 1973 Moran Floirendo who became instant fans of the Romanian diva and the Filipino tenor.
Tenor Espiritu was at his inspired best in the opening numbers, "Spirto gentil" from La Favorita and "Un 'aura amorosa" from "Cosi fan tutte which set the tone for the evening.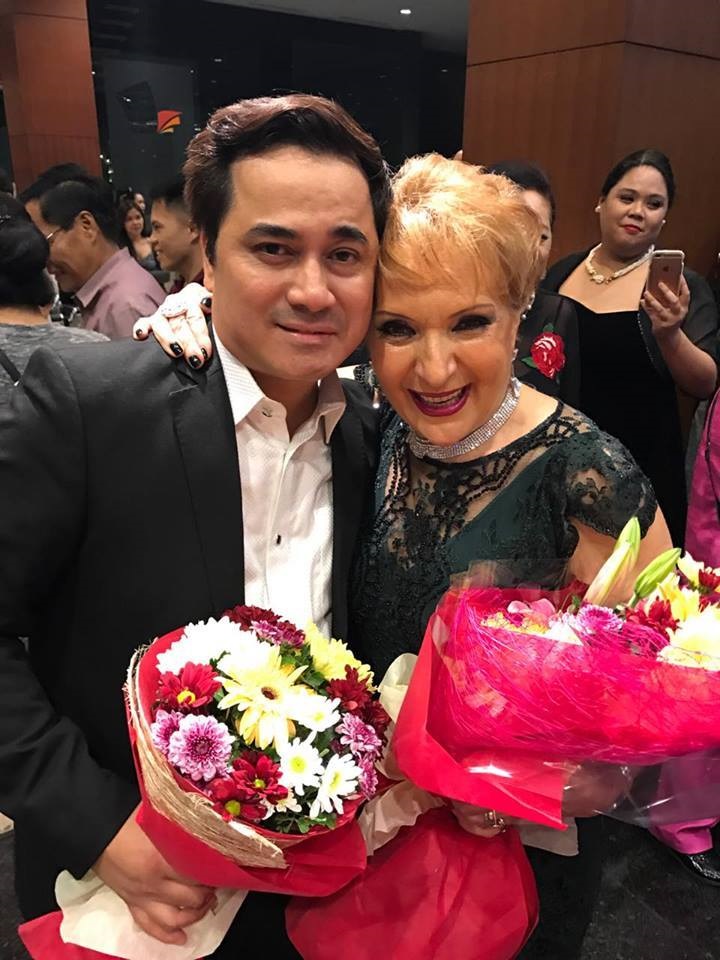 Arthur Espiritu with Nelly Miricioiu after the concert. A great operatic tandem of a lifetime. Photo by Girlie Rodis.

This tenor combined excellent singing and acting and a superb stage presence that surprised many who heard him for the first time. "He is simply amazing and his presence was a perfect match for Miricioiu who remains vocally incredible in her 60s. This is simply an unbelievable night to remember," said visual artist Henry Alvir.
Miricioiu's moment started in the Norma aria, "Casta diva" which started with a regal walk from the elevator entrance to the stage area with a choral compliment from Viva Voce.
The very moment she intoned the first line, "Casta Diva, che inargenti queste sacre antiche piante (Virtuous Goddess, covering with silver these sacred ancient plants)," there was virtual eerie silence in the hall as she was transformed into a high priestess praying to the moon goddess.
The soprano easily made that moment her own and like it or not, it is one of the reasons why she is often compared with Maria Callas with the sheer power of her interpretation.
The Viva Voce ensemble blended beautifully. Easily, this is no doubt the best version of "Casta diva" heard in the country.
Closing the first part with "La mamma morte" from "Andrea Chenier," the aria was at once a moving tribute to all the mothers of the world. The stunned audience burst into applause even before the soprano could end with her moment of silence after the last note.
Her incomparable moment came in the La Wally aria, "Ebben? Neandro lontana" popularized in the French film, "Diva."
Before the aria, she recalled her depressed moments in her career when she was just starting and got her share of love from concerned Filipinos. "I will never forget the Pobladors and this writer (the author) who was religiously watching my singing and rehearsals and we understood each other even with my bad English."
The aria became wholly her own with the beauty of tone and interpretation. Her audience was again reduced to complete silence. The author thanked her with a big hug in full view of the audience.
Soprano Camille Lopez Molina enthused: "That aria blew us all away."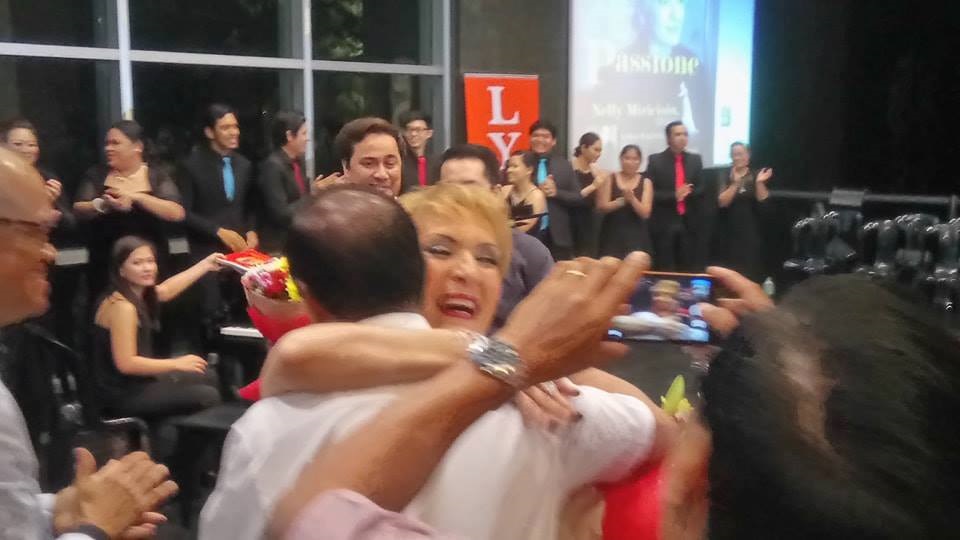 Author thanks Nelly Miricioiu for a special aria with a big, tight embrace in the middle of the concert. She loved Filipino audiences then and now. Photo byDanny Tariman.

Moreover, the tenor had his own big moments which thrilled those who were listening to him for the first time. Just fresh from his Sydney Opera debut as Rodolfo in La Boheme, Espiritu showed his audience why he was an easy choice for the part of Rodolfo in the Puccini opera.
To be sure, music critics have time and again asserted that the high C in the much-feared tenor aria Che gelida manina is a monster.
Well, Espiritu delivered a tension-free but thoroughly moving aria and the hair-raising audience response shook Ayala Museum.
The soprano posted in her Facebook: "I couldn't say it better! Your voice (the tenor's) is superb and with a good personality to match. I was thrilled listening to you than we singing together!"
Commodore Rex Robles who watched his first operatic concert with his granddaughter said,"He is great. No doubt about it. He sings without effort but with great strength."
In the concert, Miricioiu told her loving audience: "I just want to say to all of you that you have a great tenor in the person of Arthur Espiritu."
The audience responded with thunderous applause and cheers of bravos.
Moreover, La Miricioiu said thank you to her audience by singing Filipino songs starting with Abelardo's "Bituing Marikit" and she encouraged an audience participation in Velarde's "Dahil Sayo" and "Minamahal Kita."
Ending with the duet "Parigi o cara" from La Traviata, Miricioiu and Espiritu entranced an audience with their powerful singing matched with such emotional ardor the audience broke into deafening applause and shouts of Bravo. It wasn't long before an electrifying standing ovation ensued to which they responded with an encore "Brindisi" from the same opera with the members of the versatile Viva Voce Vocal Ensemble.
Through it all, pianist Najib Ismail was in full control and supplying all the nuances of the arias with such poignant details.
Ismail can only describe the soprano as one of the greatest singers of any generation. He told a music writer: "It is an honor to work with someone of that calibre and magnitude. For someone who's so famous and dedicated to her art and is musically magnificent. Everything about her is real. It's wonderful to know that as Filipinos, we contributed to that."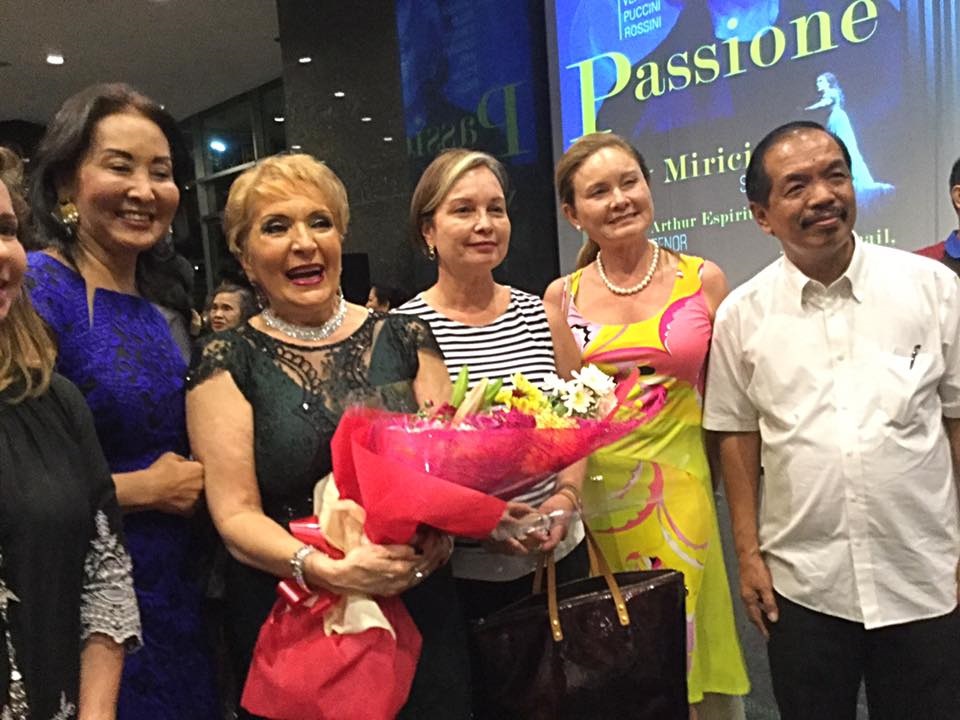 Nelly MIricioiu with her beauty queen instant fans: 1964 Miss International Gemma Cruz Araneta and1973 Miss Universe Margie Moran Floirendo and her sister. Photo by Henry Alvir.

Noted filmmaker Carlitos Siguion Reyna said, "This was a great concert no doubt made more special by the soprano's narration of her life in Manila and how Filipino music lovers loved her. Everybody was good from the soprano to tenor Espiritu, the pianist and Viva Voce Ensemble. When she sang Tagalog songs, I just wished my mother (Armida Siguion Reyna) had been in this concert. She would have loved and enjoyed it."
The soprano conducted a masterclass for Filipino singers right after the concert.
They will be presented in a culminating concert on April 18 at 7 p.m. at the Ayala Museum, Makati City. Assisting them on the piano are Farley Asuncion and Gabriel Allan Paguirigan.
The masterclass is presented by the Cultural Arts Event Organizer (CAEO) in partnership with Ayala Museum, Musicartes, DZFE 98.7 The Master's Touch, Lyric Piano and the National Commission for Culture and the Arts.
Tickets at Php1,000 and Php 500 for students and seniors are available. Call Cultural Arts Events Organizer – CAEO at tel.997-9483 or 09209540053.