By PABLO A. TARIMAN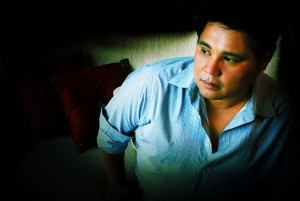 MUSIC lovers will have a bonus treat at the concert of  Swiss-based tenor Arthur Espiritu with  soprano  Rachelle Gerodias  and the Manila Symphony Orchestra at the Philamlife theater on Dec. 14.  They will have U.S.-based baritone Andrew Fernando as special guest.
It will be a rare musical event to have the two  world-class Filipino singers on stage. Espiritu and Fernando will do a "Pearl Fisher" duet by Bizet. Fernando will also also sing  "Di provenza il mar" from Traviata in memory of the late baritone Gamaliel Viray.
Fernando said he is "super excited" to be part of this concert because he considers it a great honor to be singing with Gerodias and Espiritu.
"This is one concert I've been looking forward to and it came so quick and without warning," enthused the young baritone, who is home for the Christmas holidays.
He is preparing for the role of Alfio in  Mascagni's "Cavalleria Rusticana" in January  as part of the 400th anniversary of his alma mater, the University of Santo Tomas.
Fernando belongs to the young generation Filipino baritones making great strides like Berlin-based Jonathan Zaens, and Noel Azcona, the star soloist of the UST Singers.
Now commuting among opera companies in New York, Virginia and California, Fernando was a lucky recipient of many overseas grants for young musicians after he graduated with honors at the UST Conservatory Of Music under the tutelage of Salvacion Opus Iniguez.
Fernando is the first Filipino grand prize winner of the  Loren L. Zachary National Vocal Competition in the United States and  grand prize winner of the Pasadena Opera Guild Vocal  Concourse in California..
Two years ago,  the baritone  drew raves as a versatile singing actor when he played– not just one or  two roles but three singing parts–in the 21st century opera, "The Cunning Little Vixen" by Czech composer Leo Janacek in a New Year production of Long Beach Opera based in Southern California.
Opera critic Michael Van Duzer  wrote: "Andrew Fernando impressed in his three roles as the Badger, the Dog and the drunken Poacher who kills the Vixen. His richly colored voice brought as much variety to the roles as his fearless physicality."
Fernando originally auditioned for the role of the poacher but Maestro Maestro Andreas Mitisek–after hearing the baritone's vocal range and seeing his acting prowess in the audition–also offered the two remaining singing roles: that of a dog and the poacher.
"I consider myself very blessed that 'The Cunning Little Vixen' and Long Beach Opera came into my life," Fernando  said.  "It made a huge impact in my singing life. Leo Janacek's work may be one of the most cleverly written opera in the 21st century."
He related that he was doing a gig in Cincinnati last summer, when his agent Robert Gilder phoned him that Long Beach Opera was interested in hearing me specifically for the role of Harasta in "Cunning Little Vixen."
"I was so enthused not only because it could be an opportunity for employment but more excited by the fact that this opera is rarely performed in the United States," he recalled. "So I took a vocal score from the library and learned Harasta's aria right away so I can sing it in the audition."
He has done this part for Palm Springs Opera in 2000 and did excerpts of it at the Hong Kong Academy of Performing Arts in 1995. The challenge of the part, according to Fernando, is the intense drama and the range of the part dramatically and musically.
He likes to think that baritones are now getting the attention they deserve like the idolatry for the likes of Irish baritone BrynTerfel. He said, "I think people are recognizing baritones more and more these days. A lot of baritones win competitions. However, I still think the tenors with their soaring high notes have the approval of the audience."
One of the baritone's memorable engagements this year was as soloist in Faure's "Requiem" with the Jakarta Symphony where he was so well-received he ended up being invited again to sing the baritone solo in Handel's "The Messiah."
Christmas never fails to fill him with emotions. When he first came to the United States in 1999, he attended church at the Community Church in California. Every year, he sang "O Holy Night" in that church.
He observed that  a lot of the members of the church spent the Christmas holidays alone without family. They would go to church to have a sense of being a part of family.
"They were there to be cheered and encouraged," he said. "So I looked forward to singing in that church to at least brighten up their Christmas a bit."
His yearly vow ended in 2003 when he became busy with opera performances.
Fernando still believes in the good old idea of a meaningful Christmas. He said, "For me it is still sharing your blessings with   family and close friends. I still look at Christmas as a time for forgiveness and reconciliation."
Before his performance with Espiritu on Dec. 12,  he will be the featured artist in the "Kiss the Cook Gourmet Intimate Concert" at 65 Maginhawa St. UP Village, Diliman, Quezon City.