*First published on Feb. 11, 2017. During his speech and media briefing on April 10 at the Davao International Airport, as he was leaving for his trip to the Middle East, the president again said he receives a salary of only P130,000.
In a speech during the inauguration of New Hope Village, a Typhoon
Haiyan rehabilitation housing in Sta. Elena, Tacloban City, President
Rodrigo Duterte made a fuss about the relatively low pay he has been
receiving as president of the country.
He takes home only P130,000 monthly, Duterte said on Jan. 25.
STATEMENT
Referring to private contractors and their salaries, the President said: "…Unang-una 'yung sweldo nila, malalaki (First of all, their salaries are huge.) They award to each other millions and even… This has to stop."
He then lamented:
"Ako nga 130,000 lang ako. Duha ka pamilya [laughter]. Totoo.
Gibuhi na ko… Eh wala akong magawa eh. 130,000. Unsaon mong pagtunga
ana? Kay katong uban nako mga anak, nanga-minyo, unya tamang-tama lang (I
only make 130,000. And I have two families [laughter]. That's true. I
support them with that… I can't do anything about it. 130,000, how do
you divide that? When my children get married, it's really just
enough)."

(Source: Visit to the New Hope Village Housing Project, watch from 8:55 to 9:27)
FACT
When
he assumed the presidency in July last year, Duterte's basic monthly
salary was P165,752 until December 2016. The president understated his
salary by P35,752.
Starting Jan. 1, 2017, Duterte's basic monthly
salary rose to P222,278. This is 70 percent more than what the
president said he was getting.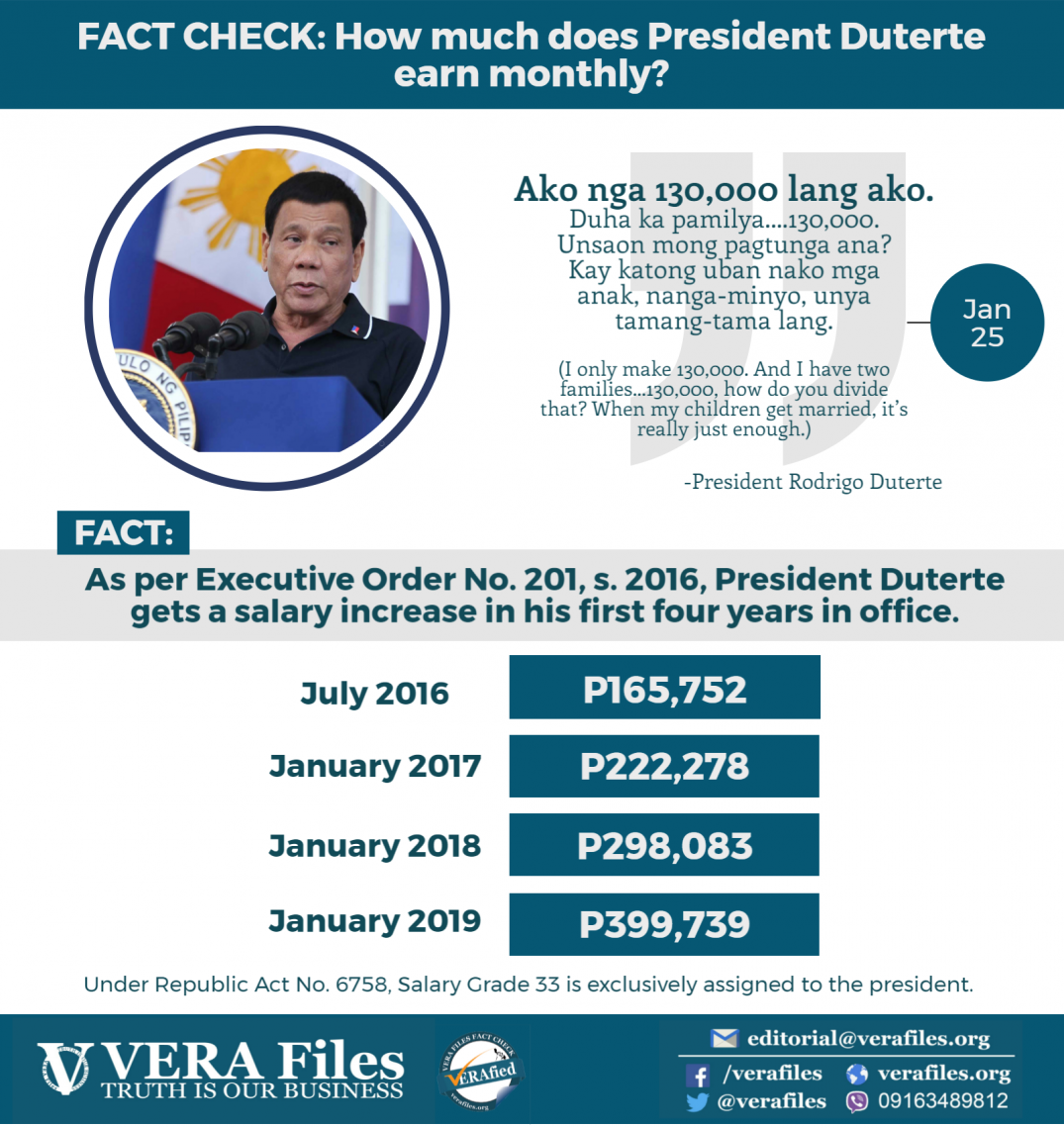 Of
the 33 pay levels in government, the highest salary grade is assigned
exclusively to the president under Republic Act No. 6758 or the
Compensation and Position Classification Act of 1989.
Like other civil servants, the president began receiving a year-end bonus on top of the midyear bonus starting 2016.
Duterte
is reaping the benefits of Aquino's Executive Order No. 201, which
sought to increase salaries of government officials annually in four
tranches. The order signed in February 2016 was retroactive to January
2016.
Aquino, however, did not benefit from the adjustment since
the 1987 Constitution exempts the incumbent president, vice president
and members of Congress from salary increases until after their terms
have expired. At the time he bowed out of office, Aquino was receiving a
P120,000 monthly salary.
Duterte's salary in 2018 will be P298,083.
In
2019, Duterte is expected to receive P399,739 under the modified salary
schedule. By then the president will be receiving three times the
amount he claimed to be getting in his speech.
Sources:
Executive Order No. 201, s. 2016
Department of Budget and Management National Budget Circular No. 568