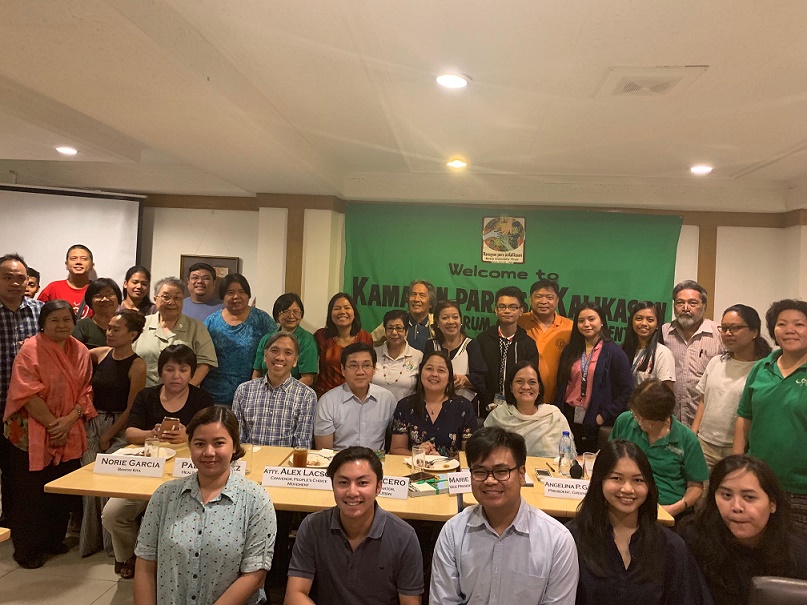 Green Thumb Coalition during a presscon on the result of scorecard and green agenda of 2019 elections. Photo by Imelda V. Abano
At the homestretch of the 2019 election campaign, environment groups are dismayed that the issue of environment protection has not been given much attention by the candidates.
Paeng Lopez, head of the electoral campaign of Green Thumb Coalition, a network of 40 environmental groups, said a few months back the group reactivated its "Green Scorecard" and reviewed the platforms and election agenda of 60 candidates for the Senate.
They visited national headquarters of all the senatorial candidates and sent emails on a set of questionnaires about different environmental issues. Among the issues tackled in the scorecard were biodiversity preservation, waste management, mining, energy, climate justice, upholding human rights and integrity of creation, sustainable development and land-use management and governance
On paper, majority of those running have laid down great concern for environmental issues but based on the preliminary result of the scorecard, only nine candidates seem to seriously consider a green electoral agenda, said Lopez, who is also with Health Care Without Harm.
They are Bam Aquino, Neri Colmenares, Leody de Guzman, Ding Generoso, Florin Hilbay, Grace Poe, Erin Tanada, Samira Gutoc and Chel Diokno.
"It seems to us that the candidates are ignoring the discussion on environmental issues. We are calling on the candidates to have concrete plans for the environment and present strategies on how to address them," Lopez said.
'Stopping the destruction and abuse of our environment,' including the issue of climate change, came out as the 9th most important concern to Filipino voters, according to a February 2019 Pulse Asia pre-electoral survey.
Recently, the Ecological Challenge for Change Coalition, an environmental group, also released a matrix of Senate bets having eco-friendly track record. Makabayan senatorial bet Neri Colmenares had the best track record of all candidates getting green marks across all seven identified issues of concern—big mining, reclamation, dams, plantations, dirty energy and climate, environmental defenders rights, and charter change.
The candidates were also assessed based on their track records in policymaking or enforcement, policy pronouncements, direct or family interests in environmentally critical projects or programs, and campaign money trails.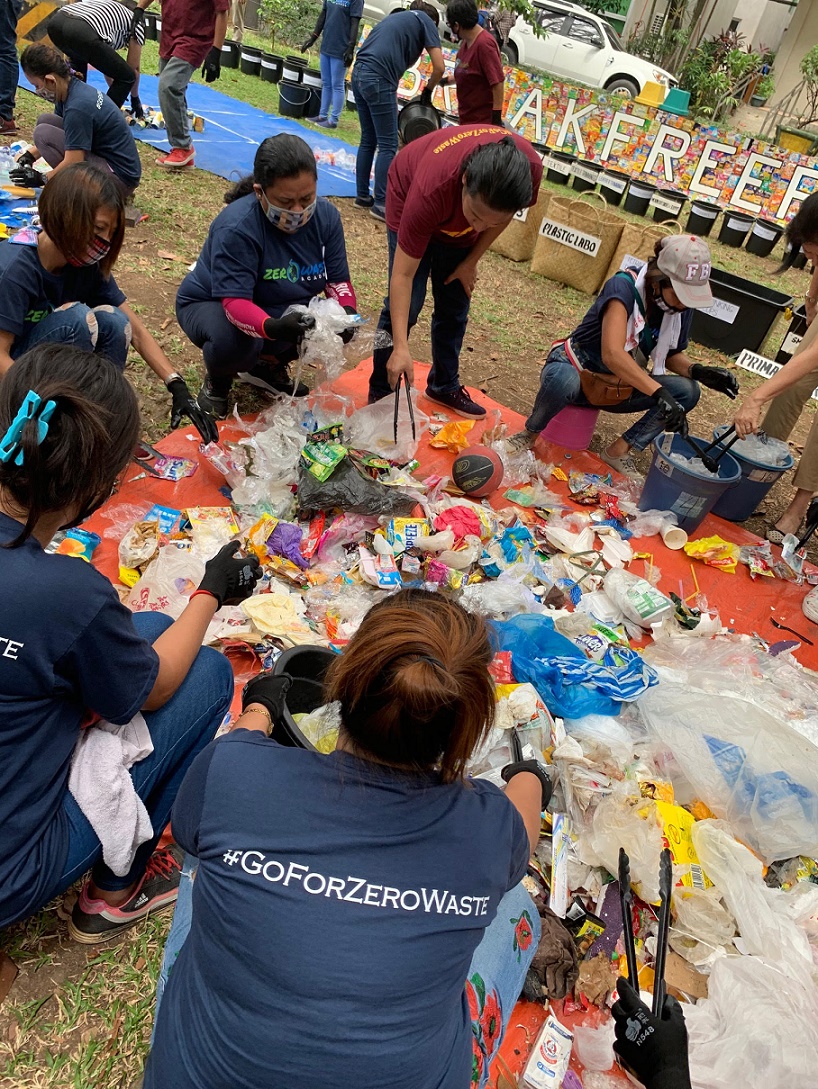 Environmental groups led by Global Alliance for Incinerator Alternatives bat for zero waste. Photo by Imelda V. Abano
Froilan Grate, executive director of Global Alliance for Incinerator Alternatives (GAIA Philippines), said "I guess more support is needed at the national level particularly, to address plastic waste. We need a set of new politicians that will help address plastic pollution, implement plastic bans, craft plastic packaging reduction policies and waste management, as well as to aim for zero waste."
Last week, #IsyuHindiKandidato initiative was launched by Greenpeace Philippines and its partners such as the Amnesty International Philippines, People's Food Movement, Green Thumb Coalition, and the Public Affairs Ministry of Our Lady of Remedies Parish.
Khevin Yu, campaigner for Greenpeace Philippines said the #IsyuHindiKandidato seeks to "break through the usual election season noise – the campaign slogans and jingles, candidates' qualifications, weightless promises – and steer the discourse towards the issues and concrete solutions needed now."
He said the initiative will highlight the importance of empowering and giving hope to citizens and frontline communities, especially in the realization of the constitutional rights of the Filipino people to a healthy and balanced ecology under the framework of secure, safe, livable, and sustainable cities and municipalities.
"We cannot just sit and watch while politicians are engaging in nothing but mudslinging. We have to insist that we talk about issues that affect our daily lives – transportation, food, justice, security, and many other legitimate issues. Time is running out, and it is a matter of utmost urgency that we raise our voices for our issues. Our lives and the lives of our families depend on it," Yu said.
Monday's election comes at a time when the issue of biodiversity loss has made global headlines with a damning report from the United Nations that claims one million species around the world are at risk of going extinct within decades, including those animal and plant species found in the Philippines.
Climate change is one of the key drivers of biodiversity loss, along with land use change, exploding consumption, pollution and the spread of invasive species, the report also revealed.
Aileen Lucero, national coordinator of an environmental group, EcoWaste Coalition said the issue of environment should matter in the mid-term polls because "we need public servants who will champion the protection of the environment against further degradation and destruction,"
"We need leaders at national and local elective posts who will work with and for the people in ensuring a clean, healthy, safe and sustainable environment for all, and who will fight for the people's environmental rights."
Lucero said EcoWaste Coalition hopes that majority of the voters will use their inherent discerning abilities to choose candidates and groups who will fight for their environmental rights.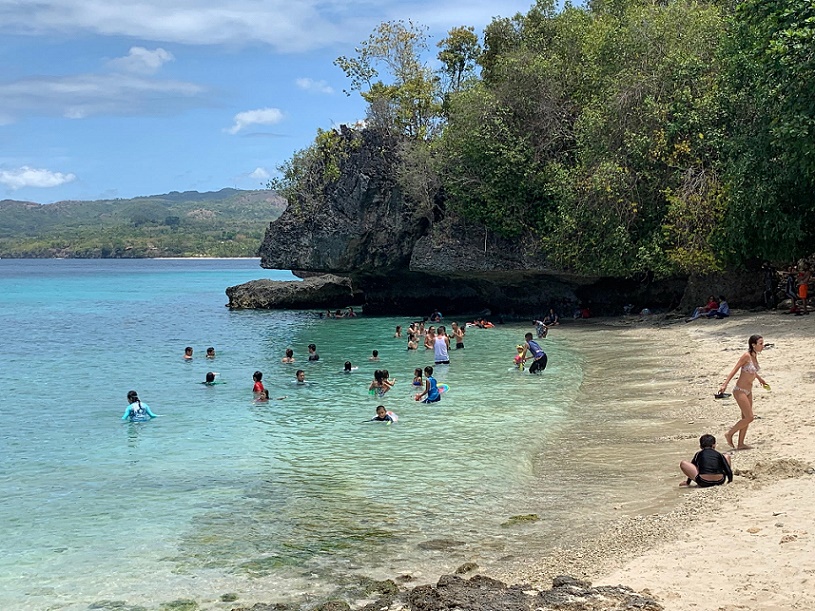 Public beach in Siquijor must maintain its cleanliness to protect marine biodiversity. Photo by Imelda V. Abano

In a country like the Philippines, the environment issue is, more than anything else, an equity issue, according to the analysis made by Ruth Lusterio-Rico of UP sa Halalan 2019, a project of the Department of Political Science of the University of the Philippines Diliman.
"While the state is viewed as both steward and manager of the country's natural resources, the experience of the Philippines has shown that the state has been unable to properly balance the pursuit for economic development and the protection of the environment," she said.
Lusterio-Rico also stated in the analysis that aside from the rapid loss of biodiversity, other major environmental challenges currently confront the Philippines such as water scarcity particularly in urban centers, waste management, air and water pollution, clean and renewable energy sources, illegal and unregulated mining, and climate change. These challenges, she said, are caused mainly by indiscriminate use of natural resources, wasteful habits and practices, and weak implementation of environmental laws.
Lucero, on the other hand, said that there are many pressing issues requiring the attention of our policy makers and implementors and the Filipino people as a whole. Some of the major issues in the sphere of waste and pollution that she mentioned are on plastic pollution, foreign waste importation and waste incineration.
"We need to make producers and manufacturers of problematic plastics and packaging accountable for the pollution associated with their products. Also, we need 'Zero Waste' champions who will fight to uphold the ban on waste incineration and promote innovative and progressive solutions to the waste crisis sans incineration," she explained.
Gerry Arances, first nominee of the Murang Kuryente Party list said, "There is no bigger issue than the environment and energy in politics. Politics is the discussion of how to use resources and energy extracted from the environment to provide a better quality of life for all."
Arances, also the national coordinator of the Philippine Movement for Climate Justice, said the biggest environmental issue for them is renewable energy. "We need to find the balance between development and environmental protection, and it can be found in the optimal use of renewable energy sources."
The Philippines has a law on the promotion of renewable energy resources – RA 9513 – and this should attract investments, according to Alex Lapiz, chief of the Strategic Partnership Division of the Climate Change Commission.
"The Philippines is gifted with all these abundant resources. We just need to harness them properly in addressing … climate change."
Renewable energy can be used as an investment strategy and it can help the environment, Lapiz explained. "You even get to help your community because there are employment opportunities in your community. So everything is positive. That is why we are pushing for renewable energy, a strategy that I think is the way forward." (VERA Files reporter Klaire Ting contributed to this report.)
This story is produced by VERA Files under a project supported by the Internews' Earth Journalism Network, which aims to empower journalists from developing countries to cover the environment more effectively.