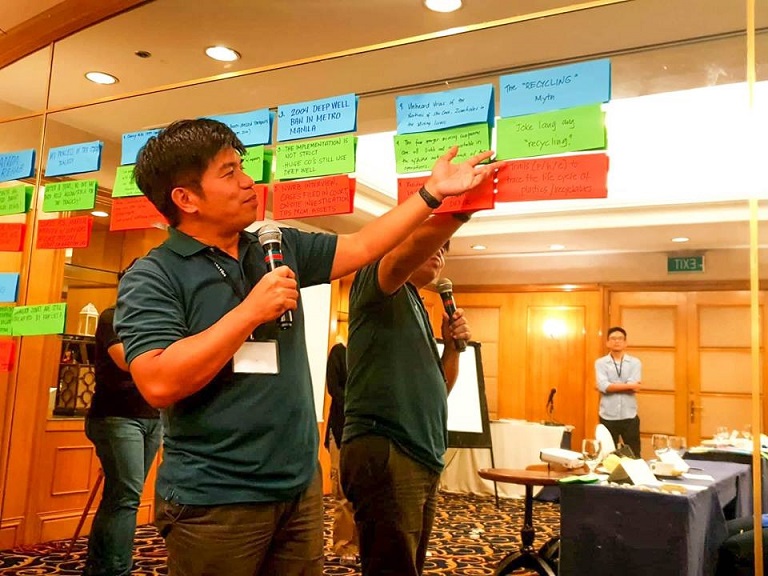 The Philippine Daily Inquirer's Melvin Gascon discusses his story idea during the workshop.

MANILA –
For the 18 journalists and journalism students who attended VERA Files'
training workshop on Reporting "Cold" Environment Cases at the Richmonde Hotel
in Pasig City last June 28, it was a look-back, a review, and for some, a
jarring reminder of the horrors of covering an environmental disaster.
It is not
uncommon for local journalists to cover one natural calamity after another, the
Philippines being one of the countries most vulnerable to typhoons, earthquakes
and volcanic eruptions. It is also not uncommon that stories about these
disasters would disappear from news headlines after a certain period.
By
looking into "cold" environment cases, VERA Files hopes to rekindle
public interest in these issues and highlight lessons that would be useful in
crafting laws and policies that could prevent a repeat of these disasters.
In police
lingo, the term "cold case" refers to a crime or an accident that has not yet
been fully solved and is not the subject of a recent criminal investigation,
but for which new information could emerge from new witness testimony,
re-examined archives, new or retained material evidence.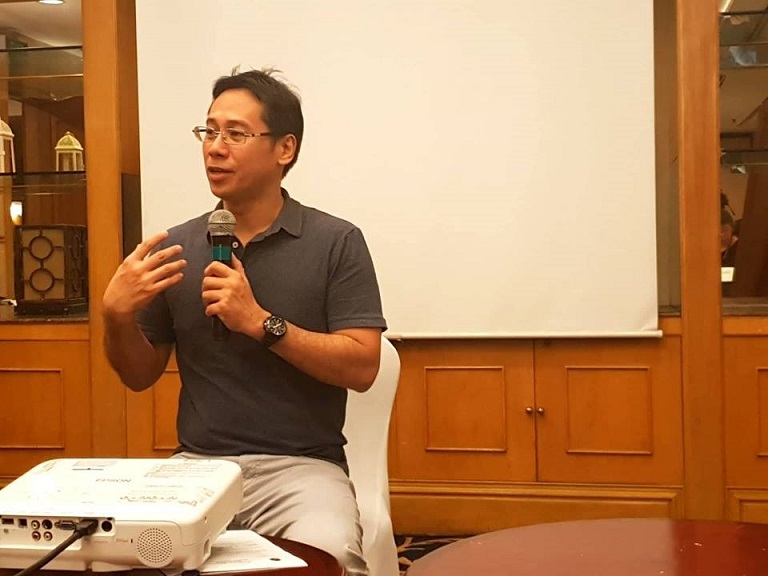 Lawyer Ron Gutierrez shares with reporters basic laws they should know about the environment.

VERA
Files uses the term in its project, Reporting on Cold Environment Cases, to
refer to disasters that had caused countless deaths, serious injuries or
ailments and massive damage to the environment, but which have long been out of
the headlines.
Borrowing
the dictum made famous by writer and philosopher George Santayana that
"Those who cannot remember the past are condemned to repeat it," VERA
Files encourages environment reporters to revisit past disasters and learn
lessons from them.
The
Project kicked off with a training workshop last June 28. It opened with
participants introducing themselves, talking about their experience writing
about the environment and their desire to improve investigative reporting
skills, find new angles, and learn how to sustain coverage of disasters beyond
the usual news cycle.
That
session became the venue for some of the journalists to recall their experience
covering the November 2013 super typhoon Yolanda (international name Haiyan)
that devastated several provinces in the Visayas, and killed more than 6,000 people.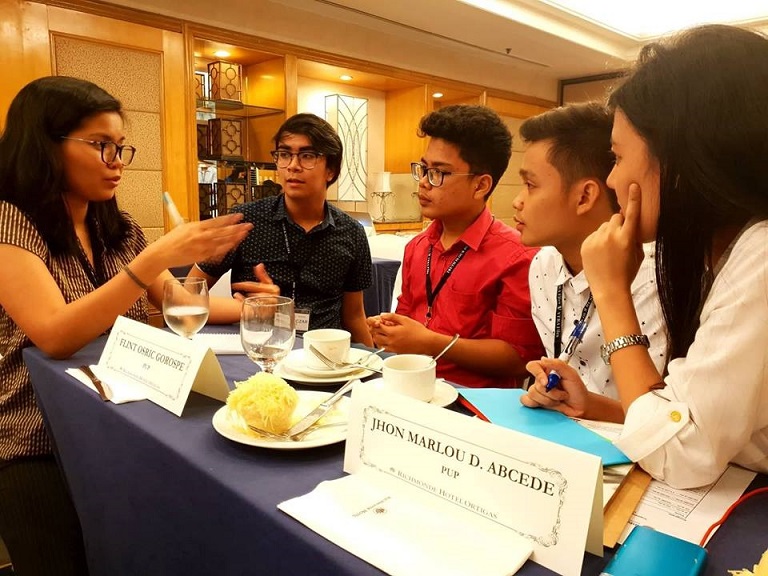 Feona Imperial of VERA Files facilitates a discussion with journalism students who attended the training workshop.

Princess
Gatmaitan, head researcher of GMA 7's Reporters Notebook, shared the difficulty
of controlling one's emotions to concentrate on the job of reporting.
The same
dilemma was echoed by Zanneth Lago, freelance broadcast journalist, about the
struggle of keeping a distance in an emotionally-charged situation when your
heart bleeds for the subjects of your report.
Freelance
journalist Tristan Manalac said the Yolanda tragedy caused trauma not only
among those who lost family, friends and property, but also deeply affected the
first responders, many of whom switched jobs later.
Philippine
Daily Inquirer's Melvin Gascon said that with an average of 20 typhoons hitting
the Philippines in a year, journalists are indeed like "storm chasers."
Freelance
journalist Dinna Louise Dayao said through writing, she would like to help
children cope with disasters, and lessen the impact of these calamities on
people.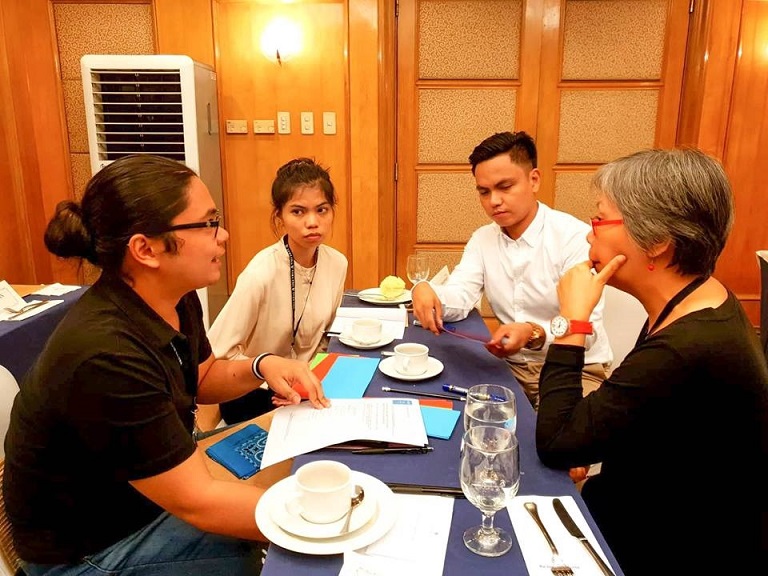 Workshop participants discuss their story ideas.

A number
of participants also expressed concern over irresponsible mining activities in
the country which have caused environmental destruction, among them the
1996 Marcopper mining disaster in Marinduque in the central Philippines, where
a whole village was buried under six feet of toxic mine waste.
Imelda
Abaño, Earth Journalism Network (EJN) Asia Pacific coordinator introduced EJN
to the attendees, describing its objectives of improving the quality and
quantity of environmental reporting worldwide, and giving a rundown of its
current projects.
VERA
Files President Ellen Tordesillas, a veteran investigative journalist, in a
video presentation, talked about investigative reporting tools journalists can
use in uncovering "cold" environment cases.
Ron
Gutierrez, a lawyer and law professor who handles environmental human rights
litigation and is the executive director of non-profit Upholding Life And
Nature (ULAN), underscored the importance of knowing Philippine environmental
laws in his talk.
From the
queries of the participants, Gutierrez expounded on many aspects of issues that
can be pursued in writing about the environment.
During
the workshop where participants were divided into three groups, they identified
a topic they want to report on, formulate a story hypothesis to guide their
research, and list all possible sources and interviews relevant to their story
idea. They later gathered inputs from the floor.
VERA
Files trustee Rosario Liquicia challenged the attendees to produce environment
stories based on the ideas and reporting tools they learned from the training
workshop.
Of the 18
participants, 12 were journalists from various media outfits including some of
the country's biggest mainstream newspapers (Philippine Daily Inquirer,
Philippine Star) and television networks (ABS-CBN, GMA); and six were
university students currently doing investigative research on an environment
issue.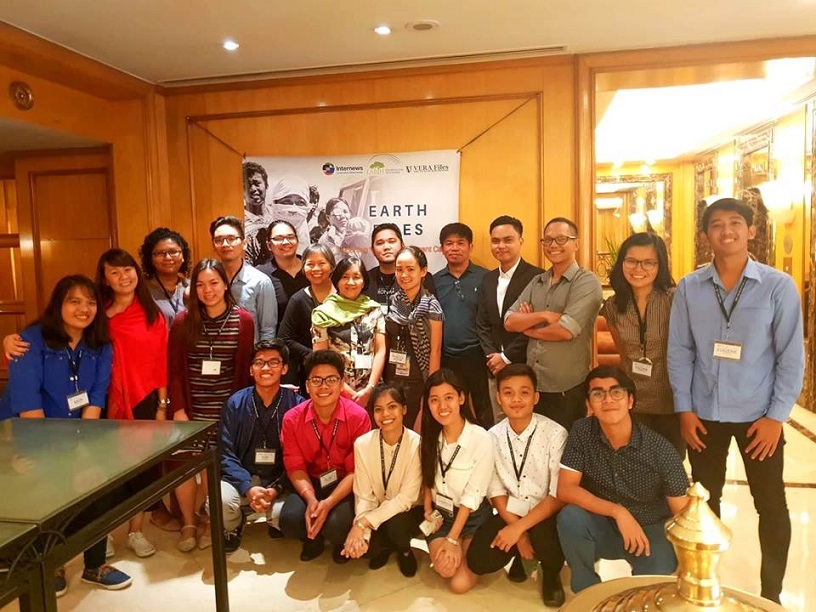 Philippine environment journalists polish their skills in a training seminar conducted by VERA Files and Internews.
This story is produced by VERA Files under a project supported by the Internews' Earth Journalism Network, which aims to empower journalists from developing countries to cover the environment more effectively.