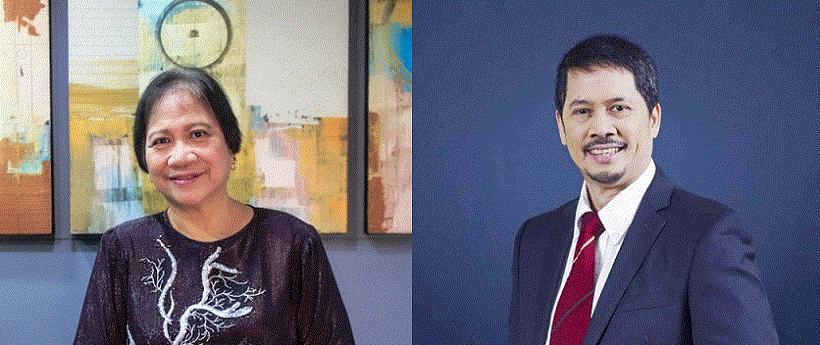 Pilar Nenuca Almira, MMC president and chief executive director and Dr. Saturnino Javier, MMC medical director.
Dr. Saturnino Javier, medical director of the Makati Medical Center (MMC), is not Nostradamus. He cannot predict when the pandemic will taper off and finally end. But this he is sure of: "We need to move forward."
His hospital is doing so through health care innovations that address a post-COVID-19 future like designating COVID wing zones from the fourth to the eighth floors of MMC's Tower 1, prioritizing beds and allocating them to those who need them most, adopting home care programs to decongest the emergency room (ER) department, stepping up tele-consultation for patients who are still afraid to go to consult in hospitals and putting up and sustaining a drive-through facility for vaccinations, blood extraction and consultations.
He said there was a massive surge of COVID cases, confirmed and suspected, in the first quarter 2021. MMC faced challenges like manpower availability, bed allocation overflow at the ER and delayed Philhealth reimbursement.
What the human resources department did was to hire more health care personnel. Javier said, "So far so good. HR doubled its efforts to hire more and at the same time protect our work bench by resorting to work from home for corporate personnel and a skeleton force for the medical staff."
Close to 98% of personnel have been vaccinated. He said that "vaccine confidence" occurs when leaders and followers get vaccinated, thereby creating a bandwagon effect. He added, "We willingly allowed ourselves to be vaccinated during the first day of vaccine rollout."
MMC is one of the rare health centers with a vaccination drive-through facility. All these steps have, Javier said, "lowered infection among health care workers. The positivity rate has gone down."
He said equal attention is also given to non-COVID patients. "That's why we have zoning, dedicated pathways and elevators for them to ensure that they are attended to as well."
Asked why other vaccines preferred to Sinovac, he answered, "Politics stained the issue. Our universal platform of communication is the one available is the one that can be inoculated in your arm."
He said achieving herd immunity is related to the work of the vaccination task force and also depends on the capability oflocal government units, not only the Department of Health. "Vaccination is a team effort.It's a twofold effort. People should be willing to accept it apart from people who want to give it to them."
He emphasized that "for as long as herd immunity is not achieved, we will not put our guard down."
The MMC strategy is to "anticipate things three to five steps ahead," Javier said. "We've never run out of medicines. We've stockpiled on masks and PPEs. If the pool of the ER department is depleted, nakakaya pa naman (we can still carry on). We've never had to close our ER department, but we put up a sign for full capacity."
He cited plans in case there's a COVID surge again. There will be continued heightened readiness. They will draw from past contingency responses, and for as long as the emergency tent outside the hospital is up, "it is emblematic of our response. We won't take it down."
The MMC also has a psycho-social team that conducts online consultation with the doctors and staff who have to confront all the stresses and tensions of pandemic health care. Javier said, "It's an important aspect that can't be relegated to the background.We have online sessions for the doctors and staff. They hold tele-help consultations with a psychiatrist."
Lawyer Pilar Nenuca Almira, MMC president and chief executive director, said that in the last few weeks, there has been a "sustained decline in COVID cases, especially in the National Capital Region. This downward decline will continue."
As a result, the MMC ER has "registered slight increases in patients coming back. They are more confident in seeking help again for medical care."
She added, "We continue to lead as a hospital, we level up, provide new services, beef up our medical training programs, put resources in researches to come up with breakthrough services and modalities." In the long run, these moves help "bring down the cost of health care for Filipinos, and we give examples to other hospitals."
She said their policy is to "focus on people—the ones running the hospital. They're the best assets of our organization. We make sure they're healthy. We provide immunization. If we have a healthy hospital, the staff takes good care of the patients. The patients feel safe while they're in the hospital."
COVID or no COVID, Almira said, the doctors are there. The medical trainees are given support, their immune system promoted through the supply of vitamins. They get the two doses of vaccines.
MMC's corporate social responsibility, through theMakati Medical Foundation, is observed through works that help the marginalized public. The hospital CEO said, "We help drug companies in their pursuit of potent medicines that will help the patients. We've vaccinated over 2,000 residents in Makati."
She said, "We will continue to invest, provide the best care for patients. Throughout this pandemic, we were able to treat severe cases, and our mortality rate has remained low."
She lamented though that Philhealth has been delayed in reimbursing the hospital. The government organization gave the MMC P230 million for future claims rather than settling claims that have been in arrears. She said, "It's the same situation in other hospitals."
She hoped that in the last half of "maybe 2021 or in 2022, Philhealth will pay accounts held in arrears for so long."