By JAKE SORIANO
A top foreign affairs official said some 2,000 overseas Filipino workers, all of them victims of human trafficking, remain trapped in Syria three years after civil unrest broke out there.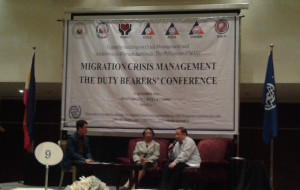 Department of Foreign Affairs (DFA) Senior Special Assistant Renato Villa said during a migration conference earlier this week the Philippine government is still negotiating with Syrian authorities and employers for their repatriation.
"But first, before we can negotiate, we have to locate them," said Villa, who spoke during the 'Migration Crisis Management: The Duty Bearers' Conference' earlier this week.
"All our workers in Syria are trafficked victims," he added.
The Syria crisis began in early 2011 and escalated throughout the country following the violent response of authorities there to protests and demonstrations.