By ARIEL C. SEBELLINO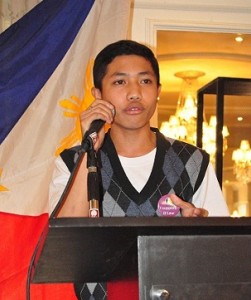 N0 one would think that 17-year-old Ariel Bowagan was a child offender before he became the Sangguniang Kabataan (SK)chairman of Barangay Dontogan in Baguio City.
Bowagan has indeed changed for the better, thankful that God gave him a second shot at life.
He now enjoys his newfound calling as a young public servant. He actively serves his barangay by leading an anti-drug campaign.
Bowagan is not ashamed to admit that he used to be a child in conflict with the law (CICL) —that is, a person below 18 years old found to have committed a criminal offense.
With the help of a child-sensitive justice system, he has become not just a productive member of society but a role model to many other CICLs.
"I went back to my old friends and encouraged them to join me in many good activities in our barangay so that other teenagers can do the same," he said.
Bowagan was one of the guests at a recent forum on understanding CICL, who spoke about his transformation as a result of restorative processes and interventions under the Juvenile Justice and Welfare Act of 2006, or Republic Act 9344.
The Act promotes the principles of "restorative justice" and views the child in conflict with the law as a victim. This law exempts offenders 15 years old and below from criminal responsibility. Offenders, aged 15 to 18, are likewise exempted if they committed an act without discernment or without full knowledge of the crime and its consequences.
"The age of discernment provided for in the Act is a globally practiced norm recognized by the United Nations," Brenda Vigo, executive director of the Council for the Welfare of Children (CWC), said.
According to the Juvenile Justice and Welfare Council (JJWC), restorative justice is a principle which requires a process of resolving conflicts with the maximum involvement of the victim, offender, and the community.
"It seeks to obtain reparation for the victim," JJWC Executive Director Tricia Clare Oco said.
She said that intervention refers to a series of activities, such as counseling, skills training and education designed to address issues that caused the child to commit an offense.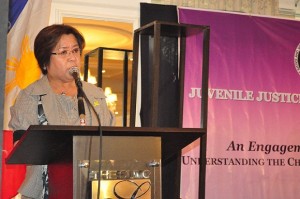 "A child-sensitive justice system promotes and protects the physical and psychological well-being of children, while holding them accountable for their actions," Justice Secretary Leila de Lima said.
In a joint statement at the forum, the Department of Justice (DOJ) and the Department of Social Welfare and Development (DSWD) rejected proposals to lower the age of criminal liability from 15 to 9 years old, saying that juveniles in conflict with the law are victims of circumstances beyond their control and should be treated as individuals with problems who need help.
Studies in the past have shown that a 15-year-old is within the age of adolescence—the transition age, which is characterized by curiosity, try-outs and identity crisis that expose them to risky and delinquent behavior.
This is the reason why, according to DSWD Undersecretary Alicia Bala, the age of criminal responsibility should not be lowered and child offenders need to be kept out of the criminal justice system.
Bala said these children deserve to be reintegrated in society and should not be condemned and portrayed as hardened criminals because "they are victims of circumstances."
Both officials urged the mass media to observe the highest critical and professional standards for a balance and evidence-based report on children.
Statistics on crime incidents from the Philippine National Police from January to August 2011 showed that crimes committed by children account for only 2.2% (or 3,856) of the 176,703 reported crimes, as against the remaining 172,847 committed by adults.
The same data also showed that the reported crime mostly committed by children was theft—a crime against property.
Vanessa Tobin, country representative of the United Nations Children's Fund, clarified that these children still have criminal liability.
She said: "They do not go scot-free. We still hold them accountable. The victims and their families can and shall obtain justice through the Juvenile Justice system."
Republic Act 9344 states that a child above 15 but below 18 who, acting with discernment, committed an offense like rape or murder shall undergo court proceedings, and if found guilty, faces a penalty of more than six years of imprisonment.
A social worker is tasked to prepare an assessment report on the absence or presence of discernment in the commitment of a crime, using a set of tested and validated tools, such as facts and circumstances surrounding the case, educational level and performance of the child in school, and assessment of a psychologist or psychiatrist.
Plan, an international humanitarian and child-centered development organization, working in 66 countries, including the Philippines, has also affirmed its stand against lowering the minimum age of criminal responsibility.
"Instead of putting children behind bars, we urge the law enforcement agencies to go after the criminal syndicates that prey on the vulnerability of these children," Plan Acting Country Director Dong Waña said.