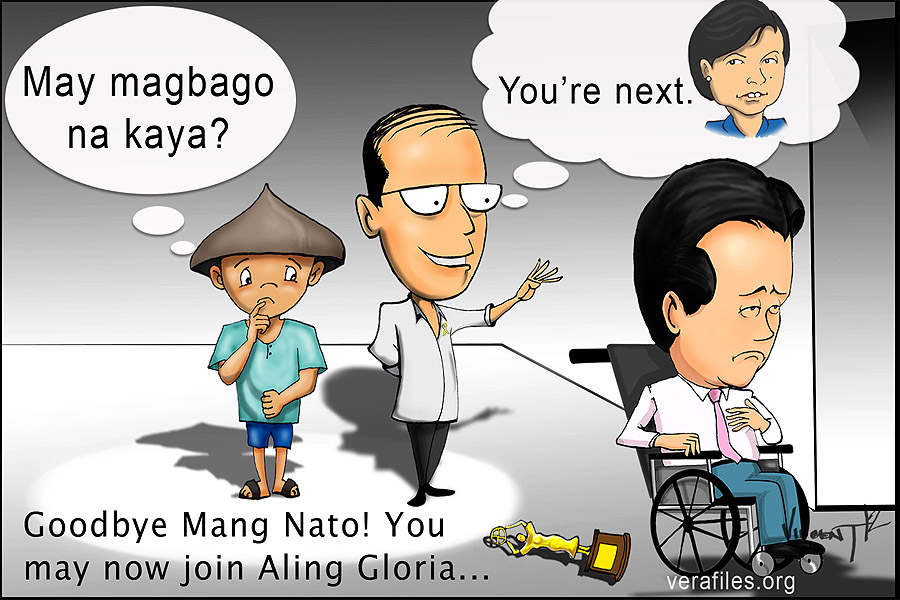 Editorial cartoon by VINCENT GO

THE Senate voted to convict Chief Justice Renato Corona. He has accepted his fate and given up his post.  Now what?
For Filipinos who kept track of the Corona impeachment trial, the past five months have been a draining and divisive experience.  The head of the judiciary was on trial for, among other things, concealing his wealth.  His immediate family and other relatives were dragged into the picture. He faced the nation with a load of excuses and incriminated himself in the process.
His accusers were not exactly blameless. As prosecutors they were amateurish and ill-prepared. They resorted to dirty tricks and gimmicks, and were themselves caught lying (brandishing a list of 45 pieces of real estate, of which only five were actually Corona's).
And if Corona and some government critics are to be believed, the prosecutors, some senator-judges, and even select media outlets were part of a grand impeachment scheme masterminded by a vindictive president who had been plotting the outcome long ago.
Whatever.
Filipinos did not sit through that long and divisive trial for nothing.  They heard the words accountability and good governance repeated over and over again throughout the past five months, and again as the votes were being explained on judgment day. Filipinos expect these to materialize in some form in the very near future.
So the ball is now in the court of President Benigno Aquino III,  lawmakers and other officials. They have to do something. Maybe come clean with their dollar accounts as Corona dared? Maybe support the Ombudsman in her anticorruption efforts and get other big fish convicted? Maybe finally formulate a vision and get on with solving the country's problems?
Maybe that's the only way the nation can move on.–Luz Rimban