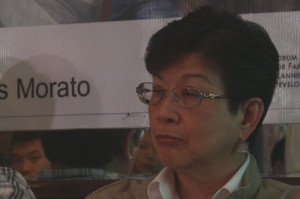 By MIKHA FLORES
THE National Movement for Free Elections (NAMFREL), one of the accredited citizens' arms in the May 13 polls, has suggested a regular submission by candidates of  their statements of contributions and expenses during the campaign period, instead of filing only once after the elections.
This is to avoid a situation where candidates under-report or fail to report their election expenses and contributions received from supporters, NAMFREL Chairperson Corazon dela Paz Bernardo said in a forum on Wednesday, adding that campaign finance is where corruption usually takes place.
"We understand what needs to be done to ensure that the statements submitted are fair but you really need to review the supporting documents and make sure that what their reporting is true or close to the truth," Bernardo, a certified public accountant, said.